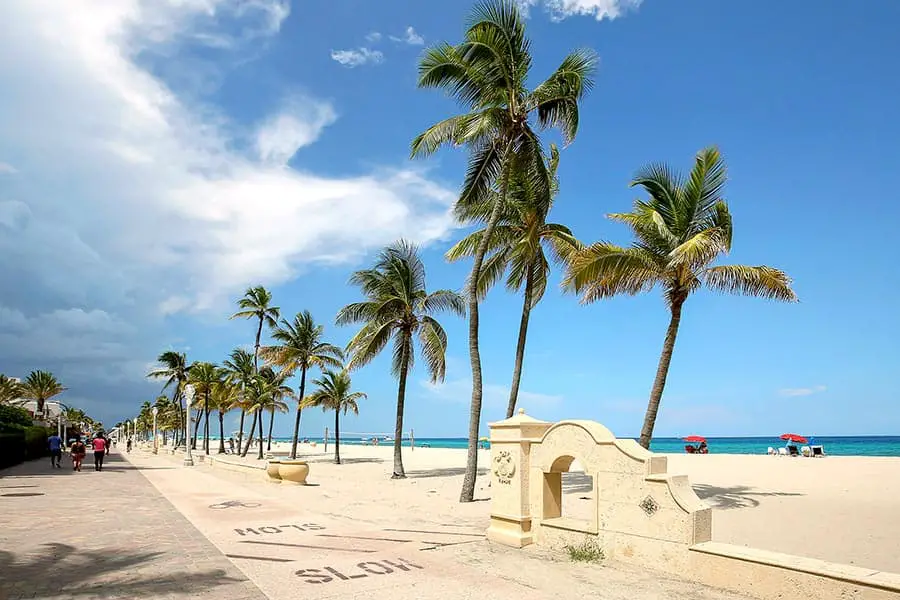 A state as big as Florida usually ends up being broken down into several distinct regions when people describe it. Florida has many distinctive areas, including North Florida, Central Florida, the Panhandle, and of course, South Florida. So, where does South Florida actually start?
South Florida starts in Broward County and continues through Miami-Dade County and Monroe County. These three counties make up the southeastern tip of the Florida Peninsula and include the Everglades and the Florida Keys. Interestingly, South Florida is the only part of Florida that has a true tropical climate!
So what are the major cities of South Florida? What are some of the things that define South Florida as a region? What is there to do in South Florida? Continue reading to learn about the phenomenal region known as South Florida.
The Basics About South Florida
South Florida is a nebulous term. After all, the whole state is located in the southern part of the United States, and a good chunk of the state juts out in a southerly direction. Properly speaking, however, South Florida is the region of the state comprised of Broward, Miami-Dade, and Monroe Counties.
Broward County
Broward County occupies about 1,323 square miles on Florida's east coast. The county is roughly rectangular and enjoys about 33 miles of coastline along its eastern border, ranging from Deerfield Beach in the northeast to Hallandale Beach in the southeast.
Coastal Broward County is heavily developed and includes major cities like Pompano Beach, Hollywood, and Fort Lauderdale. However, if you head west, the developed areas abruptly end near the Sawgrass Expressway and US 27: the remainder of the county is very rural.
Broward County is home to about 2 million people. Between 2010 and 2020, the area experienced rapid growth. As the early 2020's come to a close, it appears that the trend has shifted, and people are now migrating away from Broward County. Their loss can be your gain – Broward County, and in fact, all of Florida is happily accepting transfer residents from all over the US.
And why wouldn't you come here? Broward County has a lot to offer! Beachgoers can head to any of dozens of Atlantic beaches to relax in the sand or splash in the waves. The Seminole Hard Rock Hotel & Casino in Hollywood is a world-class resort that offers luxurious lodging, delicious food, and a nearly endless assortment of games.
If you prefer the quiet life, head out west on Alligator Alley to the Francis S. Taylor Wildlife Management Area to experience the real South Florida. Or, point the nose south and head for Miami-Dade County.
Miami-Dade County
Miami-Dade County is huge, occupying more than 2,431 square miles. About 2.7 million people live in Miami-Dade County, and about 461,000 of those people live in Miami, the biggest city in the county and the second-biggest in Florida.
Miami is the central point of interest in Miami-Dade County and is in many ways the quintessential South Florida city. While it is sometimes given a fearsome reputation, Miami has a lot to offer both residents and guests. You'll find world-class retail shopping, top-tier museums, art deco architecture, Cuban cuisine, and some of America's best beaches in the Miami-Miami Beach area.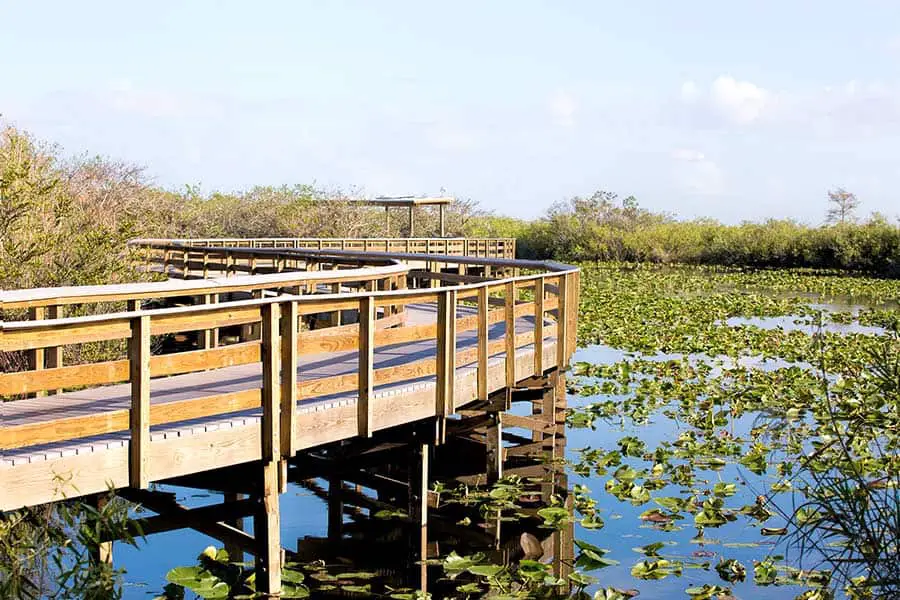 Miami and its ecosystem of suburbs sprawl out over the eastern section of Miami-Dade County, but the western section of the county is very rural. The Everglades make up a massive chunk of the county's western half, and the southwestern part of the county includes portions of Everglades National Park. In about the span of an hour, you can go from being in the hubbub of downtown Miami to being in the middle of the Everglades, eerily still yet buzzing with life.
The closeness of the city and the country is part of what gives South Florida, and especially Miami-Dade County, its unique charm. The contrast between super-modern, well-developed urban areas and far-out, deeply rural backwoods country is striking.
In about the same time as some people's daily commute, you can go from sipping a Cuban coffee and watching the supercars in Miami to being on an airboat looking for alligators somewhere in the endless expanse of the Everglades. But if you want to go to another world altogether, hop on Route 1 and head to Monroe County.
Other Posts of Interest
Monroe County
Monroe County is the southernmost county in Florida and the continental United States. While a huge chunk of the county's land is on the Florida peninsula, these lands are wild and primarily uninhabited – less than two dozen people live in peninsular Monroe County. The remainder of the county is comprised of the Florida Keys, and it's there that the rest of the county's 83,000 or so residents live.
You can get to Monroe County by land, sea, or air. By land, you'll take US Route 1 all the way south. Crossing into Monroe County feels like driving into a different world. Driving on Route 1, you pass through the sprawl of Miami's suburbs, then into the swamp and past the rugged sawgrass marshes. When Route 1 becomes the Overseas Highway, the whole scene suddenly shifts from sawgrass and wetlands to tropical islands, palm trees, and beaches.
Phenomenal Florida Fun Fact: Monroe County is the largest county in Florida by area, boasting more than 2,754 square miles of territory – 74% of which is water!
Route 1 passes through all of the major Keys, ending at the Southernmost Point in Key West. In addition to being perhaps the most famous and storied of the Keys, Key West is the county seat of Monroe County.
You could visit the Courthouse or any of the other organs of local government, but you'd probably rather explore some of Key West's famous bars or charter a diving or fishing boat. You can even tour Ernest Hemingway's old house and pet the descendants of his famous six-toed cats.
Of course, there's more to the Keys than just Key West. Key Largo, Islamorada, Marathon, and Big Pine Key are all very well-developed and have plenty of amenities to offer visitors. If you prefer to go off the beaten path, the Keys are full of places to explore – just be smart and plan ahead.
If you come to Monroe County by sea, you'll find dozens of marinas scattered throughout the Keys. In addition, people frequently bring their motorboats, cabin cruisers, sailboats, and even yachts to the Keys.
The U.S. Navy and the U.S. Coast Guard frequently ply the waters around the Keys; if you're lucky, you might see a fast boat full of Navy Seals whipping through the waves on a training mission or even some fighter jets coming in to the Naval Air Station at Key West.
Speaking of jets, those of you who fly will be delighted to know that there are general aviation facilities on Marathon and also on Key West.
What Major Cities are in South Florida?
South Florida is home to several of Florida's most important cities, most notably Miami. Miami is the cultural and economic center of South Florida. It is home to the international airport and the cruise terminals and is conveniently located directly off I-95, making it easy to drive to – even if you don't want to drive in Miami.
Hollywood is another major South Florida city. Located in Broward County, Hollywood has lots of beaches, a boardwalk, an art park, and countless well-maintained park spaces. It is also home to the Margaritaville Hollywood Beach Resort, so you Jimmy Buffet fans out there can enjoy the tropical heat in style.
Fort Lauderdale is the third major South Florida city. One of the most fun amenities in Fort Lauderdale is Flamingo Gardens, a beautiful nature preserve, and garden dedicated to showcasing South Florida's beautiful avians.
If you prefer man-made wonders, head to Sawgrass Mills, a massive shopping complex in nearby Sunrise, Florida. Fort Lauderdale also offers many fun, offbeat options for people who prefer to shop and dine at locally owned establishments.
Why is South Florida so Different?
South Florida is a different place from the rest of Florida. Part of this is due to geography. South Florida is gifted with pretty beaches, balmy coastal breezes, and endless expanses of beautiful outdoor activities that make it a highly desirable tourist location. It is also very cosmopolitan: people from all over the world, and especially from the Caribbean and South and Central America, call South Florida home.
Central and North Florida are very different. Central Florida is mainly agricultural. There are orange groves, farms, cattle lands, and sod farms throughout Central Florida. The central portion of the state is also well-known for phosphate mining, which keeps it relatively industrial. That said, Central Florida is growing and becoming more urbanized by the day.
North Florida and the Panhandle are more like "The South." Floridians often joke that the more north you go, the more south it gets. People in South Florida are often transplants from other states, or they have been raised in a more urban environment.
People in the more country parts of Florida are more like traditional Southerners, sporting Florida's distinctive drawl, an enthusiasm for Sweet Tea, and that distinctively pleasant southern attitude we all know and love.
Is South Florida Tropical or Subtropical?
While most of Florida has a subtropical climate, South Florida's climate is considered tropical. A tropical climate is defined as having monthly average temperatures greater than 64.4 degrees, abundant precipitation that is sometimes seasonal, and intense sunlight. The coastal portions of the counties, the Everglades, and the Keys are the most tropical portion of South Florida.
Come For The Weather, Stay For The Fun
South Florida is a truly unique place. The cultural melting pot of Miami-Dade County, the surreally beautiful American-Caribbean landscapes of Monroe County, and the mix of city and country that is Broward County make this region of Florida well worth visiting.
Whether you come for the warm weather or the tourist attractions, you'll find yourself wanting to stay in South Florida longer. So pack your bags, load the car, and hit the highway – we'll see you out there!