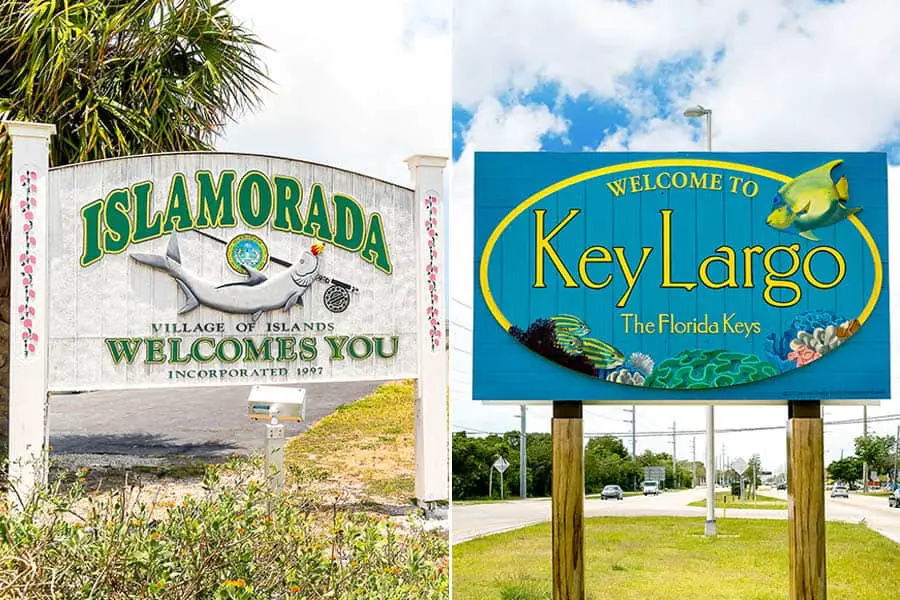 The archipelago that makes up the Florida Keys stretches about 120 miles out into the tropical waters of the South Atlantic and the Gulf of Mexico and hosts some of the most charming and fun places in Florida. Two of the better-known islands are Islamorada and Key Largo. They're both fabulous, but which one is better: Islamorada or Key Largo?
Islamorada and Key Largo are both great places with tons of fun things to do. When comparing the two, it is hard to make a choice, but I think Islamorada is ever so slightly better than Key Largo. It is known more for high-end sport fishing, luxury resorts, and other vacationing amenities than Key Largo.
Islamorada and Key Largo are both island-cities located just off the southeastern tip of the Florida peninsula. Each city is located on an island or string of connected islands, much like the rest of the Keys. And in fact, Key Largo and Islamorada border one another.
So what else is there to know when comparing these islands? Are the beaches better on one or the other? What about fishing? Continue reading to learn more about these phenomenal keys.
Islamorada vs. Key Largo
Accessible by car or boat, both Islamorada and Key Largo bask in the Florida sunshine and dip their shores into the warm ocean waters. Key Largo is located just off the southeastern tip of mainland Florida, about an hour and twenty minutes' drive from Miami. Islamorada is about a twenty-minute drive south of Key Largo, so both of these island cities are a relatively easy drive to Miami.
While there are many ways to compare these cities, I've decided the best thing to do is have a city vs. city face-off! So I'll compare each city, category by category, and declare which island is better in each one. Then, at the end of the post, I'll tell you which island is superior overall and why.
Activities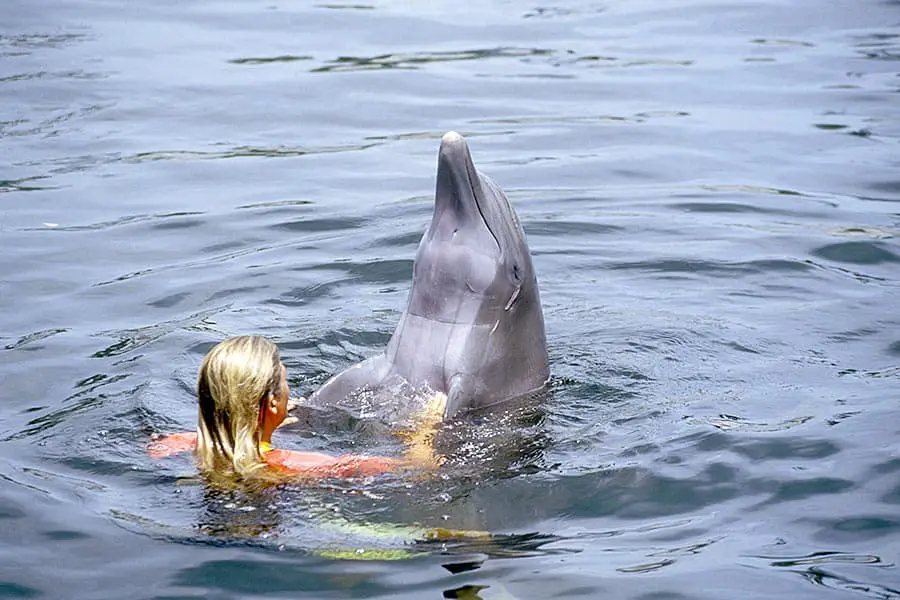 The Keys are a great place to play, and Key Largo is no exception. Dolphin (the mammal) lovers will want to stop at the Dolphins Plus Marine Mammal Responder, a marine mammal rescue program that offers you a chance to swim with dolphins. After a magical experience like that, one might want to decompress with a fine beverage or a relaxing time at the beach – or you could charter a tiki boat from Cruisin' Tiki and spend an unforgettable evening cruising the beautiful waters of Key Largo in a floating tiki hut.
Islamorada is no slouch when it comes to finding fun activities. Like Key Largo, Islamorada has a dolphin encounter available at the Theater of the Sea, a lagoon park focused on providing safe homes for marine animals while educating the public about them. Next, the artistically-minded might enjoy a trip to the Rain Barrel Village, a sprawling open-air art market that offers visitors a chance to peruse all kinds of interesting arts and crafts or take a selfie with Betsy, their giant rock lobster sculpture. After that, you can check out the History of Diving Museum to learn about the quest to explore beneath the waves.
Winner: While it's pretty close, I will call Islamorada the winner of this category.
Beaches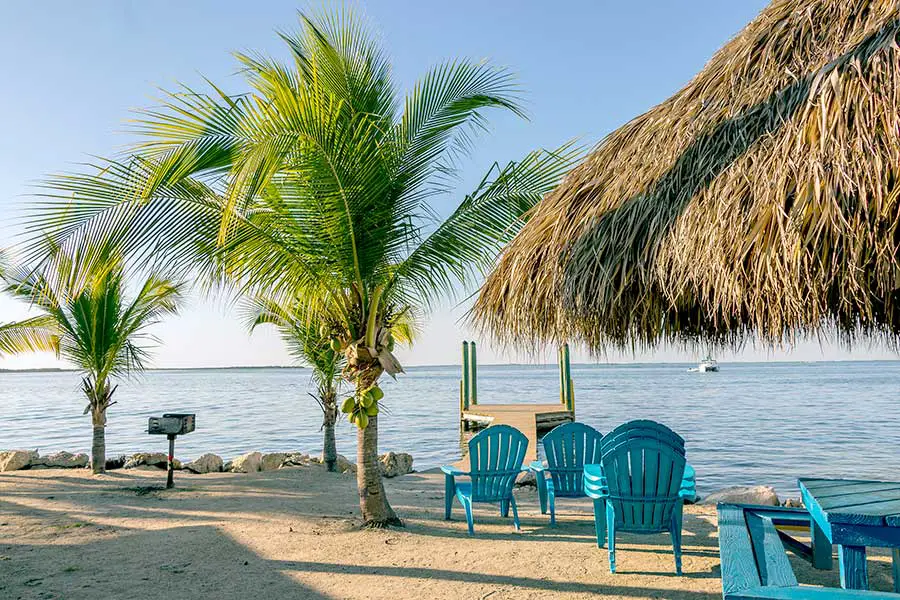 One of the biggest draws to Florida, and especially to the Keys, is the beach. Spreading one's toes out in the sand and smelling the beautiful salt air is a wonderful way to relax. Will you find better beaches on Islamorada or Key Largo?
One of Key Largo's most famous beaches is Far Beach. Located in the John Pennekamp Coral Reef State Park, Far Beach affords visitors phenomenal ocean views and has some of the best snorkeling and diving you'll find. If you prefer kayaking or paddleboarding, you can rent equipment at the beach. If you favor a slower-paced beach day, set up on the sand and soak in some sunshine.
Islamorada has some pretty outstanding beaches of its own. One of the best is Anne's Beach, which is named after famous local environmentalist Anne Eaton. The beach is shallow and sandy, but it is also very beautiful and highly popular. Windsurfers and kite surfers like to ply their art here, so keep an eye out for people dancing on the wind!
Winner: I hate to call it a tie, but I have to call it one. The beaches on both of these islands are some of the best you'll find, and the amenities are so good in both places that there's really no other option.
Phenomenal Florida Fun Fact: The island of Islamorada has the largest sport fishing fleet per square mile on the planet. It is known as the sport fishing capital of the world for a good reason.
Other Posts Of Interest
Cost
To decide which island is less expensive, I've priced out how much a hypothetical vacation on either island would cost. This price includes lodging for a four-night stay in the springtime, a day-long fishing charter, and the cost of admission to one local attraction. Because taste in food varies so widely, I haven't included any calculations for food – more on food later.
Key Largo price: Approximately $1,880
If you're going to the keys, check out the Reefhouse Resort & Marina. This resort has a marina and dive shop. In addition, they also have an outdoor pool, private beach access, and contemporary rooms. This lodging costs about $308 a night.
Best of all, Key Largo Fishing Adventures offers guests discounted room rates at the resort if you book with them. Their fishing charters are about $1,350 for a private, full-day expedition – but they're worth every penny.
Islamorada price: Approximately $2,226
Sure, a resort stay and fishing trip in Key Largo sounds fun, but is it even better in Islamorada? Similar accommodations were found at the Cheeca Lodge & Spa, a spectacular resort in Islamorada that also has a private beach, a spa, and a pool. This resort is available as low as $726 a night during the same dates.
In the mood for deep-sea fishing? Good! Cheeca has in-house fishing charters and will take you out for a full day at sea in their 42′ sport fishing boat for about $1,500.
Winner: Key Largo has a lower overall price for a very comparable experience.
Weather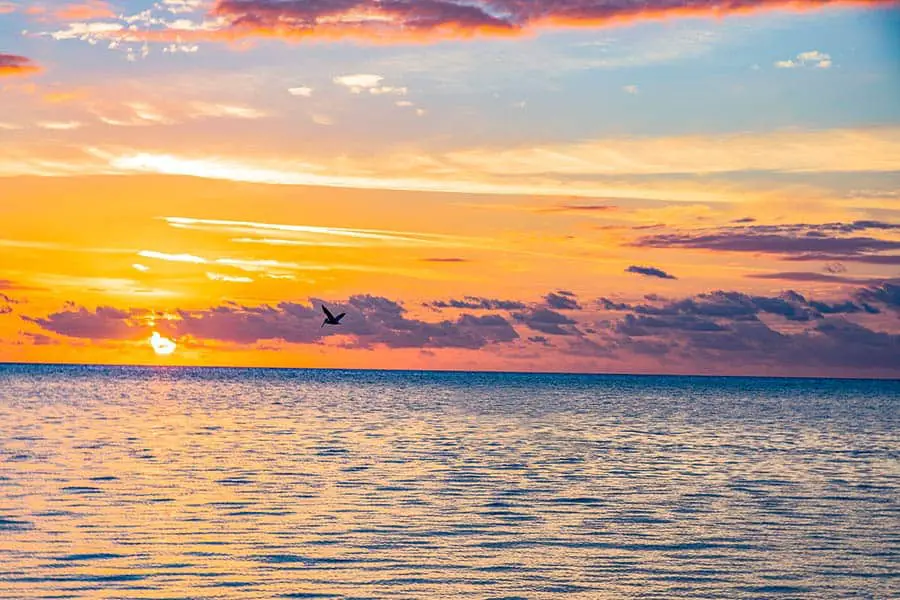 Florida is well-known for the consistent sunshine and hot weather that characterize the state's climate. South Florida, where both Islamorada and Key Largo are located, is known for being a hot and humid place. Of course, in the keys and much of coastal Florida, you'll have a pleasant cooling breeze to modulate the temperature, but I digress.
Islamorada is typical of South Florida, with temperatures rarely dipping much below the mid-'60s, even in the depths of Florida's most severe "winters." Summer months in Islamorada are quite warm, with high temps in the high 80s and low 90s during the heat of midsummer months like August.
Key Largo, closer to the peninsula, experiences ever-so-slightly more extreme temperatures. Midwinter lows in February may get slightly lower into the 60s, and midsummer highs tend to be just a few degrees warmer than Islamorada. But, for all practical purposes, the weather on these islands is the same – just about perfect for most folks.
Winner: I have to call this a draw. Both islands enjoy Florida's distinctive climate.
Sailing
Sailors describe navigating this portion of the Florida Keys in terms of sailing inside or sailing outside. Inside sailing is sailing to the west of the keys, in the Gulf of Mexico; outside sailing takes place to the east of the keys, in Atlantic waters. As a result, each side of the keys offers a distinctive and unique sailing experience.
Sailing outside is easier from Key Largo, where you can enjoy easy access to activities like snorkeling or mooring on a reef. Sailing inside has wonderful access to secluded anchorages, calm waters and occasionally requires motoring to navigate. However, the sailing on both sides is phenomenal.
Winner: Tie. Both islands offer easy access to world-class sailing.
Diving
Diving is a popular activity in south Florida. It's not uncommon to see several boats out on the water sporting the Diver Down flag as scuba divers explore the fascinating coral reefs and undersea life or hunt for rock lobsters on the seafloor.
So which island has better diving? Well, Key Largo bills itself as the Dive Capital of the World, and it has some fantastic and unique coral reefs that divers love. Plus, it is very close to several artificial reefs made of sunken ships, which offer incredible diving.
Of course, Islamorada is also close to these wrecks and offers phenomenal diving. The tiebreaker in this situation is the proximity of Key Largo to the John Pennekamp Coral Reef State Park, which is a can't-miss destination for divers.
Winner: Key Largo. But you'll find exceptional diving in both locations.
Charters
One of the highest-rated charter operators in Islamorada is, confusingly enough, Key Largo Adventures Charters. This company customizes your trip based on your preferences and wants – they'll even charter for larger groups. Available activities include adventure boat charters, snorkeling, grilling, kayaking, sunset tours, and more. You can even charter a trip on a Key Largo Adventures boat out to the Islamorada sandbar. Despite their name, these tours operate out of Islamorada.
One of Key Largo's finest fishing charter operators is Key Largo Fishing Adventures. Anglers can charter a ride out to fish for dolphinfish (mahi-mahi), tuna, marlin, sailfish, and more in the deep waters east of Key Largo. If you prefer fishing in shallower waters, over one of the area's many reefs or shipwrecks, you might reel in a barracuda or even a shark!
Winner: Once again, it is too close to call a clear winner. Both islands have incredible charters, whether you want to sail or fish.
Islamorada vs. Key Largo: Win-Win Dilemma
Trying to pick a favorite between Islamorada and Key Largo is almost like trying to choose a favorite child: it's impossible! Both of these keys offer visitors a unique local atmosphere, beautiful beaches and ocean vistas, world-class fishing, and some of the best marine activities one will find on Earth.
However, I have to make a choice, and I choose: Islamorada. While Key Largo is beautiful and somewhat less expensive than Islamorada, its proximity to mainland Florida makes it a little more sheltered from the Gulf than Islamorada. Also, Islamorada is better known for sport fishing and luxury marine activities than Key Largo. But, ultimately, you won't lose no matter which island you decide to go to: the Keys are all magical in their own way.