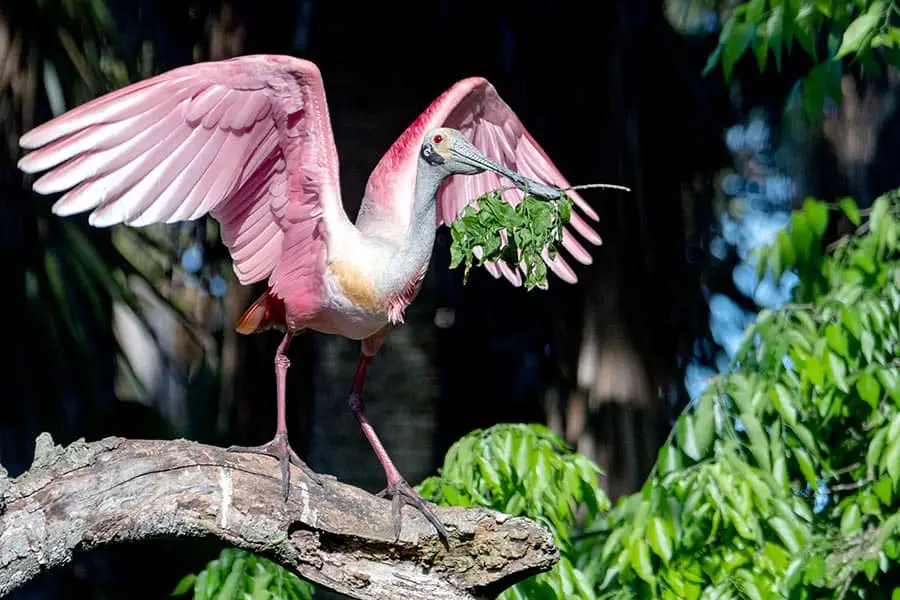 Florida has some of the best bird-watching in the United States. One of the most beautiful birds in Florida is the Roseate Spoonbill, whose beautiful pink plumage often causes them to be confused for flamingoes. So, where can you see Roseate Spoonbills in Florida?
You can see Roseate Spoonbills in many places in Florida, but South and Central Florida have the largest concentrations of Spoonbills. Spoonbills are wading birds and can often be found in marshes, wetlands, and other areas with shallow water for them to wade in.
So why are spoonbills pink? Are they endangered? Are they migratory birds, or do they live in Florida? Read on to learn the answers to these Spoonbill questions and more.
Pretty in Pink: the Roseate Spoonbill
The first time you see a Roseate Spoonbill can be a little startling. Tourists, newcomers, and even long-time residents often mistake the birds for Flamingos because of their spindly legs and bright pink feathers, but these fascinating birds are different from Flamingos.
Roseate Spoonbills live in shallow waters near trees and shrubs, and this includes mangroves, wetlands, forested swamps, and even some bays and lakes. They wade in the shallow water and use their broad, spoon-shaped bill to sift through the water for tiny marine creatures, which they hungrily gobble down.
Despite their long wading legs and big bills, Spoonbills are graceful flyers. If you're lucky, you might even get to see a whole flock of them fly over. They will often travel in large groups, so keep your eyes open for more if you see one.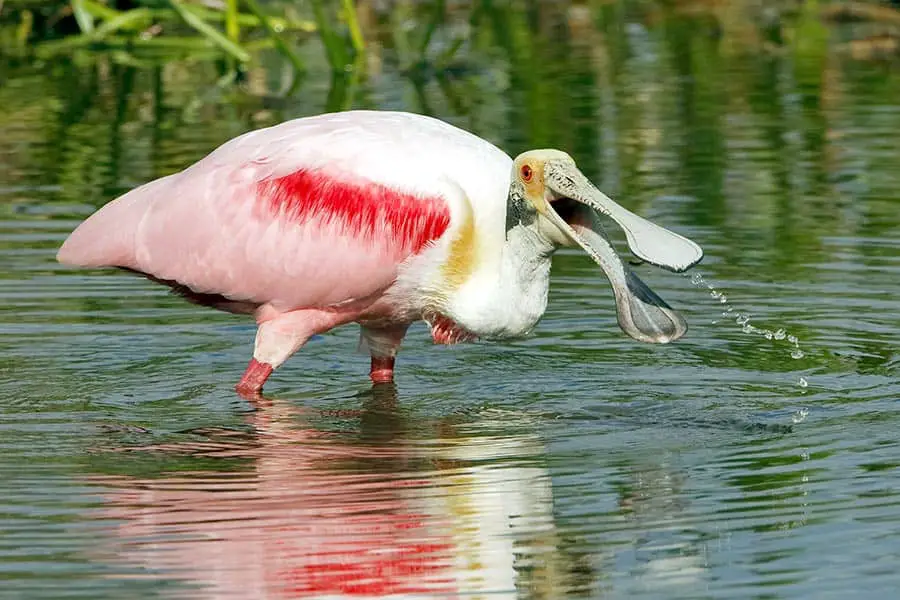 You're probably dying to know where you can see a Roseate Spoonbill in the wild. Well, get out your hiking boots and grab your backpack. Here are our top five spots to see Roseate Spoonbills in Florida: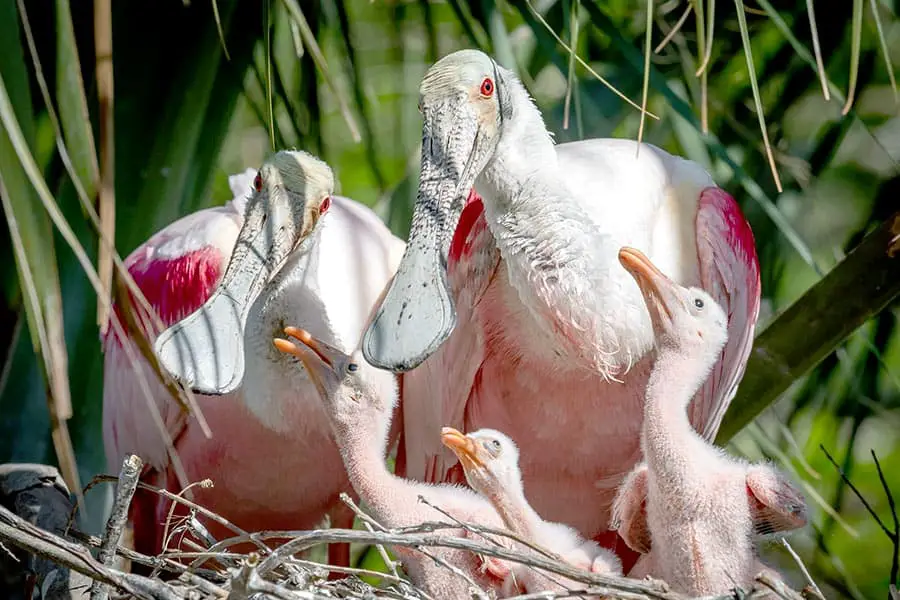 Many of the best places to see Spoonbills in Florida are easily accessible, but many require some preparation. A little bit of basic preparation can prevent uncomfortable problems like sunburn, sore feet, and bug bites. It can even prevent serious problems like heat stroke. These five things are indispensable when you go out birding in Florida:
Water. Bring a hydration pack or a bottle of water. In addition, many people bring insulated thermoses of ice water in their backpacks. Florida can be very hot, and it is easy to get dehydrated.
Bug spray. Trust us on this one. Mosquitos in Florida are a nuisance, and they often like to live in the same places as birds. Bug spray can also keep ticks away.
Sturdy shoes. It's a good idea to bring some water-resistant hiking shoes. Trails can be muddy or wet, many outdoor places have roots and uneven terrain, and Florida is home to many species of biting ants. Flip-flops are great for the beach and sneakers for the city, but definitely bring good shoes when you play outside.
Hat and sun protection. You can get sunburned even in the dappled shade of a nature preserve or wetland.
Binoculars or a camera with a good lens. Roseate Spoonbills are considered Threatened, so you should not get too close to them. Binoculars (or cameras) will help you enjoy the birds from a distance.
Phenomenal Florida Fun Fact: Spoonbill chicks hatch with a regular-shaped bill, but as they grow, the bill flattens. By the time chicks reach 40 days old, their bills have developed the distinctive spoon shape.
Other Posts of Interest
Are Roseate Spoonbills Endangered in Florida?
Roseate Spoonbills are listed by the State of Florida as Threatened on the Endangered and Threatened Species List. Spoonbills are also protected under the Federal Migratory Bird Treaty Act. This protection means that you may not collect, hunt, or otherwise harass or annoy these birds or any related materials such as eggs, nearby breeding grounds, or nests unless you have a specific authorization to do so.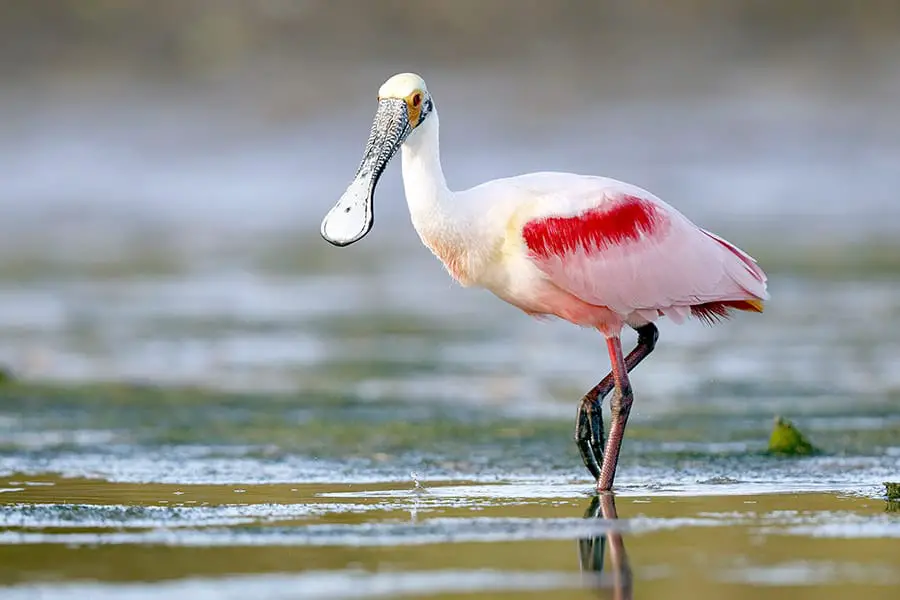 Because of their status, you may not cause any intentional harm to these birds, including the destruction of their habitat. There are specific regulations on how to build structures near their habitats so as to cause the least disturbance possible to nearby Spoonbills. It is best to admire these birds from afar and leave them alone when you encounter them.
Are Roseate Spoonbills Naturally Pink?
Much like the Flamingo, the Roseate Spoonbill gets its color from its diet. Spoonbills feed on tiny aquatic invertebrates and crustaceans, whose bodies contain a kind of pigment called a carotenoid. This pigment ends up in the birds' beautiful plumage and gives them their distinctive pink color.
Do Roseate Spoonbills Migrate?
Roseate Spoonbills are year-round residents of Florida. They do not do mass migrations; in general, Roseate Spoonbills are content to hang out in the same places. Some individuals or small groups may move short distances seasonally, but these changes seem to be tied to the availability of food and fluctuations in water levels.
Roseate Spoonbills love living in Florida, but they are not exclusive to the state. You can see Spoonbills in other Gulf Coast states, such as Texas, Louisiana, and Mississippi. They also live in the Caribbean and have massive swathes of territory in South America.
Are Roseate Spoonbills Flamingos?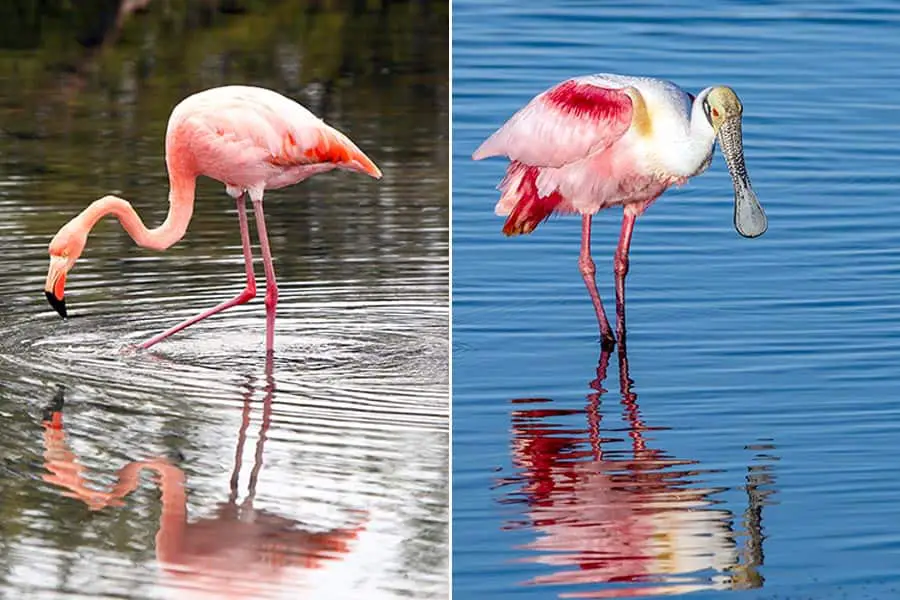 While they are both pink, Flamingos (above left) and Roseate Spoonbills (above right) are not the same bird. However, once you have seen both birds, they are pretty easy to tell apart.
Flamingos are taller and have longer, S-shaped necks. Flamingos have black-tipped wings, whereas Spoonbills' wings are pink and white. Spoonbills roost near wetlands and marshes, and Flamingos live in salty lagoons. Finally, a Flamingo has a black, angled beak; a Spoonbill has a broad bill with a spoon-like bulge at the tip.
In general, Flamingos and Spoonbills don't live in the same places: Flamingos have a smaller range than Spoonbills.
However, both birds share habitats in far southern Florida, specifically in the Everglades. The Everglades is a rugged and mysterious place, but it is also accessible. So you could possibly see Flamingos and Spoonbills on the same day in the Everglades!
But other than that one slice of shared territory, these birds aren't related. Many people assume (for good reasons) that these birds must be cousins, but bird scientists consider them to be in different clades; this is science lingo meaning that they come from different ancestors.
Flamingos are in the Phoenicopteriformes family, and Spoonbills are in the Pelecaniformes family, along with other wading birds like pelicans, shoebills, gannets, herons, and ibises. Use this trivia to impress your friends at your next get-together.
Are Roseate Spoonbills Native to Florida?
Roseate Spoonbills are native to Florida and one of the state's most unique species. They're the only spoonbill species native to the Western Hemisphere, and they are also the only pink birds that naturally breed in Florida. While you will see Flamingos in Florida, they do not breed here. Instead, they fly to the Caribbean and South America to procreate and only come to Florida as visitors.
On the other hand, Roseate Spoonbills nest and breed in the state's endless expanses of marshes, lakes, and wetlands. As a result, it's not uncommon to see Spoonbills in South Florida at nature preserves or even when you drive past a lake or a marsh.
Go Find a Spoonbill
Two of Florida's most popular attractions are the beaches and the parks. But inland Florida has a lot to offer too, including some of the best places in Florida to see Roseate Spoonbills.
Even if you're not a passionate bird watcher, these pink birds are well worth seeing in the wild. So whether you choose to go to Circle Bar B, Myakka River State Park, or one of Florida's other fabulous nature preserves, you'll have a blast getting out into nature, Sunshine State style.