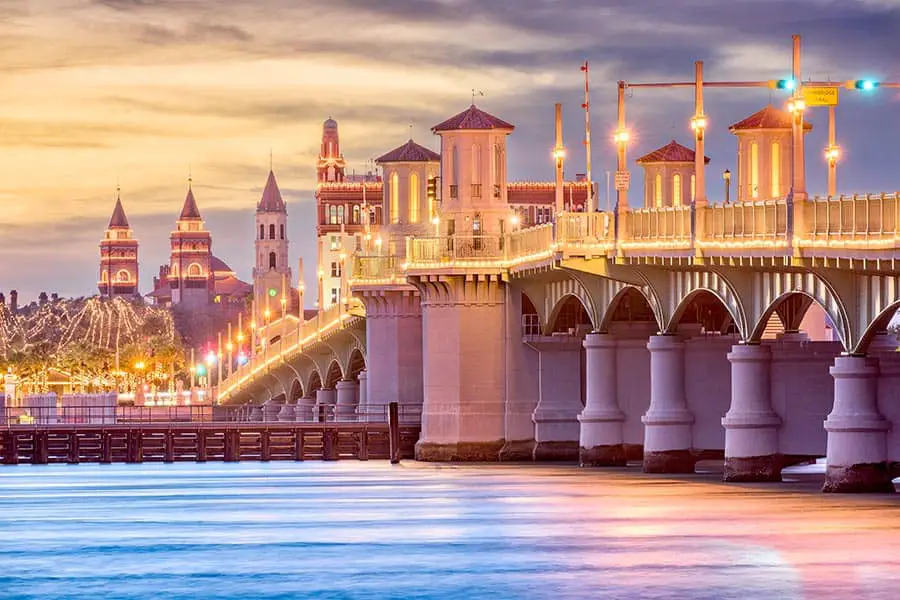 When planning a visit to Florida, many people might consider visiting the historical city of St. Augustine. Located in the Northeastern section of the Sunshine State, St. Augustine is a very unique and interesting place – but is it really worth a trip?
St. Augustine is one of Florida's finest cities and is well worth a visit. Between the local history, the beautiful beaches, and the playful Florida attitude that pervades this town, you'll have an absolute blast visiting St. Augustine. It may not enjoy the popularity of major tourist cities like Orlando or Miami, but St. Augustine is a distinctively cool city in its own right.
So what else is there to say about St. Augustine? What is there to see and do here? Is there any good fishing? What kind of local landmarks are worth a visit? What is there to eat? Discover all this and more in the following post.
St. Augustine: Definitely Worth a Visit
Located on the northeastern coast of Florida between Jacksonville and Daytona Beach, St. Augustine is well-known for Spanish colonial architecture, its rich local history, beautiful beaches, and a fun atmosphere. Founded by Spanish explorers in the year 1565, St. Augustine is (as of this writing) 456 years old, making it the oldest continuously inhabited city in the United States.
Interestingly, while the Spanish founded the city, it was given to the British in 1763; the British ended up giving it back to Spain in 1783. Eventually, the Spanish signed over the entirety of the Florida Territory to the United States in 1821, at which point St. Augustine became an American city.
Despite its age and historical significance, St. Augustine is not a huge city. The city consists of approximately 8.4 square miles of land and 2.4 square miles of water. Recent census data shows about 15,415 people living in St. Augustine, not including students at local educational institutions like Flagler College or the large population of tourists who pass through. The smaller population helps the town keep a small-town vibe despite being only an hour away from the major cities of Jacksonville to the north and Daytona Beach to the south.
Enough of the data: let's get to the good stuff. One of the prime attractions of St. Augustine is the historical nature of this city. One of the best historical monuments is the Castillo de San Marcos.
The Spanish built this remarkable fortification in 1672 after raids by English privateers became a problem for the locals. It saw military service as part of the American coastal defense plan and even had a system that would heat cannonballs before firing at intruding vessels.
When Florida seceded from the Union during the Civil War, the fort was in Union hands. For some reason, the fort was only manned by a single Union caretaker, who simply asked for a receipt from the Confederate forces and then went home.
Other Posts of Interest
The fort remained in Confederate hands until the Union regained control of the city in 1862. It then served as a military prison until it was decommissioned and handed over to the parks service in 1933. Castillo de San Marcos is now open to the public for a nominal entry fee, and it is unquestionably well worth your time to go explore it!
St. Augustine's fort is not the only historic building here. The 165-foot tall St. Augustine Lighthouse sits just inland from the coastline and is still an operational navigation aid today.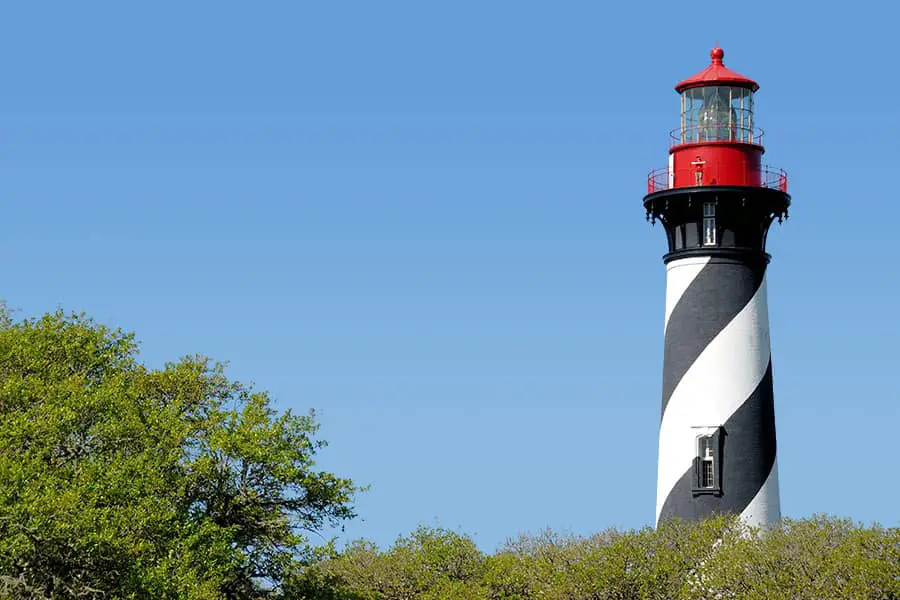 Visitors can climb the stairs to the observation deck, enjoy sweeping views of the ocean and the city, and then peruse the lighthouse and maritime museum on the property.
History buffs will want to include a visit to the Old Jail, which housed St. Augustine's more criminal element from 1891 to 1953 and now offers tours through the old cell blocks and the dormitories where law enforcement officers slept and lived during old times.
Of course, after you've been enmeshed in history by visiting these local landmarks, you may begin to feel a connection to the past. So this would be an excellent time to embark on one of St. Augustine's famous ghost tours.
St. Augustine's rich interaction with history means that there are plenty of spots in this city that are said to be haunted – including, of course, the fort, the old jail, and even the lighthouse!
Other haunted locations include the old Spanish Military Hospital, the Huguenot Cemetery, and St. Francis and Casablanca Inns.
Speaking of spirits, St. Augustine has a rather unique attraction among Florida cities – its own distillery! Built in an old icehouse, the St. Augustine Distillery produces whiskey, rum, vodka, and gin with a distinctive Florida flourish. There is also an assortment of craft breweries and wineries that offer tours and tastings for thirsty visitors.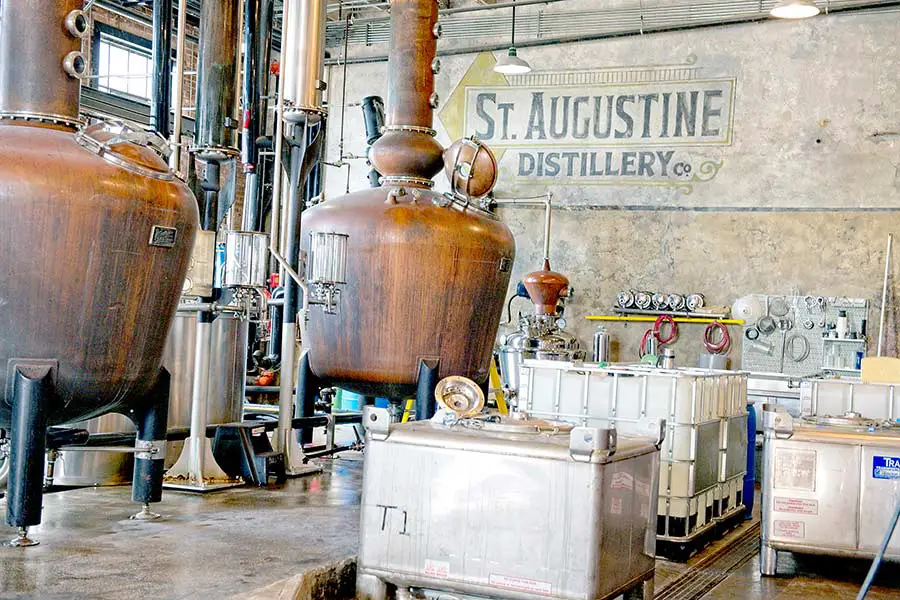 Drinks and the beach go together like peas and carrots, and like any Florida coastal town worth its salt, St. Augustine has some stunning beaches. For those who love enjoying the sand and surf, Crescent Beach has miles of white-sand beaches that are rarely too crowded. Anastasia State Park offers a slightly different Florida beach experience, one with closer contact to natural grasses and plants that make up Florida's hammock-type environments – you can also camp at this beach for a truly Florida experience.
If fishing is more your speed, you're in luck – St. Augustine has some excellent spots to fish. One could choose to cast a line into a river or pond for a mellow day of angling, or you could take a fishing charter into the Atlantic to catch sharks, snappers, grouper, or even a barracuda! If you like hanging out on the pier and seeing what you can reel in, try your luck at the Vilano Beach Pier.
Last but not least, let's talk about food. St. Augustine has some delicious food to tempt your palate no matter what you crave. A Florida favorite is The Columbia, a distinguished and honored local culinary institution that serves classic Spanish and Cuban fare – make it a point to stop here and consider the 1905 salad or the crab cakes.
Casa Benedetto's is another famous and highly acclaimed local restaurant. So if you're looking for legitimate and delicious Italian food, you should head directly to this restaurant.
Phenomenal Florida Tip: If you're feeling exhausted from all the fun you're having in St. Augustine, try one of the local coffee bars. Check out The Kookaburra for phenomenal coffee drinks with an Australian flair!
What is the Closest Major Airport to St. Augustine, Florida?
If you'd like to fly to St. Augustine, you might be able to find a direct flight to the Northeast Florida Regional Airport, UST, which is only about four miles from town. However, major airlines will fly you direct to Jacksonville or Daytona, each of which is about a one-hour drive from St. Augustine.
How Many Days do You Need in St. Augustine?
St. Augustine has a lot to offer tourists. There's a wide assortment of historical sites, restaurants, activities, beaches, and other attractions that you will want to explore while you're in town. However, we understand that you might want to explore other nearby parts of Florida while you're in the area. Two full days would likely be enough to explore most of this city, although you could easily stay here for a week if you so desired.
When is the Best Time to go to St. Augustine, Florida?
The best time to go to St. Augustine will vary depending on your desired experience. Florida's summers, which span from June through the end of September, are notoriously warm and humid – although the strong Atlantic breezes can help mitigate the heat. Winter months get cooler but maintain pleasantly warm temperatures. And, of course, hurricane season spans May through November. So, all things considered, the best time to travel to St. Augustine is in the spring, between February and May.
Is St. Augustine Safe?
Crime statistics show St. Augustine has a significantly higher crime rate than other cities nearby – FBI data does back that up. However, local police chief Barry Fox defends his city, pointing out that many of the crimes are things like bicycle theft that are bound to occur in a city that hosts 3.5 million tourists a year. So be smart, keep your wits about you, and avoid getting yourself into shady situations, and you will most likely have no issues with crime in St. Augustine.
A City Fit for a Saint
Florida is a wonderful and wild place, full of beauty and adventure for those who seek it. St. Augustine is one of the greatest cities to travel to when you visit the Sunshine State. The history, the colorful local culture, and of course, the strikingly beautiful Atlantic beaches are all great reasons to visit America's oldest – and arguably first – city.