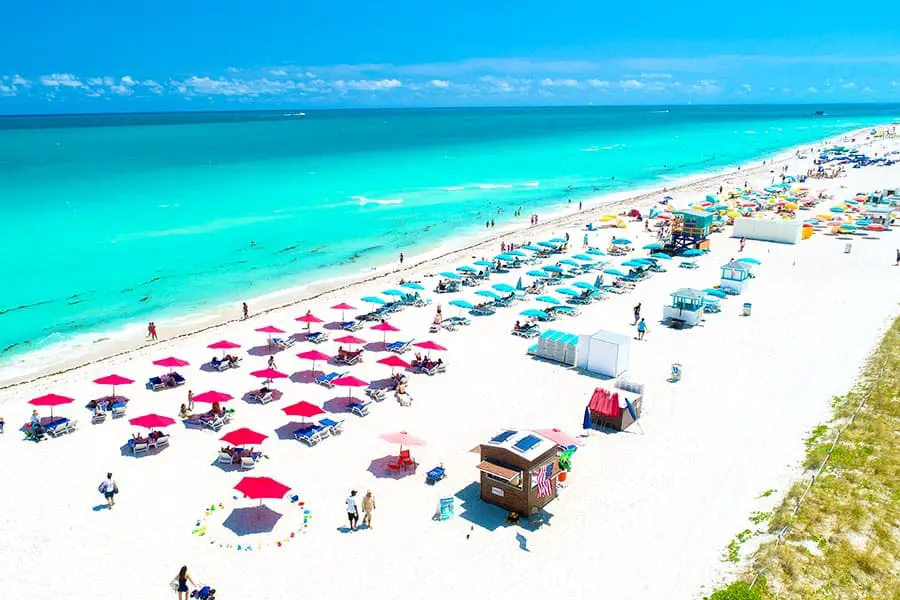 There are a million things you can do in Florida, but going to the beach is one of the most popular activities. The sandy beaches, warm water, and relaxed atmosphere of Florida's coastline make it a great place to be. So what is the most visited beach in Florida?
Tourism data shows that, on average, about 3.4 million people enjoy the warm sands and tropical sun of South Beach in the city of Miami Beach, making South Beach Florida's most visited beach destination. The second-most visited beach in Florida is St. Pete Beach, on the state's Gulf coast.
So where is South Beach exactly? Is the Miami area dangerous? What is there to do in the area? How big is the beach, and what kind of sand is there? Will my family fit in, or is it some kind of crazy muscle beach? Keep reading to learn the answers to all these questions and more.
Beach Day at Florida's Most Visited Beach
Miami Beach is an island city located just east of Miami, connected to the mainland by a series of bridges. The entire eastern edge of Miami Beach is covered in beautiful sand that faces out into the warm waters of the southern Atlantic Ocean. The most popular beach spot in the city of Miami Beach is South Beach.
Exact figures for how many people hit the beach are not available. Beaches in Florida are almost all publicly accessible, with no mechanism in place to track how many people. There aren't any turnstiles or admission booths that count visitors. So to figure out how many people hit the beach, we relied on good ol' fashioned arithmetic.
According to the Greater Miami Convention & Visitors Bureau, about 25 million people visit the Miami area yearly, as a general rule. About 29% of those people visit the town of Miami Beach, which works out to approximately 7.25 million people a year.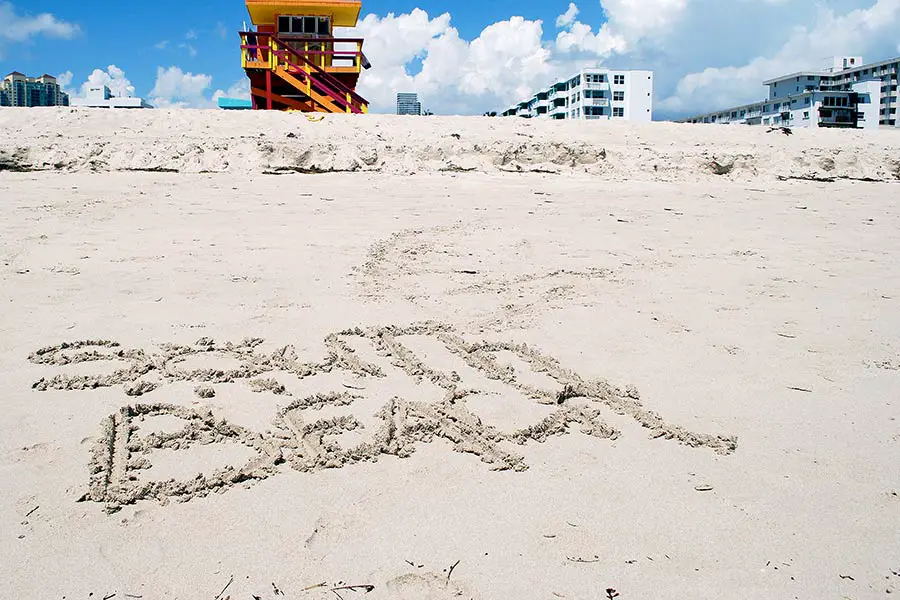 About 47% of those people head to the beach, generally to South Beach. So, to make a long story short, the most plausible estimate we can come up with is that South Beach attracts somewhere around 3.4 million visitors a year!
Certain times of year see heavier beach traffic than others. For example, the spring break season is generally during the end of February and early March and can bring a lot of young and somewhat rowdy visitors to town.
If you're college-aged or a young adult, you might enjoy South Beach during spring break season: it's definitely the place to be. However, for those of us who prefer a more relaxed environment, or for those of us who have families with kids, the best time of year to visit South Beach is from late March to early June.
March through June is a great time to visit South Beach because temperatures during this time haven't yet heated up to the full-bore summer inferno. During this time of the year, the average temperature is about 82 degrees: warm, but not scorching. If you like it really hot, you should head to South Beach during August, when the average temperature is about 90 degrees.
One of the features that South Beach is most renowned for is the white, sandy beach. The sand is soft and warm, and it contrasts beautifully with the striking blue waters of the Atlantic. However, while the sand is soft and inviting for your feet, be sure to bring some slides or flip-flops to the beach: the white sands can be deceptively hot.
South Beach is also popular because of its proximity to so many interesting things. But, of course, one of the most famous attractions of South Beach is the classic Art Deco architecture.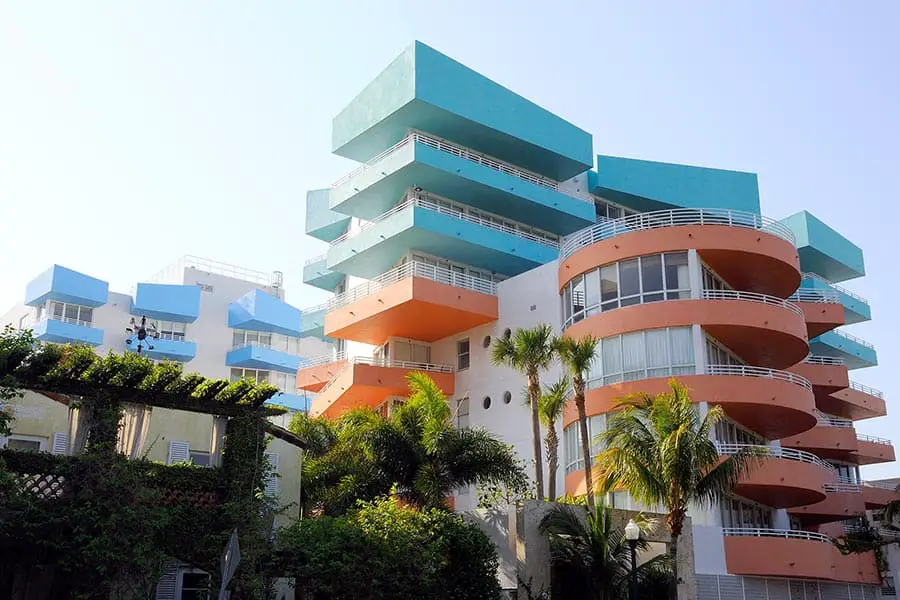 South Beach features more than 800 historic buildings designed with a flair that is sorely lacking in modern architecture. These colorful, interesting buildings add a certain charm to South Beach that other locations just don't have.
Local tour operators even offer walking tours highlighting some of the best buildings in this unique place.
Other major attractions near South Beach include world-class food, a beautiful contemporary art museum, and world-renowned nightlife if that's your thing. Family-friendly attractions include Lummus Park, the food options of Lincoln Eatery, and a vast array of shopping opportunities for the whole crew.
Some may worry that South Beach's reputation as a party spot means it isn't family-friendly. While you probably don't want to bring the kiddos to Spring Break, South Beach is actually quite family-friendly most of the year. There are outdoor gyms, and many beautiful people in Miami love to flaunt themselves on the beach, but regular people fit right in at the beach too.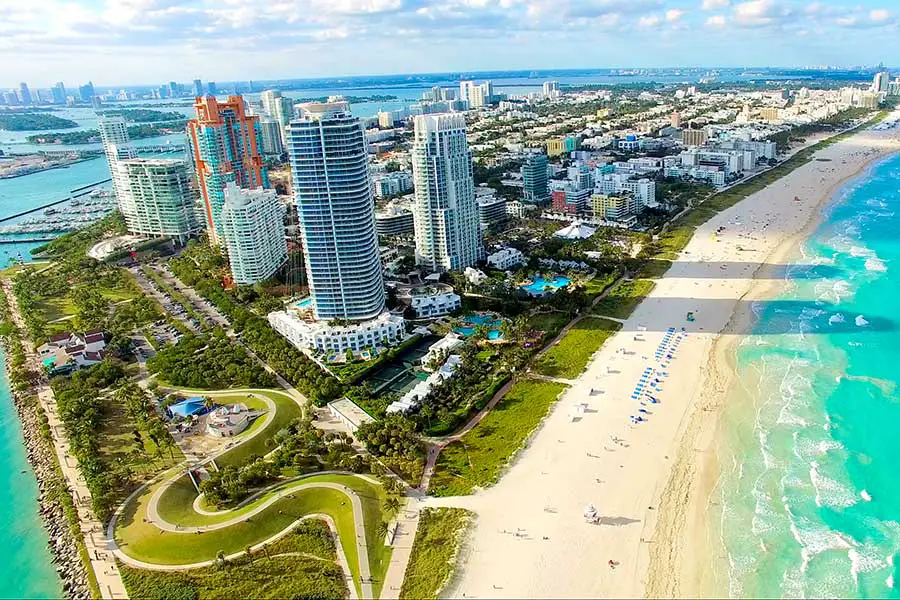 Another common worry about the Miami area is crime. Miami developed a fearsome reputation during the 1980s as the drug trade took hold in the city. And to be fair, crime is a very real problem in Miami to this day.
However, much of the crime is localized to places that tourists don't go. Millions of tourists pour into Miami every year. Major cruise lines use Miami as a jumping-off point for exotic and fun destinations. If you don't get up to shady business, follow basic safety guidelines, and stay in the touristy areas, you'll be fine.
Phenomenal Florida Fun Fact: Suntan lotion was invented in Miami Beach in 1944 by a pharmacist, Benjamin Green. His lotion is essential for beachgoers to this day.
Do Florida Beaches Close at Night?
Different beaches operate according to different regulations. Generally, Florida beaches are considered closed after sunset. In many cases, parking areas will be gated off after the sun goes down.
Regardless, it is not unusual for people to go to the beach after dark to walk the sands or go fishing. Unfortunately, there are no nighttime lifeguards or security patrols on the beach, so exercise caution if you wish to go at night.
Other Posts of Interest
Are There Lifeguards on Florida Beaches?
Many Florida beaches do have lifeguards. Popular beaches such as South Beach and St. Pete Beach have lifeguard towers every few hundred yards, and lifeguards keep a watchful eye on the crowds.
That said, not every beach has a lifeguard. Be smart:
Learn how to identify

rip currents

Don't push yourself out of your comfort zone
The ocean is unforgiving.
Do Florida Beaches Have Rocks?
Most Florida beaches do not have rocks, and the beaches are sandy and sprawling: you can walk for miles without seeing a single rock larger than a pebble! While you can find some beaches with sporadic rocks, your average beach is just miles of sand and surf.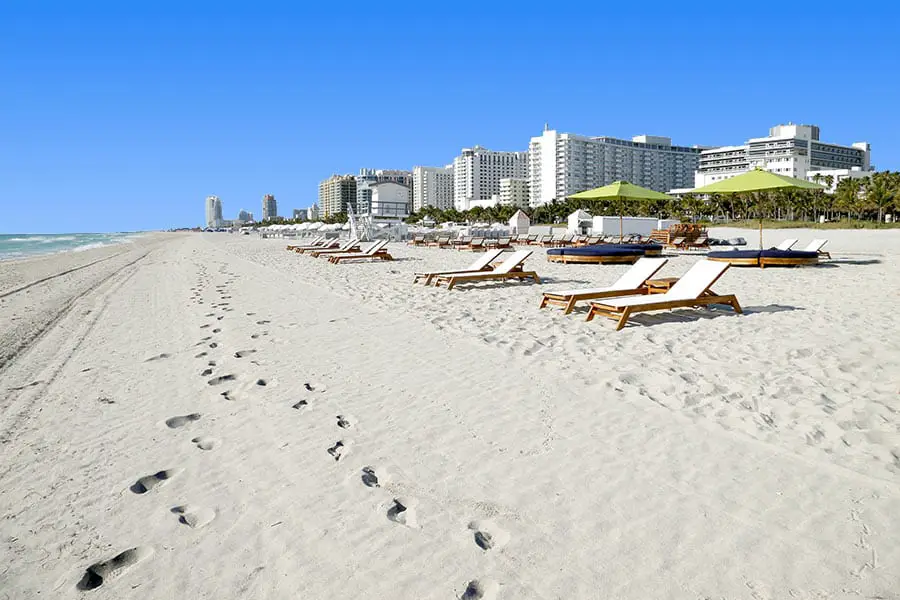 Beach rocks in places like New England and the Pacific Northwest generally come from river runoff, ancient glacial activity, or the gradual erosion of mountains. While we do have rivers that feed into the ocean here, Florida lacks mountains and wasn't subject to the same ancient glaciation as places like Maine.
Are Florida Beaches Public or Private?
Most Florida beaches are public. If you want to go to the beach, drive toward the coast and then look for parking – it really can be that simple. There are dozens and dozens of easily accessible public beaches all along Florida's coastline. Florida's Department of Environmental Protection maintains an interactive map displaying public beach locations.
However, there are also many miles of privately owned beaches in Florida. Access laws change all the time, depending on local political winds and the ever-present influence of money. A good rule of thumb is that a beach in front of someone's house is privately owned. Most private beaches will be visibly posted and hard to get to, so chances are you won't find yourself accidentally trespassing.
Do Florida Beaches Have Alligators?
Alligators are hardy creatures. While they live in freshwater, they can survive in brackish water and will occasionally make their way to inlets or outlets and bathe in the ocean. You might spot one swimming across a harbor or sunning on the shores of a bay, but they are very rare indeed at the beach.
Florida also has crocodiles, which prefer brackish water and saltwater. However, like their cousins, these creatures prefer to avoid people and are unlikely to be seen at the beach. They are relatively shy animals, but they are known to be aggressive. If you do see a crocodile, stay away from it as they are dangerous animals.
In the highly unlikely event that you do see an alligator or a crocodile at the beach, leave it alone and contact law enforcement. They'll send a trapper to remove the croc or gator from the beach. Do not attempt to "shoo" these creatures away, and especially do not feed them, touch them, or otherwise harass them.
Sunset at the Beach
Hitting the beach is one of the most popular activities in Florida for locals and tourists alike. The sandy beaches, pleasant waters, and engaging towns that define Florida's coastal life are beautiful places for people to gather and enjoy the sun and waves. While South Beach is the most visited beach in Florida, you really can't go wrong with any of our beaches! So pack your bags, bring some sunscreen and some snacks, and come soak in the sun on one of our fabulous sandy beaches.