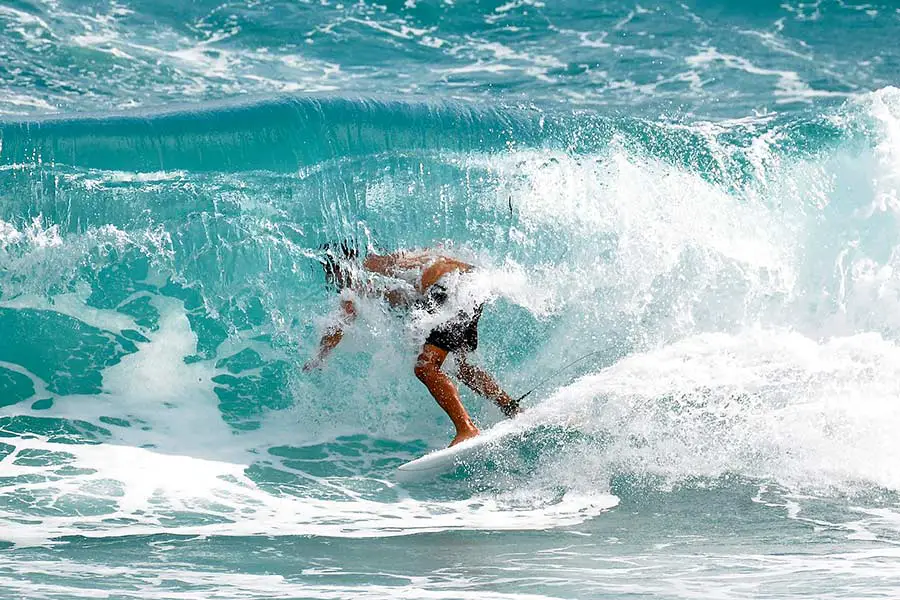 Florida has some great places to go surfing. It's not uncommon to see surfers riding the waves and paddling about on Florida's Atlantic Coast. But, can you surf all year round in Florida?
You can surf all year round in Florida, but the best time for surfing is August and September. These months are at the heart of hurricane season, which means that the waters tend to be active and generate big waves even if there's not a storm around.
So, where are the waves biggest in Florida? Which coast is best for surfing? Is there a best season for surfing in Florida? Read on to learn more about surfing in the Sunshine State.
Surfing in Florida
Surfing has been around for hundreds and hundreds of years. The first known surfers were people who lived in Polynesia, who would ride the waves on carved boards as part of their seafaring culture. Surfing was actually a significant part of the Polynesian culture: everybody from the king to the cleaner surfed, and certain kinds of wood held certain ceremonial or religious significance to these ancient surfers.
Europeans discovered surfing when Captain Cook landed in Hawaii, where he documented the practice among locals. Surfing was once an enormously important part of Hawaiian culture, but as Europeans colonized the island and changed the behaviors of the locals, its importance waned. But the popularity of the sport never really declined.
Famous Hawaiian surfer Duke Kahanamoku brought the sport around the world in the early 1900s – if it weren't for this amazing Hawaiian, surfing's popularity might never have caught on.
Today, Florida is one of the most popular surf destinations in the world. It may not have the same waves as Hawaii, California, or Australia, but Florida's Atlantic coast offers excellent surfing conditions almost year-round.
While you can surf in Florida year-round, the best surfing is definitely to be had during the heart of hurricane season when heavy weather out at sea serves up great waves all along Florida's Atlantic seaboard. June and July do have some wave activity, but they tend to be the least favorable months for surfing in Florida.
Where Are the Waves the Biggest in Florida?
The biggest waves in Florida are usually found on what surfers call Reef Road. Named after a local street, Reef Road is a stretch of beaches located near Palm Beach Shores, just south of the Palm Beach Inlet. The area around Reef Road is wealthy and somewhat exclusive, and the beach access points can fill quickly, so if you plan to head to Reef Road, we would advise getting there early.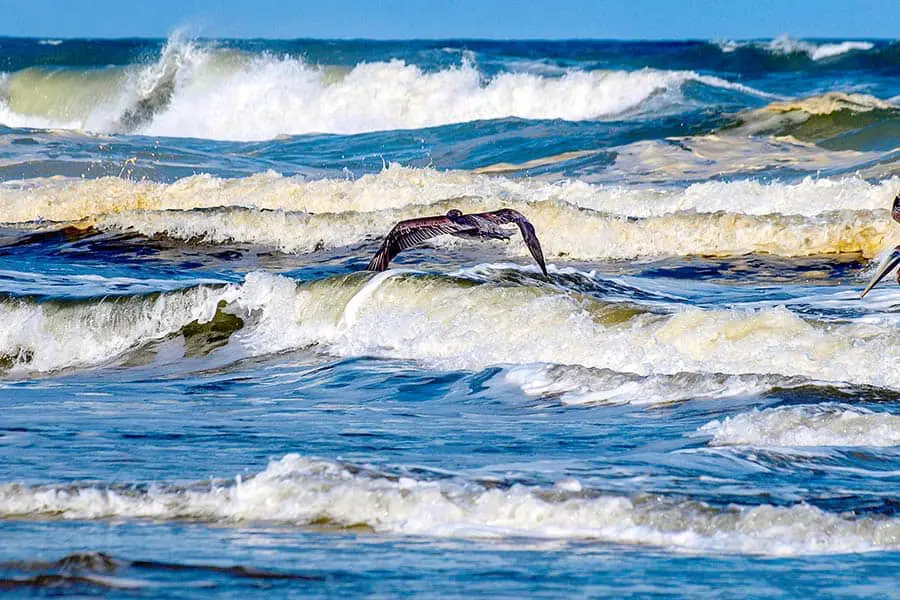 Moving north, the second-best place to find great waves for surfing is Smyrna Dunes Park, located in New Smyrna Beach. Smyrna Dunes Park has some of the best waves on Florida's Atlantic coast and is also a great place to simply relax in the sand.
If you're coming to Florida from points north, you can also find huge waves for surfing near Jacksonville. Pro surfers recommend heading to Atlantic Beach, Huguenot Park, or Hanna Park to find some of Florida's best waves for surfing. Plus, Jacksonville is Florida's biggest city, which makes it a great all-around destination.
What Side of Florida is Better for Surfing?
All of Florida's best surfing beaches are located along the Atlantic Coast. While we mean no disrespect to the Gulf Coast, the simple fact is that the Atlantic Ocean makes for much better surfing than the Gulf of Mexico. The Atlantic is bigger and more powerful, and dominant weather conditions tend to generate larger waves and better surf along Florida's eastern seaboard.
That said, you can find good surfing along the Gulf Coast, especially near Venice Beach, Pensacola Beach, and Captiva. But the surfing is generally much better on the Atlantic side of the peninsula; you'll find far more surfers there than on the Gulf.
Phenomenal Florida Fun Fact: New Smyrna Beach is known as a very artsy town. Beloved American artist Bob Ross actually had a studio in New Smyrna Beach – there's still a Bob Ross art studio in town.
Other Posts of Interest
Where is the Most Consistent Surf in Florida?
The most consistent spot for surfing in Florida is definitely New Smyrna Beach. For a whole host of complicated oceanographical and meteorological reasons, New Smyrna Beach tends to have consistently good, consistently big waves that provide surfers with nearly endless entertainment. However, the waves can become truly epic during stormy conditions, and while many surfers will head to the beach to ride the waves during a storm, be aware that doing so is dangerous.
On the off-chance that the waves aren't very good, New Smyrna Beach is conveniently located close to Daytona Beach, Orlando, and St. Augustine, making it an excellent destination for both surfing and non-surfing activities.
Do You Need a Wetsuit to Surf in Florida?
Wetsuits are garments that help swimmers, divers, and surfers retain body heat to avoid hypothermia. While Florida is a super-hot state a lot of the time, it is actually possible to get hypothermia here if the conditions are right. So do you need a wetsuit to surf here?
Florida's warm weather and warm water mean that you don't really need a wetsuit to surf here for most of the year. This is especially true in South Florida, where the temperatures tend to stay warm year-round.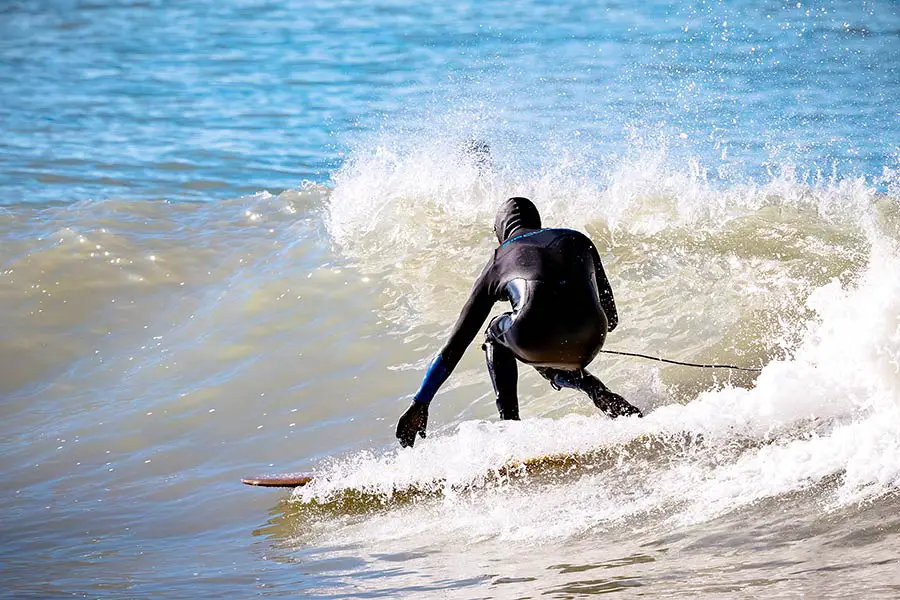 However, surfers who are planning to surf some of Florida's more northerly beaches – places like Jacksonville, New Smyrna Beach, Daytona, and St. Augustine – should get a thin wetsuit if they're surfing during the cooler season. We recommend checking the water temperature before you go just to be on the safe side.
What is the Best Beach for Surfing in Florida?
The best beach for surfing in Florida is definitely New Smyrna Beach. New Smyrna Beach has consistently good waves throughout the year: on almost any given day you'll see dozens of surfers riding the waves and enjoying the swells as the mighty Atlantic froths and churns. While New Smyrna Beach is the best, you can find high-quality surfing conditions all along the coastline from about St. Augustine to the Ponce Inlet.
So what makes New Smyrna Beach so special? For a lot of reasons, the waves on New Smyrna Beach just tend to be bigger and better than on competing beaches. Plus, New Smyrna Beach is easily accessible, has plenty of beach access points, and has many surf shops that sell and maintain surfing equipment. You can even take a surfing class there with the kids!
When is the Best Time of Year to Surf in Florida?
The best time of year to surf in Florida is in the late summer and early fall, specifically in August and September. This period is smack in the middle of hurricane season; in fact, September is the busiest month for hurricanes in Florida. And while hurricanes can be scary because of the massive property damage they can inflict, they also tend to generate unbelievably good waves.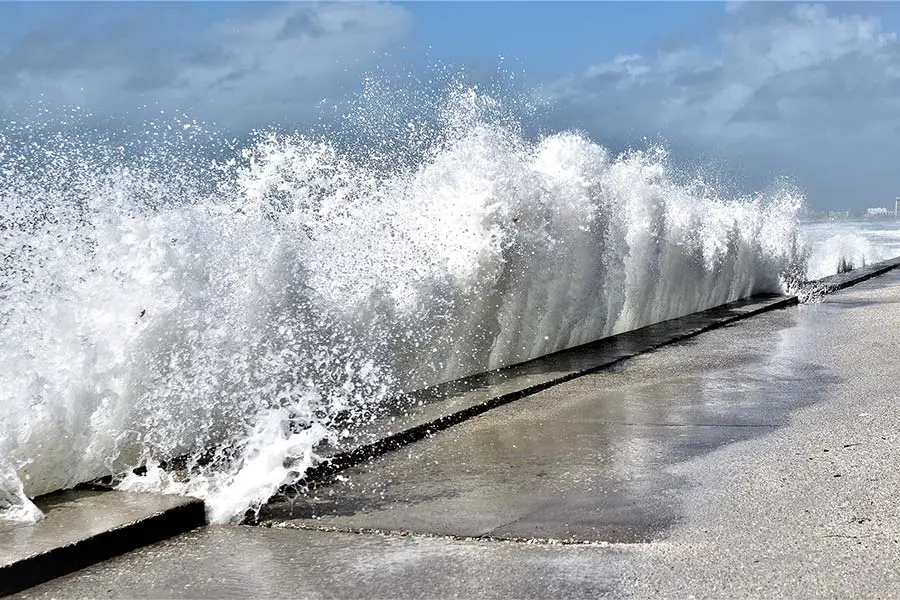 Wave activity holds up even if there isn't an active hurricane. Stormy weather offshore, late-afternoon thunderstorms, and other meteorological phenomena tend to make the waves far better during the peak of hurricane season than during other times of the year. So while we would not recommend that you charge off to the beach when a Cat 5 storm is inbound, a good storm will create waves that lure many surfers to the beach even in riskier conditions.
If you can't make a surfing trip in the fall, come during the spring months. Spring surfing is usually quite pleasant in Florida, as cold fronts and other weather move across the Gulf of Mexico and generate winds that churn up fabulous waves. Plus, the spring weather in Florida is some of the most pleasant weather we get throughout the year.
Winter is the third-best time of year to surf in Florida. While there can be some good swells in the winter months, water temps and air temps tend to be cold, and conditions can be a little unpredictable. You'll want a wetsuit if you're surfing in North Florida in the winter months; if you go to South Florida prepare to contend with crowded beaches.
Ironically, while surfing might seem like a perfect summer activity, summertime is the worst season for surfing in Florida. June and July are described as flat and boring. There can be some good days if weather conditions are just right, but in general, June and July aren't so good for surfing.
Surf's Out
Even if you're not a surfer, you have to admit that surfing is pretty cool. Watching surfers ride huge waves, perform aerial tricks, and occasionally wipe out is great fun – although not as much fun as it is to get out in the water and ride the waves yourself!
If you're coming to Florida to surf, we highly recommend coming during August or September and hitting the Atlantic beaches to have the best experience. So hang loose, dudes – we'll see you on the beach!