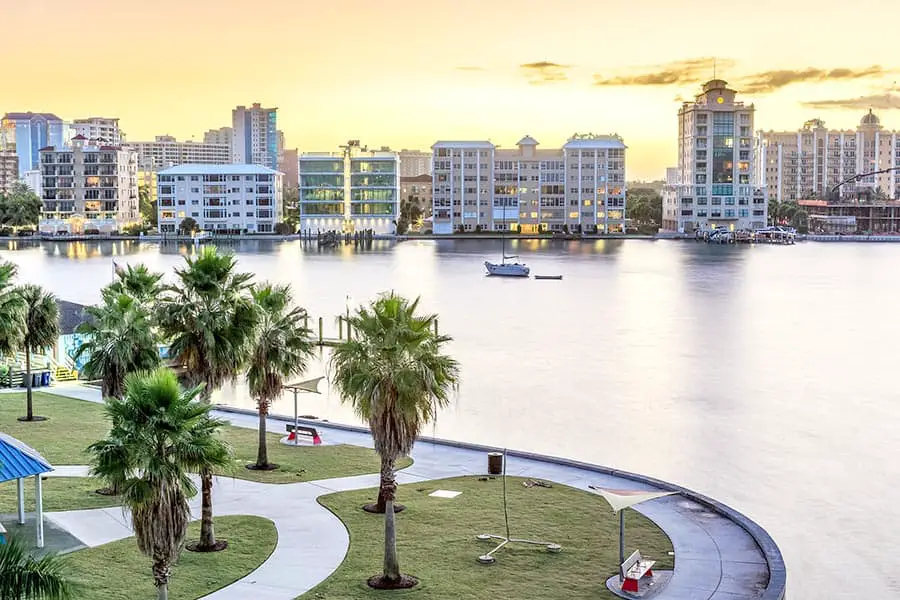 Lesser known than Miami or Daytona, Sarasota is a coastal city just south of Tampa. Right on the Gulf of Mexico and convenient to many great amenities, Sarasota seems like an underappreciated city. This leads to the question, "is Sarasota a good place to live?"
Sarasota is a great place to live, it's safe and affordable, and the local schools are good. In addition, Sarasota has pristine beaches on the sunny shores of the Gulf of Mexico, high-quality local restaurants, and a trendy shopping scene. Sarasota is also very convenient to the amenities of the Tampa Bay area.
As great as it sounds, you probably have a lot of questions. How safe exactly is Sarasota? Is Sarasota prone to hurricanes? Is it always hot in Sarasota? Discover the answers to these questions and more as we delve deeper into the great city of Sarasota.
Sarasota: Better Than Good
When we imagine a good place to live, we think of a place that's safe, clean, close to amenities, and affordable. Sarasota checks all of these boxes! It's close to Tampa Bay and St. Petersburg, and it sits on the beautiful waters of the Gulf of Mexico. It has a thriving local economy, tons of things to do, and some of the best beaches in the world.
Speaking of beaches, Sarasota's own Siesta Key Beach has been ranked as the #1 beach in the United States by TripAdvisor. This gorgeous stretch of sand is a little slice of paradise. The Gulf waters are warm, the waves are usually gentle, and the beach has a perfectly relaxing oceanfront vibe. There are concession stands if you want a snack, and there's a free trolley that will take you around Siesta Key if you want to check out the local restaurants or shops.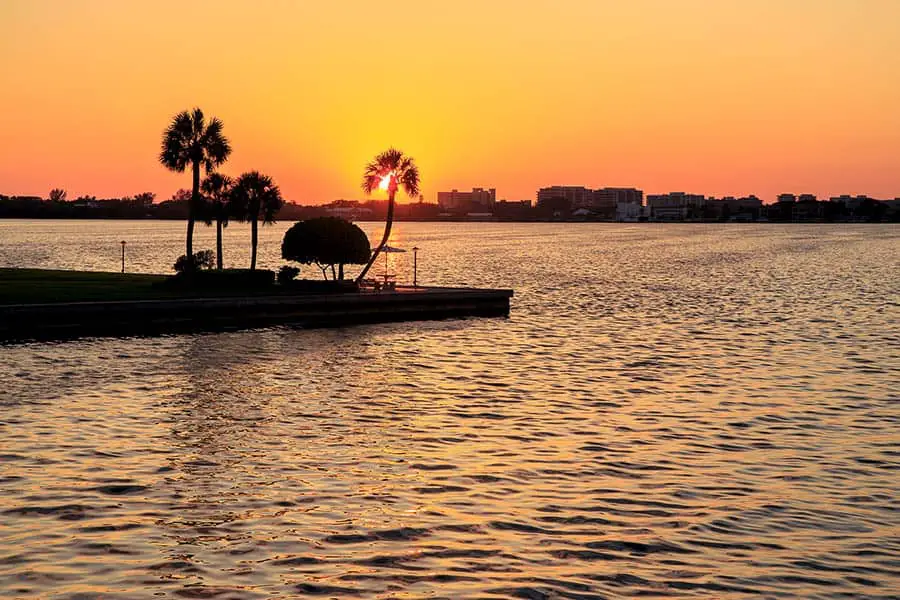 Lido Key Beach is a local beach that is less well-known than Siesta Key Beach, making it a pleasantly mellow place to sit in the sand and enjoy the surf. Located within walking distance of the famous St. Armand's Circle, Lido Key Beach offers visitors nearly 3,000 feet of white sand beach.
Lido Key Beach is an excellent place to spot dolphins, especially if you get up and head to the beach early in the day when the dolphins like to frolic and play. In the summer, the waters of the Gulf average a balmy 86 degrees, which makes for very comfortable swimming.
I mentioned that Lido Key Beach is close to St. Armand's Circle, but what is this circle all about? St. Armand's Circle is a shopping and dining hub that is located just moments from the Gulf of Mexico. You could spend all day walking the circle and shopping at the fun boutiques and stores.
There are lots of great restaurants on the circle. Still, as a pro tip, we recommend dining at The Columbia — try the 1905 Salad and one of their gourmet cocktails for a superlative Florida dining experience. 
Sarasota also has a unique history that colors local culture to this day. For many years the area was home to circus magnates like the Ringling Brothers. The Ringling legacy lives on in Sarasota even to this day.
The John and Mable Ringling Museum of Art is the official art museum of Florida, which any lover of culture or the arts must visit. It contains works by renowned artists like Peter Paul Rubens and Marcel Duchamp.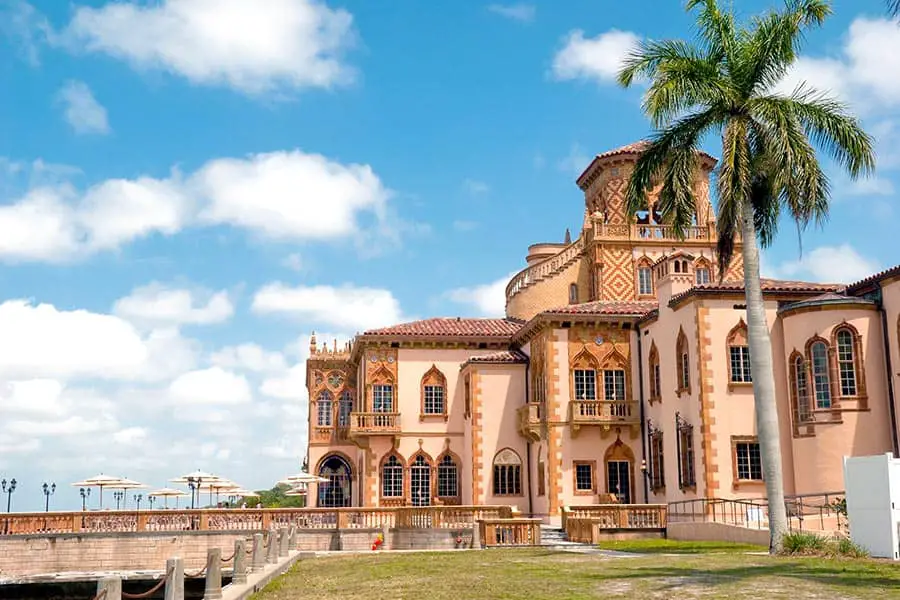 The Ringling Museum also houses a circus museum. The circus museum has interesting displays of real-life circus props and features some interactive exhibits. Visitors can also tour Ca' d'Zan, John and Mabel Ringling's remarkable Sarasota home.
Other Posts of Interest
Phenomenal Florida Fun Fact: Sarasota is sometimes called "Circus City" because of its rich historical connections with the circus. The Ringling Brothers and Barnum and Bailey Circuses both spent winters in Sarasota, and the legendary P.T. Barnum called Sarasota home.
Is it Expensive to Live in Sarasota?
You might expect a place like Sarasota to be super expensive. After all, it's close to the beach, convenient to major cities, and full of stuff to do. However, according to data from the U.S. Census, housing expenses in Sarasota are on par with the national median. The median cost to own a home in Sarasota is $1,433 a month, which is lower than the national median cost to own a home of $1,595.
Rental costs in Sarasota are above average. The median gross rent across the United States is about $1,062 a month. In Sarasota, the median gross rent is $1,134. So, all in all, the cost of living in Sarasota is about average. That's excellent news for anybody who wants to live in Sarasota.
As of this writing, the real estate market in Sarasota is a strong sellers' market. Florida is attracting many new residents, and Sarasota is a popular place to live, so demand is high right now. Homes are selling fast and for at or above list prices. If you're buying a house in Sarasota, you should prepare for a competitive market.
Is Sarasota a Safe Place to Live?
South Florida is sometimes associated with stories of violent crime, drug trafficking, and other unpleasantness. However, many problems are over-reported or sensationalized, and in most places in Florida, people enjoy average or even below-average crime rates.
The city of Sarasota is protected by the Sarasota Police Department. Approximately 179 law enforcement officers work for the Sarasota Police Department, and their hard work keeps the streets safe. 
The Sarasota County Sheriff's Office patrols Sarasota County, which contains the city of Sarasota. The hard work of law enforcement has resulted in a 4.4% decline in violent crime and a 5.7% reduction in property crime even as the area has grown.
All this is a long way of saying that yes, Sarasota is a safe place to live. To put it in context, Sarasota is much safer than other similarly sized cities, such as Tulsa, Oklahoma.  U.S. News and World Report points out that the crime rate in Sarasota works out to 159.8 violent crimes per 100,000 people. Tulsa's violent crime rate is 588 per 100,000. So if you're living a normal, law-abiding life, you don't have to worry about crime in Sarasota.
What are Winters Like in Sarasota? 
Florida, in general, is known to have a very pleasant winter. Sarasota is no exception! Average daily temperatures during Sarasota's winter months are in the low- to mid-70s. In the evening, the weather is slightly cooler, descending into the 50s. January is the coldest month in Sarasota, with the temperature sometimes sinking to an icy 53 degrees.
How Hot Does it Get in Sarasota?
It's a little-known fact that Florida migrates to the surface of the sun during the summer months. I'm kidding! Florida does not actually migrate to the surface of the sun, but summers here do get rather toasty. By the time spring fades into summer, you can expect daily average temperatures of at least 85 to 86 degrees. August is the hottest, with average daily temps in the 90s.
If you ask any Floridian about the heat, they'll tell you it's not really the heat that's the problem: it's the humidity. Sarasota does get very humid sometimes. Late July into early August is generally the most humid time in Sarasota. The heat index, sometimes called the "feels like" temperature, can be well over 100 degrees at times.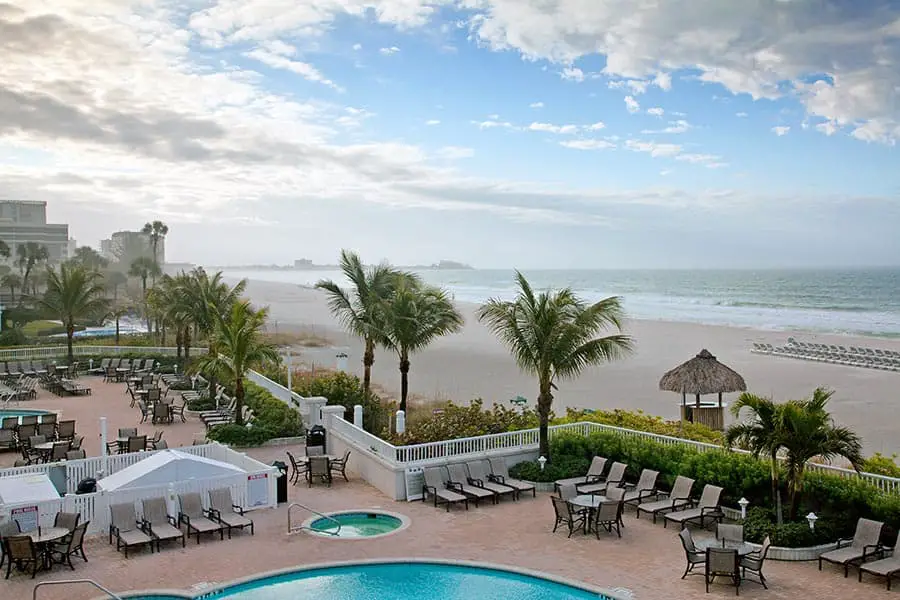 Does Sarasota get Hurricanes?
Sarasota rarely experiences a direct hit from a hurricane. The most recent storm to affect Sarasota was Hurricane Irma in 2017. Before that, the most recent hurricane to hit Sarasota was Hurricane Donna in 1960. It seems that Sarasota is good at dodging storms!
Why is Sarasota so good at avoiding hurricanes? It's primarily due to lucky geography. The shape of Florida, the way hurricanes form, and the rotation of the earth all combine to push storms away from Sarasota. While the city hasn't had a direct hit in a long time, hurricanes are significant storms, and the area can still be affected by hurricanes.
Does it Rain a Lot in Sarasota?
Sarasota gets an average of 56 inches of rain a year. This amount is well above the US average rainfall of 38 inches a year. However, Sarasota isn't prone to long, gloomy rainstorms. Instead, rain in Florida often comes from intense afternoon or evening thunderstorms, which dump a bunch of water in a relatively short time before blowing themselves out.
Sarasota: A Splendid City
Sarasota is a great place to live. The city boasts beautiful beaches, phenomenal shopping, and gourmet dining, plus a multitude of activities for the whole family. In addition, it's safe, relatively affordable, and convenient to major Florida cities like St. Petersburg and Tampa.
Sarasota might not get the attention of some Florida cities, but her gorgeous beaches, friendly atmosphere, and outstanding quality of life make it one of the best places to live in the Sunshine State.