Two of Orlando's most popular theme parks are Disney World and Universal Studios. But there are so many features to experience in both parks, how can you choose which to go to? What's the difference between Disney World and Universal Studios?
Disney World and Universal Studios are distinctively different theme parks in Orlando. Disney World is separated into four unique parks and revolves around Disney's characters, stories, and vision. Universal Studios is thematically focused on movies and entertainment owned by Universal.
Each park has its own vibe, but both are well worth visiting. So which park is better for adults? Is it worth visiting if you don't like rides? Which one has better food? Read on to find out how these parks vary from each other.
Disney vs. Universal: What's The Difference?
The first point of difference between Disney World and Universal Studios is ownership. Disney World is owned and operated by an entity called Disney Parks, Experiences, and Products, which is a division of the Walt Disney Company. Universal is owned by NBCUniversal and operated by Universal Parks & Resorts.
The parks are also in different areas of Orlando. The Disney World complex is technically located in Lake Buena Vista and not Orlando, although it is a hop and a skip from the city. On the other hand, Universal Studios is located within the boundaries of Orlando, near the junction of I-4 and Florida's Turnpike. The parks are about 10 miles away from one another, although thanks to the notoriously congested traffic on I-4, you should budget 25-30 minutes for the trip.
Are the parks comparable in terms of size? Well, Disney World covers an area of about 27,000 acres, or about 42 square miles, making it absolutely enormous. On the other hand, Universal Studios sits on approximately 840 acres, if you include Volcano Bay.
Disney World's 27,000 acres are divided up into four parks, two water parks, the Disney Springs shopping and dining complex, and dozens of individual resort areas. Universal Studios is divided into two parks, Islands of Adventure and Universal Studios Florida; there's also the CityWalk and Volcano Bay.
With so many options, how can you know what kind of attractions are where? It's a lot of information to process. We've made a handy list that will help you see what themes to expect at which parks, but keep in mind that there's far more than we've covered here.
Universal
Universal Studios Florida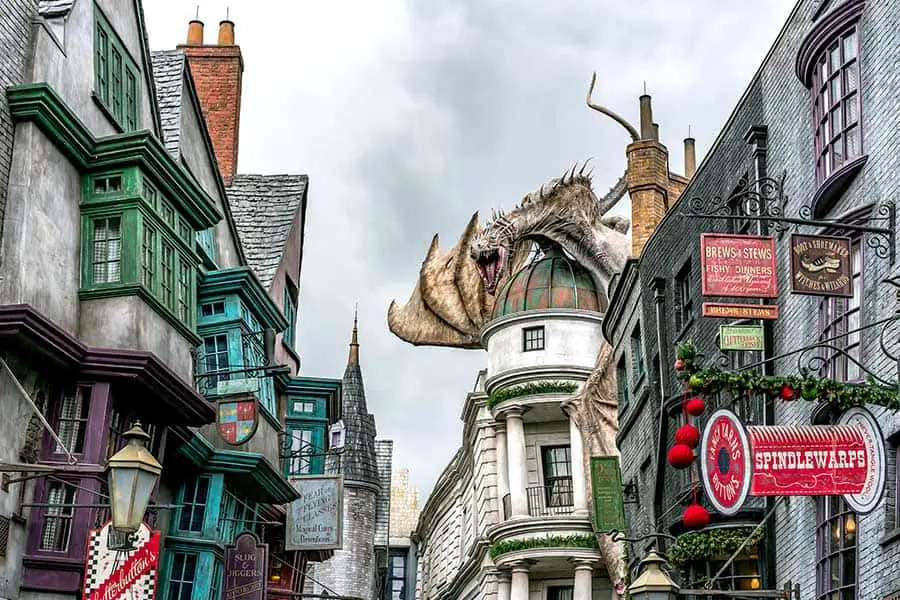 Multiple roller coasters and rides, including Revenge of the Mummy

Harry Potter

Minions

ET

Fast and Furious
Islands of Adventure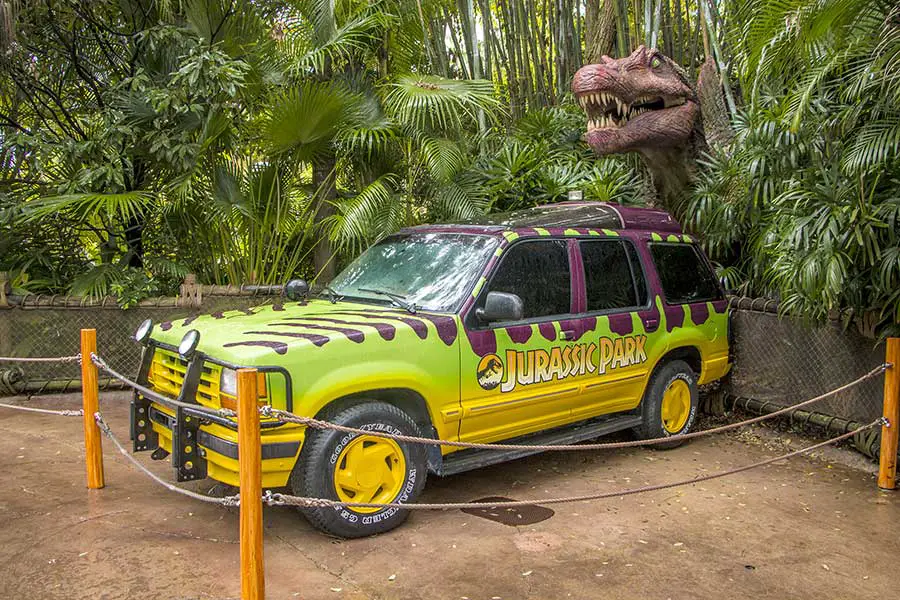 Multiple roller coasters, including The Incredible Hulk Coaster

Jurassic World

Harry Potter

Dr. Seuss

Marvel comic characters

Classic comics, e.g., Popeye

Kong
Disney
Magic Kingdom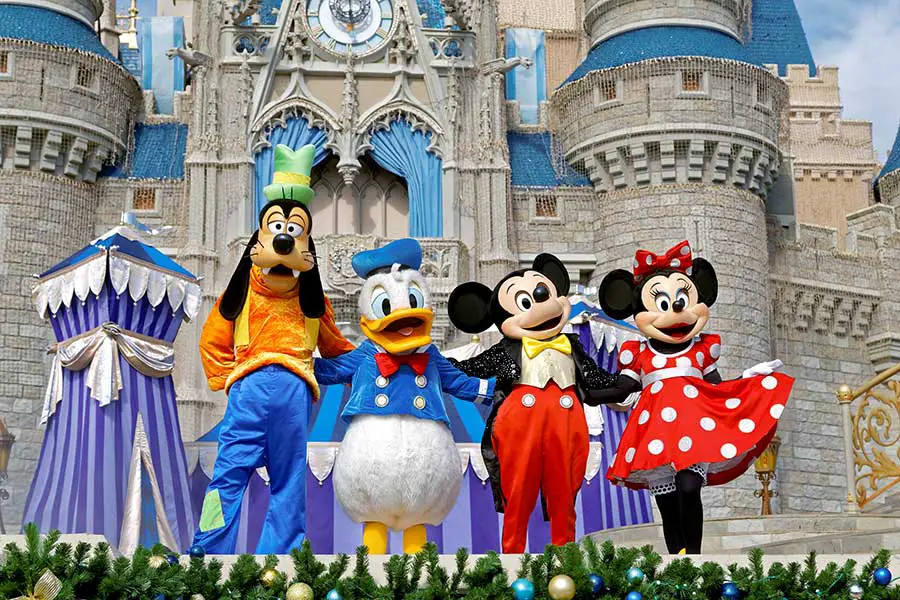 Cinderella Castle

Main Street USA, featuring parades and characters

Disney characters and themes

Iconic roller-coaster rides, e.g., Space Mountain, Splash Mountain

New roller coasters, such as the Seven Dwarfs Mine Train

The Haunted Mansion
EPCOT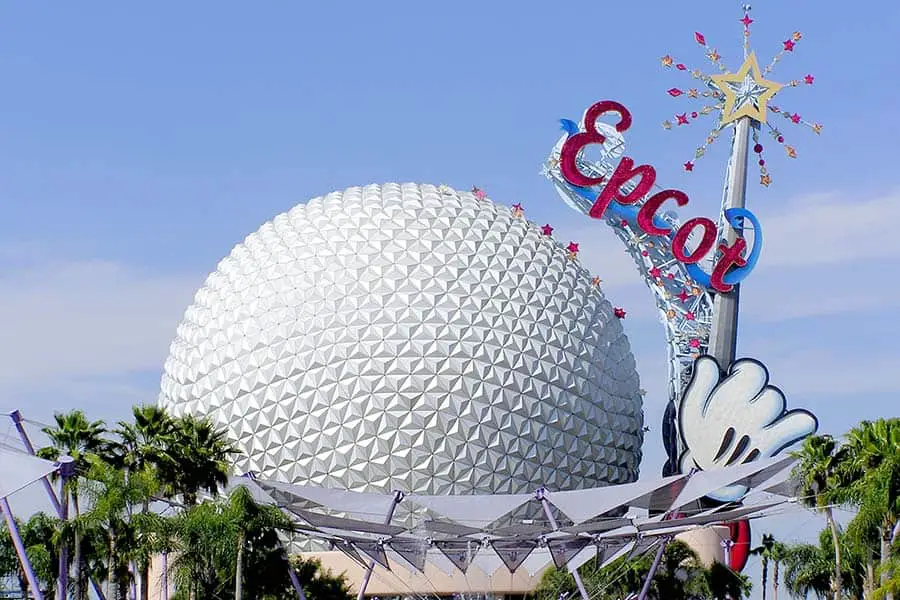 World Showcase: 11 themed pavilions for nations like Mexico, Japan, France, and England

Food – we especially recommend attending during the Food & Wine Festival

Soarin'

Spaceship Earth (the giant golf ball)

Test Track, featuring a rapid acceleration and a fun track

Guardians of the Galaxy
Animal Kingdom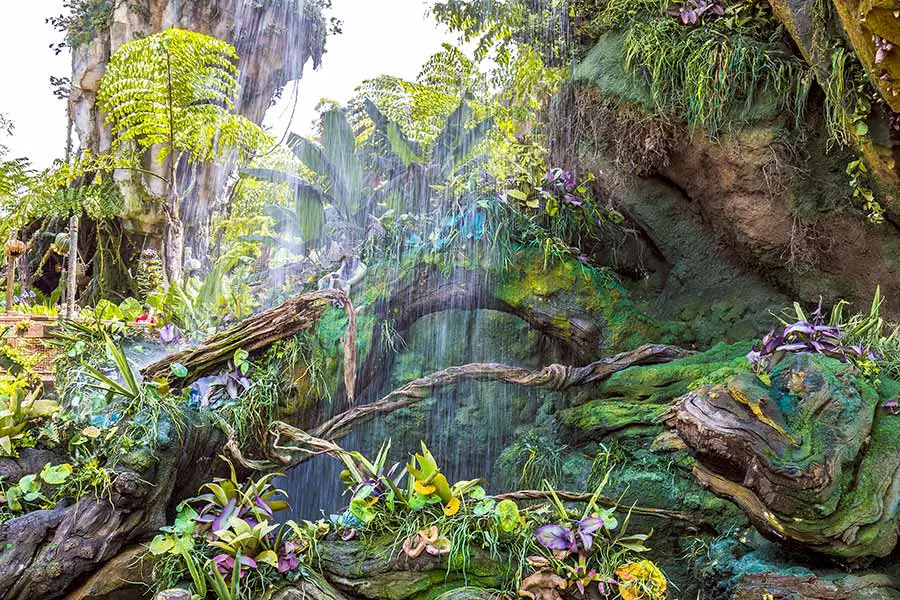 Pandora – The World of Avatar

Animal exhibits, including a safari that brings you to animals in an immersive habitat

Everest, a thrilling roller coaster

Avatar: Flight of Passage
Hollywood Studios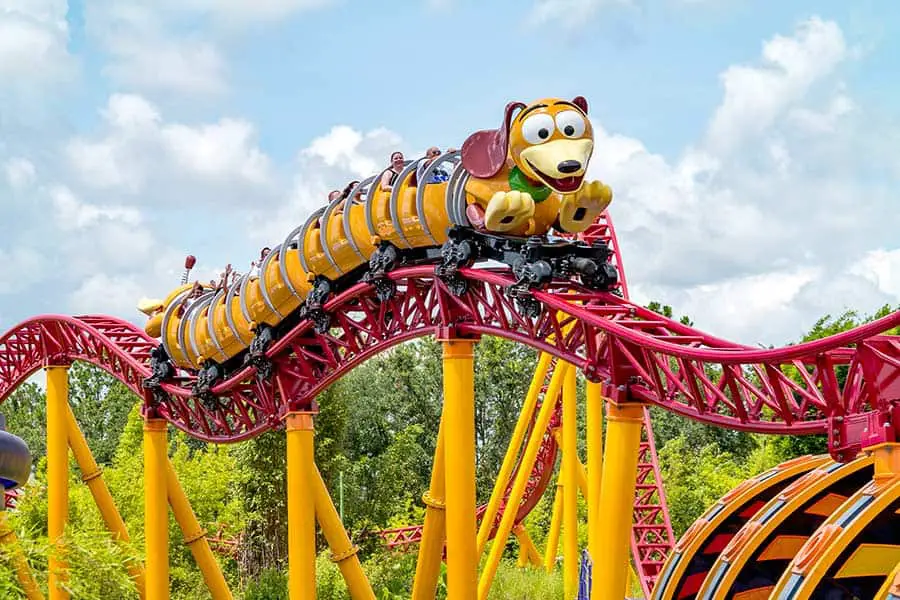 Star Wars: Galaxy's Edge

The Muppets

Indiana Jones

Toy Story

Tower of Terror drop ride

Rockin' Roller Coaster

Immersive Hollywood theme

Slinky Dog Dash roller coaster
Other Posts of Interest
Theme Park Pro Tips
Florida is

hot.

Stay hydrated, bring sunscreen, and wear a hat and sunglasses.

Keep an eye on the weather, especially in the summer.

If one of the kids doesn't want to do a specific ride, consider a ride-swap. Both parks allow guests to switch parents out so one can watch Junior while the other rides, then you can swap.

Bring a light backpack. You'll want to carry water, plus it's a great place to stash swag or snacks.

Plan ahead. Disney and Universal both have excellent websites and tons of fan resources online to help you maximize your experience.

To save money, consider bringing sandwiches and snacks from outside into the park. Both parks will allow visitors to bring their own water bottles and snack foods.

Wear comfy shoes. You'll walk a lot!
So both Disney World and Universal Studios have a ton of entertainment to offer. What about the average prices of the parks? To be perfectly transparent, you should bring your wallet and a healthy credit limit to both parks – between swag and snacks, you'll likely find yourself spending a few bucks wherever you go. That said, Universal is generally considered to be less expensive than Disney.
Phenomenal Florida Fun Fact: Guests at Galaxy's Edge can build their own light sabers or R-series or BB-series astromech droids. Guests will also marvel at the first life-size replica of the Millennium Falcon ever created.
Is Disney World Worth it if You Don't Like Rides?
Even if you don't want to ride the rides, there are many things to do at Disney. First of all, there's a ton of food. Disney has restaurants, eateries, snack bars, ice cream stands, and coffee shops everywhere you go. So if you're something of a gourmand, or if you just enjoy trying different foods, Disney is a great place to go.
Disney also has plenty of entertaining, immersive experiences and exhibits. For example, Epcot's World Showcase features plazas that display the architecture, culture and (of course) food of different nations.
Magic Kingdom and Hollywood Studios feature amazingly detailed buildings reminiscent of various fantasy and Hollywood settings. Even Animal Kingdom has plenty of interesting exhibits, including Pandora – The World of Avatar, which drops visitors into the middle of James Cameron's remarkable cinematic universe.
There are also parades, shows, and character meet-and-greets. Disney World even offers golf, mini-golf, and an assortment of luxury resorts to relax in. And don't forget the giant pools and other activities at the water parks, Typhoon Lagoon and Blizzard Beach.
Is Disney World or Universal Studios Better For Adults?
Many people might argue that Universal is better for adults. CityWalk features a lot of venues targeted at adults, and the intellectual properties that the themed areas are based on are (arguably) more interesting to grown-ups. The rides are impressive and thrilling even for the burliest and hardiest of men, and the food and drink scene is delectable.
On the other hand, there are legions of adults who absolutely love and adore Disney. You'll see adults visiting Disney on their own without kids, participating in events like Dapper Days, meeting characters, and just taking in the ambiance. Disney's resort properties are high-end and luxurious and offer many adult-focused activities such as golf, and rides like Space Mountain and the Seven Dwarfs Mine Train are quite thrilling.
In the end, both Disney and Universal are suitable for adults. It's primarily a matter of personal preference. If you like Optimus Prime more than Mickey, Universal might be best for you; if you'd rather hang out with Goofy than Bart Simpson, Disney is probably the best choice for you.
Is Universal Studios Orlando Worth it if You Don't Like Rides?
Much like Disney, Universal Studios Orlando has a plethora of activities on offer, even for visitors who don't want to ride the rides. Also, like Disney, you should bring a healthy appetite! Universal CityWalk features dozens of amazing places to eat.
You can score some flavorful Jamaican food at Bob Marley – A Tribute to Freedom, or indulge in a rich dish at the delightfully named Toothsome Chocolate Emporium and Savory Feast Kitchen. There's also a Margaritaville restaurant, the Hard Rock Cafe, and Pat o' Brien's piano bar and Cajun feast restaurant.
Universal also features immersive environments in the different areas of the park. Fans of the Harry Potter series will want to stop by Diagon Alley and Hogsmeade to enjoy a remarkably well-constructed world that transports you into the midst of the action.
Simply wandering around Universal will take you to the settings of your favorite movies and stories, whether you like Transformers, Jurassic Park, Jaws, or even The Simpsons.
If you like to hit the pool, you'll be delighted to know that Universal also has a water park called Volcano Bay, or a more relaxing experience at the Cabana Bay Beach Resort. There's no shortage of fun activities to do at Universal, even if you don't want to ride the rides.
Disney and Universal: Different, But Fun
When it comes to Disney and Universal, both are phenomenally fun attractions located just near Orlando. But each park has its own distinctively different vibes.
As you would expect, Disney is focused mainly on Disney characters and the vision of Walt Disney for a happy future powered by magic and fun. On the other hand, Universal is primarily themed around highly popular and successful properties such as Marvel Comics, Dr. Seuss, Jurassic Park, Jurassic World, and of course, Harry Potter.
They might be different, but whichever park you choose to go to, you're practically guaranteed to have a good time. Both parks are immaculately maintained, designed down to the finest detail, and filled with fun, food, and swag that will satisfy almost any guest. So whether you come to see Mickey or to experience the world of Harry Potter, your trip to Disney or Universal will undoubtedly be the trip of a lifetime.