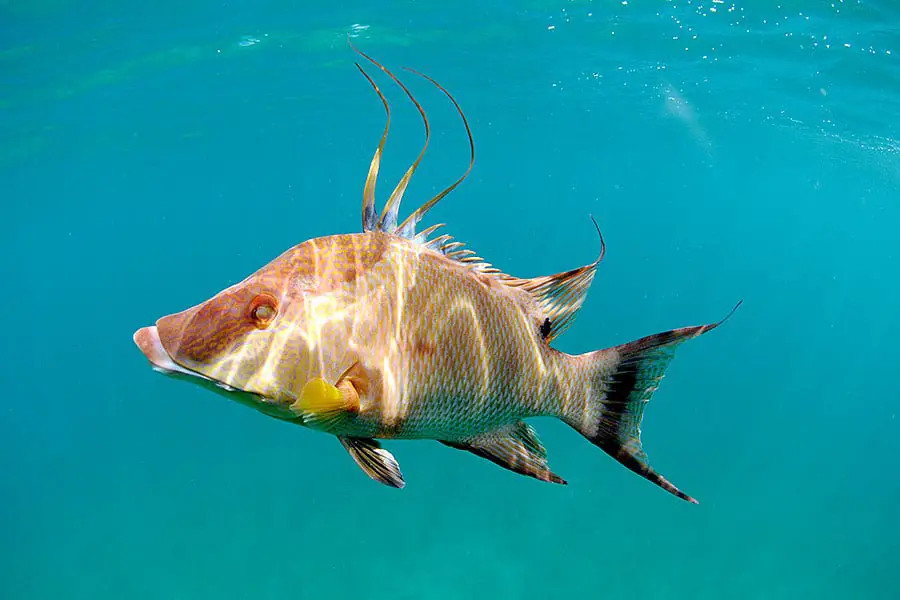 Fans of Florida have no doubt heard of the famous Biscayne Bay. Located just off the coast of sunny Miami, Biscayne Bay is home to some of the finest marine activities that Florida has to offer, including beach activities, boating, and most importantly, fishing. But what kind of fish actually live in Biscayne Bay?
Biscayne Bay is home to dozens of fish species, including barracudas, angelfish, butterflyfish, catfish, cichlids, damselfishes, flatfishes, gobies, grouper, jacks, jawfish, sunfish, porgies, pufferfish, sharks, snappers, snooks, tarpon, wrasses, you can find almost any kind of fish in Biscayne Bay.
So what kind of fish are the best for eating? Which ones are the most challenging to land? How about charters? Can you spearfish in Biscayne Bay? Continue reading to find all the answers to these questions and more.
Biscayne Bay: Fish, Fish, and More Fish!
Extending from North Miami Beach to the tip of the Florida Keys, Biscayne Bay covers approximately 271 square miles and is composed of many smaller hydrological features that divide it roughly into North Bay, Central Bay, and South Bay.
Many marinas dot the waterfront, providing a variety of options for boaters looking to launch into the bay and just as many places to meet a charter captain if you don't have a boat. There are dozens of charter operators throughout the Biscayne Bay area who will be happy to bring you out to enjoy a day's fishing on the bay.
One of the most famous species of fish in Biscayne Bay is the bonefish. While not an enormous fish, the bonefish likes to live in inshore tropical waters like those found in Biscayne Bay, where it lurks in mudflats and sand flats, feeding on the tiny creatures in the tides.
Bonefish are notoriously shy, and they have excellent sight as well as receptors sensitive to vibration in the water, which makes them highly challenging fish to catch. Their relatively small size — between 4 and 15 pounds in Biscayne Bay — makes them best for sportfishing.
Speaking of eating, Biscayne Bay is home to some excellent fish for anglers looking to make a meal of their catch. One of the best eating fish in the bay is, surprisingly, the hogfish.
Phenomenal Florida Fun Fact: During the time when the British occupied Florida, Biscayne Bay was known as "Sandwich Gulph." I think we're all glad that they changed the name.
The hogfish is a type of wrasse, meaning they feature prominent lips, bright colors, and dorsal spines. These little guys grow to about three feet long and can weigh up to about 25 pounds; they put up a good fight when on the hook, and they are delicious when seared, broiled, or grilled.
Another great eating fish is the snapper. Similar in size to the hogfish but weighing in closer to 35 pounds at the top end, the snapper is renowned for being good fishing and good eating bundled into one scaly little package. When you catch a snapper, bring it home and consider breading and baking it – or if you prefer a trophy, they're great to mount.
If you want a real trophy fish, you should fish for Amberjack. These titanic fish are widely regarded as being some of the most challenging prey in the bay. These fish can grow to be six feet long and up to 200 pounds, and they are renowned for being strong fighters. Landing a good-sized amberjack gets you bragging rights for sure.
Other Posts of Interest
Can You Fish in Biscayne Bay?
Yes, as I mentioned above, fishing is allowed in Biscayne Bay and even in the Biscayne National Park. You can fish from bridges and causeways, from piers and shorelines, and of course from boats.
Many anglers who chase the elusive bonefish enjoy wading into shallow waters to cast about for their quarry; others prefer to find their dinner in the sea and angle for delicious fish like snappers. Regardless, one can certainly fish in Biscayne Bay.
Do You Need a License to Fish in Biscayne Bay?
Just like fishing anywhere in Florida, you do need to have a license to fish in Biscayne Bay. For Florida residents, an annual saltwater fishing license costs a mere $17, or you can spend $79 for a five-year pass. Non-residents and visitors can buy an annual saltwater license for $47, or if you're only in town for a couple of days, you can get a license for $17 for three days or $30 for seven days.
Do You Need a License to Take a Fishing Charter in Biscayne Bay?
If you're visiting Florida — or even if you live here and just don't have a fishing license — you can fish on a fishing charter boat without holding your own fishing license.
As long as your charter captain has a FWC Charter Captain license, authorized customers can fish under the captain's license. Of course, you will still be expected to abide by state or federal limits and regulations, but you won't need to get your own fishing license if you're on a charter.
Is it Better to Catch Fish at High Tide or Low Tide?
The best time to catch fish is actually between tides, when there is a moving current. Game fish like to ride the currents looking for prey during these intervals between tides, making this time perfect for catching most fish. High tide and low tide are generally more challenging to fish in, although a skilled angler can still catch fish during these extremes.
Tides are actually rather important to successful saltwater angling because they affect the local food ecosystem. An incoming tide flushes many crustaceans and other small prey from their various hiding places, thus drawing in game fish who want an easy meal. If you're going to fish this kind of tide from shore, you should cast far and let the bait go with the current.
If you happen to get to the fishin' hole just as the tide has gone out, you should look for areas where there is deeper water, such as channels or drop-offs. The deeper water is where the bigger fish will head when the waters begin to get a little low. That said, fishing at low tide is not usually considered ideal. To avoid an unfortunate mishap like this, check the tide charts before you head out.
Can You Spearfish in Biscayne Bay?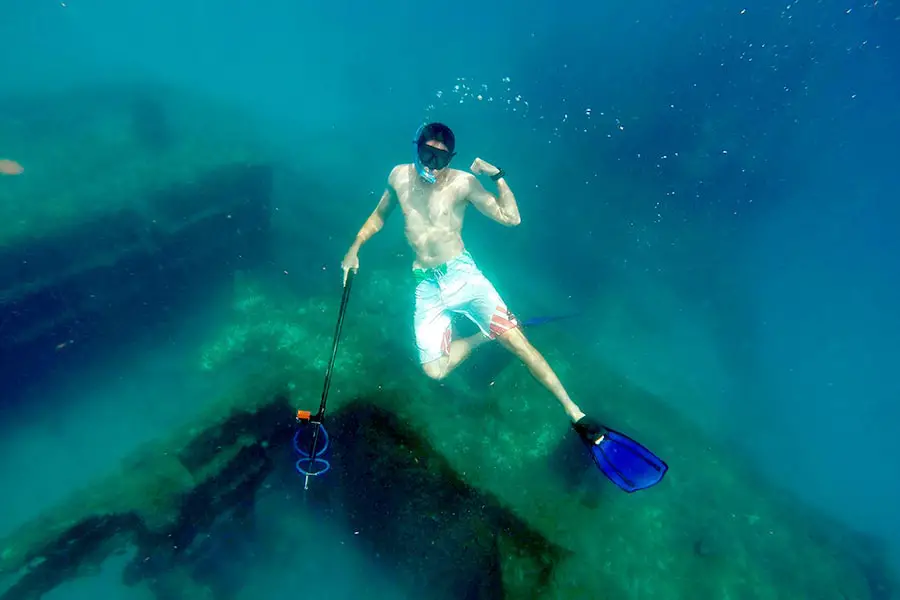 Spearfishing is allowed in Biscayne Bay. In the North and Central Bay areas, you are allowed to spearfish in accordance with Florida Fish & Wildlife Commission rules. However, much of the South Bay area is actually part of the Biscayne National Park. Many people on the internet have said that spearfishing is not allowed in national park waters – is that true?
According to the National Park Service, there are some additional regulations to fishing in the National Park's waters. Spearfishing is not expressly prohibited. However, FWC has recently proposed rule changes that would prohibit spearfishing in the park. I would recommend that you check in with a park ranger to get the most current information on spearfishing if you're planning a trip to Biscayne Bay.
Can You Anchor in Biscayne Bay?
Anchoring is permitted within Biscayne Bay as long as you follow Florida's laws about anchoring. However, anchoring overnight is prohibited in certain sections of Biscayne Bay in an effort to reduce the occurrence of derelict boats.
For many reasons, there has long been a problem with abandoned boats in South Florida, and this unfortunate fact has led to tighter regulations around anchoring and mooring.
That said, the Miami area is very friendly to boaters, and there are many areas in which you can anchor. If you are a full-time cruiser who lives on a boat, you can stay anchored in some areas for up to 45 consecutive days.
Does Biscayne Bay Have Mooring Buoys?
To prevent damage to coral reefs, Biscayne National Park has placed mooring buoys at various locations throughout the South Bay. In addition, Miami-Dade County recently implemented a similar program designed to allow boaters to moor without having to drop anchor and possibly damage the fragile reefs located throughout the bay.
See You in the Bay!
South Florida is simply a one-of-a-kind place, with an ambience and an atmosphere that is impossible to replicate anywhere else.
Biscayne Bay is a big part of this personality: one can hop in a boat and go from glitzy waterfront Miami to an expansive, beautiful national park in minutes. You can reel in a massive amberjack and then head back to the city for a tasty dinner or a night on the town, or you can catch a hogfish and enjoy some grilled fish with your friends.
Whether you come to Biscayne Bay to wrangle the legendary bonefish or to dive in the reefs and see beautiful tropical fish, you'll leave satisfied. Florida is an angler's paradise, and Biscayne Bay is one of the best places in the Sunshine State to cast your line. So see you out in the bay.