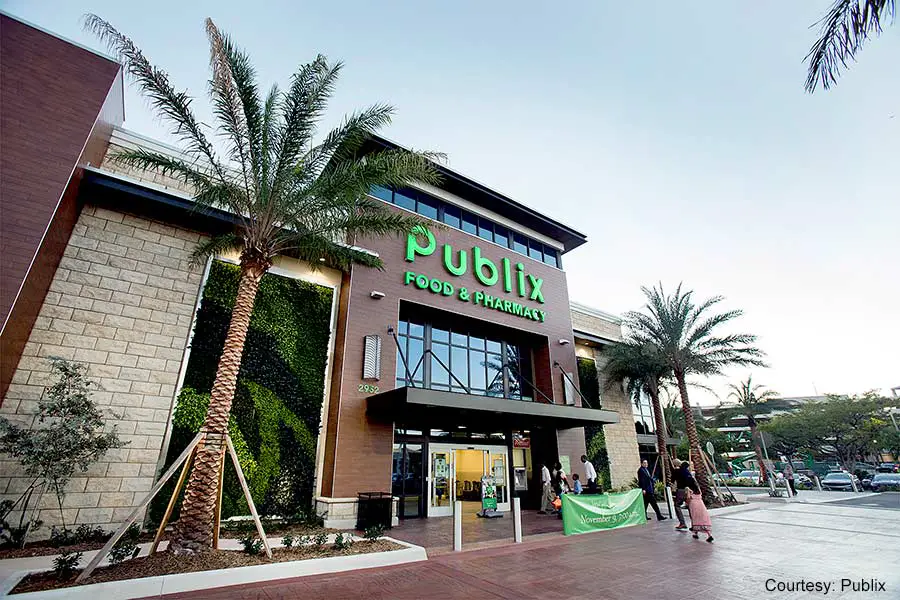 Talk to anybody from Florida for a few minutes, and chances are they'll mention Publix, Florida's favorite grocery store. But why is Publix so popular in Florida?
Publix's commitment to quality and good customer service makes it a truly unique grocery brand. Floridians know that they will get a good value for their money at Publix. Some items, like Publix cakes or the famous Pub Subs, are almost universally beloved by Floridians. Plus, Publix originated in Florida, so we can feel proud to shop there!
So is Publix exclusive to Florida? What makes this store so unique? Where's the largest Publix in Florida, and where is the oldest one? Discover more about this phenomenal Florida business in the following sections.
Publix: A Floridian Success Story
There have been many successful businesses in Florida, but one of the state's favorites is Publix. The story begins in 1907 when George W. Jenkins, the company's founder, was born. Jenkins grew up around the grocery business, working at his father's general store before moving to Florida in 1925. Once in Florida, Jenkins found work at a Piggly Wiggly store, where he further refined his knowledge of the grocery industry.
Jenkins moved up Piggly Wiggly's ranks quickly, eventually becoming a store manager. Then, in 1930, Jenkins decided to strike out on his own. He resigned from Piggly Wiggly and opened the first ever Publix store in Winter Haven, Florida.
His store was a success. Jenkins, a good businessman, soon opened a second location in Winter Haven. Later, he consolidated both of these markets into one enormous store. Jenkins knew that the customer experience and customer perception mattered, so he focused on creating an appealing, welcoming, and comfortable environment for his customers.
The first Publix Super Market opened in 1940 and featured high-end finishes like terrazzo floors, marble, and polished glass. It also featured innovations like air conditioning and fluorescent lighting.
As Publix continued to grow, Jenkins made sure that the company never wavered from his vision. As a result, his stores were (and still are) spotlessly clean and well-organized.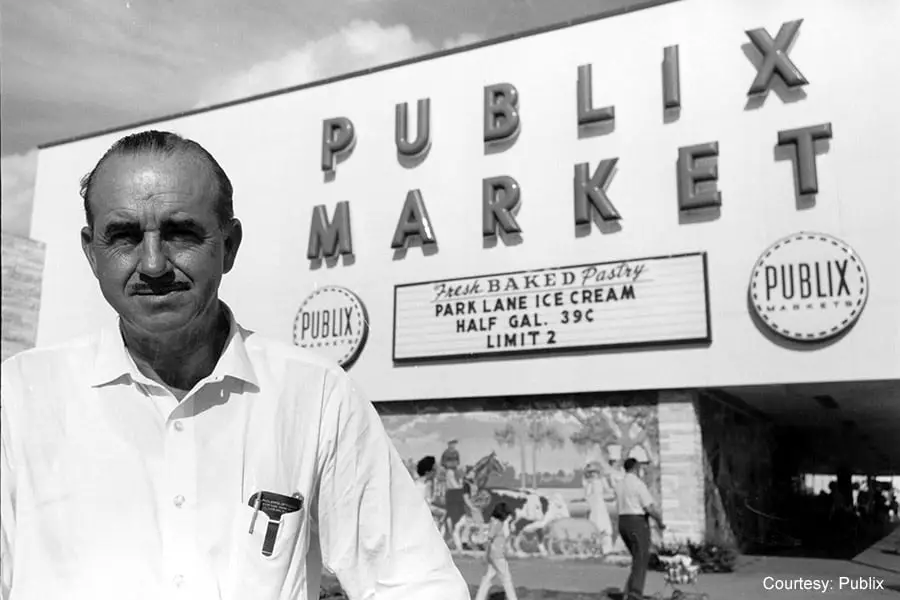 From the beginning, Jenkins' idea was that employees and customers should be treated like family, and while many leaders say that, George Jenkins actually meant it. His philosophy of treating his workers and customers well has helped the company enjoy enormous success.
Today, there are more than 1,200 Publix stores across the United States, with more coming every year.
What Makes Publix Unique?
In many ways, Publix is just another grocery store. They sell the usual items one would expect from any grocer: produce, meat, canned goods, and so on. But, knowing that consumers can go to any store to get these items, Publix differentiates itself from its competitors in two key ways: quality and service.
Quality
First, unlike many grocery chains, Publix produces many of its store-brand items. Typical grocery stores will contract this function out: instead of making Grocery Store Brand potato chips, for example, they'll contract with Bob's Potato Chips and slap their own label on them.
Publix, on the other hand, actually manufactures most of the products that are sold under their name. This model allows Publix to directly control the quality of their merchandise instead of relying on another business to do so for them.
When Publix does contract manufacturing out, they hold suppliers to a high standard. As a result, substandard vendors will not enjoy repeat business with Publix.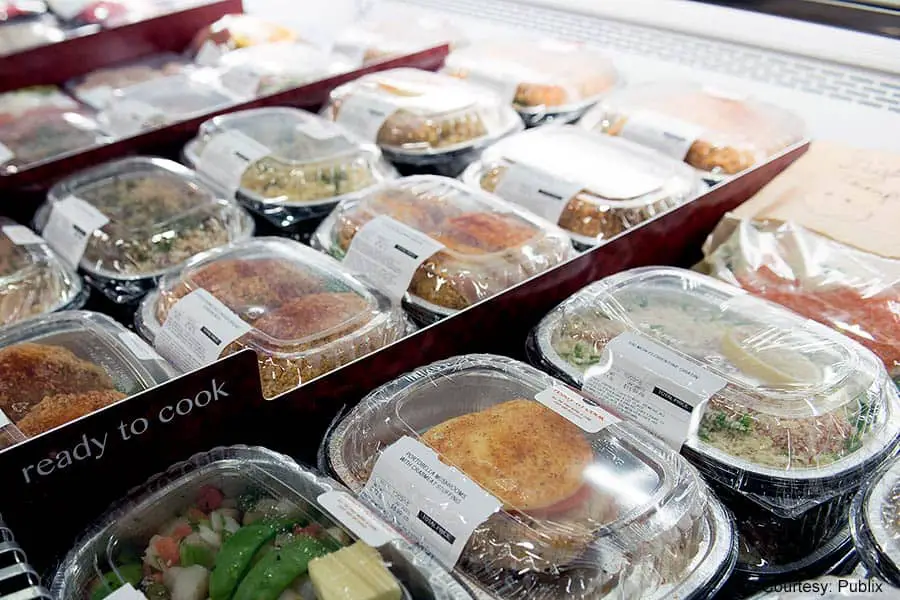 Publix's focus on quality is evident in many of its store-made products. Almost any Floridian will tell you that Publix's fried chicken, for example, is far better than the competition's – it's even better than fried chicken from chain restaurants that specialize in the dish! Likewise, Publix's cakes, deli foods, and especially their subs are renowned among Floridians for their quality and deliciousness.
Service
Second, Publix's customer service is top-tier. Publix holds every employee, from the bagger to the butcher, to a very high standard of customer service. When you ask a Publix associate a question, they'll either know the answer or know exactly who to ask. The customer is the focus.
There is a noticeable difference in the quality of service provided by Publix versus competing grocery chains. Publix associates will help you bring your bags to the car and even load them for you. Workers in the deli or the bakery will go the extra mile to get the job done right for the customer, which is a refreshing change in a world where many companies won't do that.
Does Publix Have Senior Discounts?
If you're over the age of 60, stop by your local Publix and ask them about their daily and weekly offers for senior citizens.
Specific discounts or promotions may vary depending on the season, the store's location, and other variables, but Publix values its senior shoppers and often has excellent deals to offer them.
Does Publix Have a Loyalty Program?
Publix offers customers the opportunity to join Club Publix. Members enjoy access to select digital coupons based on their shopping history, sneak peeks at promotions, e-receipts, and even birthday treats!
It's free to join and easy to use; as you check out, simply enter your phone number on the PIN pad at the checkout, and your digital coupons and rewards will be applied to your order.
Other Posts of Interest
Where is the Oldest Publix Store in Florida?
The very first Publix store in Florida opened in 1930 in Winter Haven, Florida. This great-granddaddy of today's Publix was called Publix Food Store and was substantially smaller than the grocery stores of today. The original building still stands in Winter Haven, although a restaurant now occupies it.
If you want to see the oldest Publix store that's still operating, hop in your car and drive to the Southgate Shopping Plaza in nearby Lakeland.
The Publix at Southgate has been operating continuously since 1957 when it replaced a much smaller store. The Southgate location replaced a smaller store located just up South Florida Avenue. This original building, constructed in the Art Deco style, still stands today.
Phenomenal Florida Fun Fact: The Southgate Shopping Plaza's unique design has led to it being featured in several movies, including Edward Scissorhands and The One And Only Ivan. It is still a popular spot to take photos today.
Is Publix Only in Florida?
Publix began in Florida, but it is not exclusive to Florida. They've expanded to many southeastern and Atlantic states, including Georgia, North and South Carolina, Alabama, Tennessee, Virginia, and now Kentucky.
While nobody outside of Publix's senior management knows what their future plans include, it's safe to bet that they'll continue growing and expanding as time goes on.
Where is the Largest Publix Store in Florida?
Publix stores come in a variety of shapes and sizes. Some are built from the ground up, while others are built on existing sites. As a result, you'll find some stores that are a relatively small 20,000 square feet and others that are approaching a warehouse-like 90,000 square feet. Some of Publix's new designs even feature a second story!
While specific details on the square footage of each store are difficult to find (and new stores are being built all the time), one of the biggest Publix Super Market is store #1326 in Bradenton, Florida. This store is about 82,700 square feet in size, which is almost two acres!
Why is Publix so Successful?
The key to Publix's success is its focus on the customer. Unfortunately, many modern companies are more concerned with making humongous profits than they are with providing decent goods and services to their customers or treating their employees well.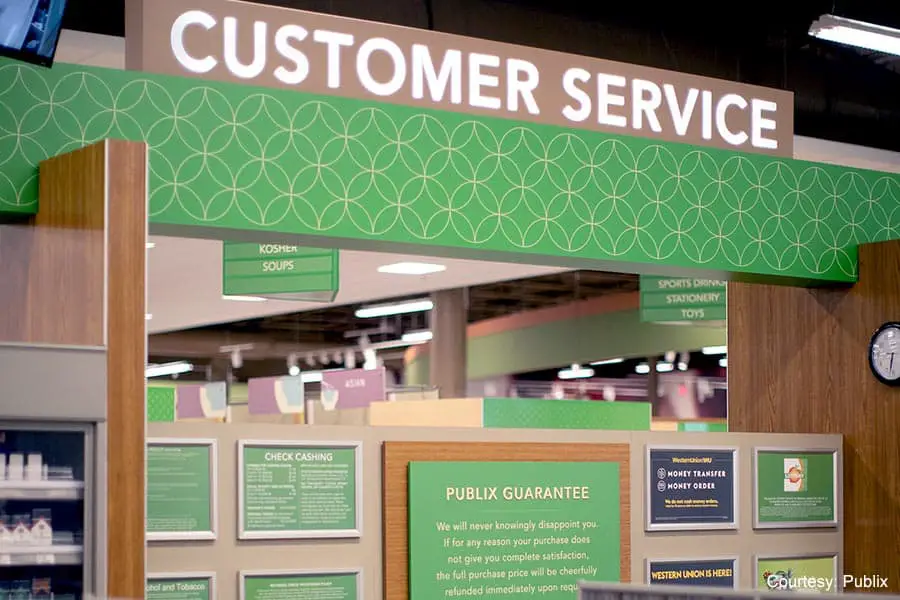 Publix, on the other hand, still believes in providing good customer service, a belief that they back up with action. So if you feel your Publix experience was suboptimal, go talk to the Customer Service desk in any store, and they will do what they can to make it right for you.
Part of the reason that Publix can still place so much emphasis on customer satisfaction is that the company is employee-owned.
Here's why that matters: publicly traded for-profit companies have a fiduciary obligation to shareholders to provide a reasonable return on their investment.
Unfortunately, today's business leaders view this as an obligation to make as much profit as possible, which usually manifests by the company cutting corners, raising prices, and otherwise engaging in behaviors that are not oriented around the needs of the customer.
While it is a for-profit company, Publix is not publicly traded on the stock exchange. The only people who own stock in Publix are its employees. In other words, Publix is structured in such a way that the company is beholden to the people who work there, not to faceless investors or huge banks.
Since Publix is employee-owned, the company has a reputation for treating its employees well. Happy employees make happy customers: a simple concept that many modern businesses have forgotten about.
Checking Out
Whatever your background is, we all like to eat food. Publix is definitely the best place in Florida to shop for food. The stores are clean and orderly, the merchandise is high-quality, and the customer service is outstanding. Whether you're visiting Florida for a vacation, moving here to escape the snow, or a long-time Floridian resident, do yourself a favor and shop at Publix. You'll never want to go to a regular store again.