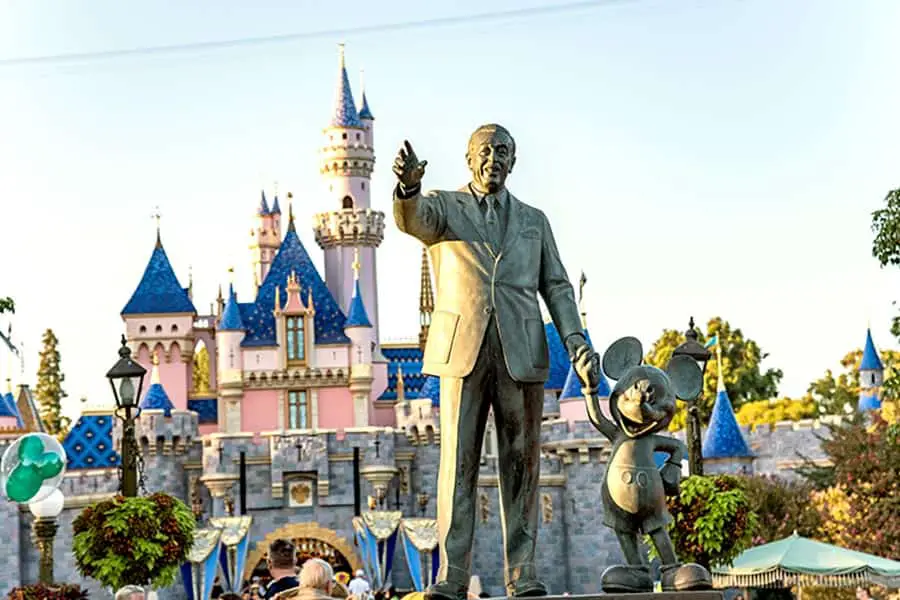 Disney World and Disneyland are places where families go to create treasured memories. But, despite the parks' fame, unless you're someone who is really into Disney, you probably don't know exactly when the parks opened. So which came first, Disney World or Disneyland?
Disneyland was the first Disney park, opening its gates on July 17, 1955. Disney World opened about 16 years later, on October 1, 1971. However, Disney World did not open all at once; the Magic Kingdom opened in 1971, Epcot in 1982, Hollywood Studios in 1989, and Animal Kingdom in 1998. 
So why did Disney expand to a second park? How many Disney World parks are there? Are there Disney parks in other countries? There's a lot to learn about the Disney parks, so let's get started.
The Empire of the Mouse
Walt Disney was a visionary. As he took his daughters to various amusement parks in the 1930s and 1940s, Disney began to envision a park of his own, perhaps in the vicinity of his Burbank studios. After some searching, Disneyland's Anaheim location was selected, and the company broke ground on the enterprise in 1954.
Disneyland, the first Disney park, was unveiled to the world on July 17, 1955, to much fanfare. The original Disneyland park was smaller than today's Disneyland; the California Adventure portion of Disneyland is actually built on the parking lot of the original Disneyland park.
Other expansions over the years have included New Orleans Square, Mickey's Toontown, and in modern times, Star Wars: Galaxy's Edge. (There is also a Galaxy's Edge at Disney World!)
As time went on, Disney began to feel like his vision could grow. 
However, Anaheim was becoming crowded, and Disney did not have control over the real estate adjacent to Disneyland, which limited his ability to expand.
Furthermore, market research found that visitors to Disneyland were almost all from states west of the Mississippi. Therefore, expanding to the eastern United States would allow Disney to attract many more people.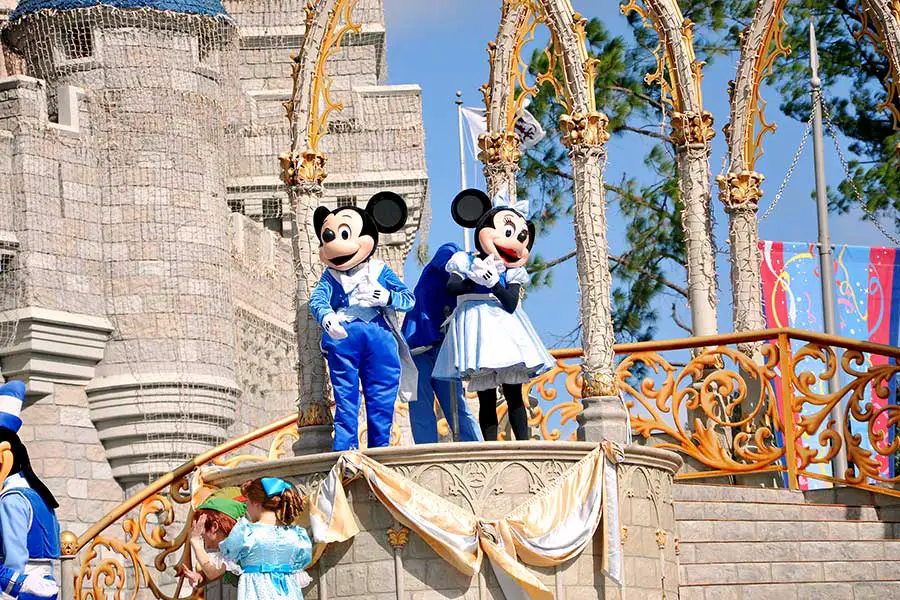 Disney Comes to Florida
Desiring a site where he could have plenty of room to grow, Disney began surveying land in Florida. The parcel of land that is Disney World today was once a collection of cow pastures and swamps.
Disney selected the site because of its close proximity to Orlando and because Florida's highway department was, at the time, in the process of building a massive road network across central Florida. Disney's chosen parcel of land would have easy access to the interstate highway system and was close to McCoy Air Force Base, which later became Orlando International Airport.
Disney was a shrewd businessman and knew that publicly buying a giant swathe of land would likely drive real estate speculation and could attract competitors or developers who would encroach on his vision. So to prevent this from happening, Walt Disney Productions created dozens of dummy corporations to purchase the land in smaller parcels.
Disney knew that people would eventually figure out who was really buying the land, but he was able to maintain a veil of secrecy for several years. 
Phenomenal Florida Fun Fact: In response to environmental concerns, Disney donated 8,500 acres of land to The Nature Conservancy to help protect Florida's beautiful natural wildlife. Disney World has also been actively building solar power capacity; nearly 40% of the park is solar-powered!
People did notice the land acquisitions but speculated that the land was being bought by NASA, the Rockefellers, or even Howard Hughes.
The secret was revealed in 1965, when the Orlando Sentinel publicly speculated that Disney was buying the land. Finally, on October 25, 1965, the truth came out when Florida's governor confirmed that Disney was the mystery landowner.
This disclosure was earlier than Disney would have liked for his plans to be revealed; however, the Orlando Sentinel article had spurred enough public interest that Disney felt there was no reason to wait any further.
Other Posts of Interest
Walt Disney's Vision, Realized
Unfortunately, Walt Disney died of complications from lung cancer in late 1966, before the completion of Disney World. His death was especially heartbreaking as it meant that he would never get to see his magnum opus completed. Nevertheless, Walt Disney's family wanted to ensure that his magnificent idea would come to fruition.
So it was that Walt Disney's brother Roy Disney stepped in to oversee the completion of the project. Roy Disney made several critical business decisions that allowed Disney World to become the world-famous attraction that it is today.
Specifically, Roy Disney was able to have Disney's property incorporated into the cities of Bay Lake and Lake Buena Vista, which allowed Disney to issue bonds to raise funds for improvements. Roy Disney's maneuvering also allowed Disney World to be exempt from land-use laws and minimized state control over the parks.
Disney still has significant clout to this day. If Walt Disney had not built Disney World, much of Central Florida would probably still be undeveloped swampland.
In fact, Disney has so much influence that they were able to obtain a special "Temporary Flight Restriction" over their airspace, a privilege usually reserved for national security interests and critical infrastructure like nuclear power plants.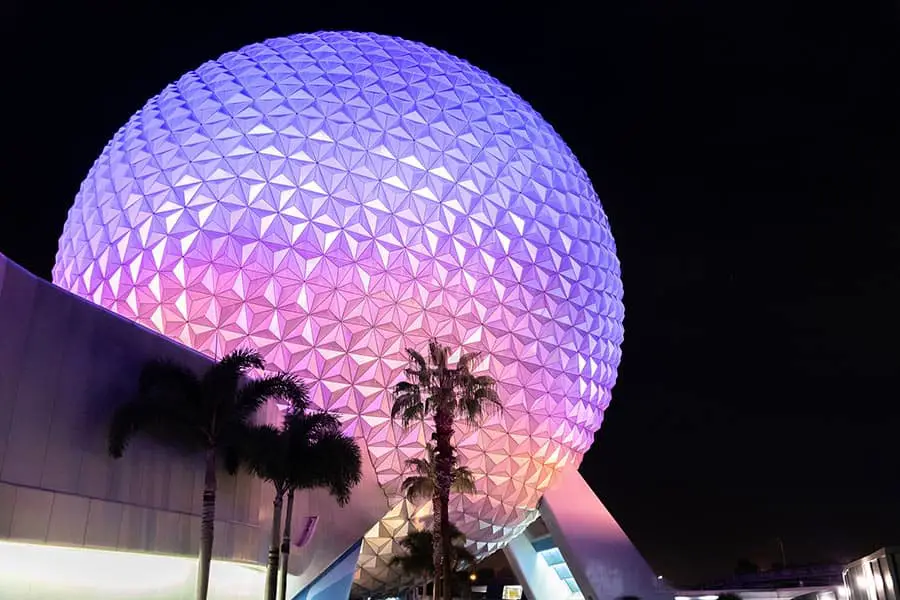 Today, Disney World continues to expand and grow. One of the things that makes Disney parks so special is that they are constantly being reimagined. The Hollywood Studios of today is unlike the Hollywood Studios of ten years ago; Magic Kingdom will be different in the 2030s than it is today.
However, even while changing, Disney manages to stay true to Walt Disney's vision and to its own heritage. Visitors to the park today enjoy modern attractions such as the Monsters Inc Laugh Floor or Galaxy's Edge alongside classics like the It's a Small World ride and Space Mountain.
It's worth noting that one key difference from Walt Disney's original vision and today's Disney World is Epcot. Originally, Walt Disney had envisioned Epcot as a residential city that showcased futuristic technology.
However, running a city is a complicated business that requires a very distinctive set of skills and responsibilities compared to running a theme park. So Disney's board abandoned the concept of a futuristic city and instead opted for Epcot's World Showcase.
Despite this change, Epcot still holds true to Walt Disney's vision. The park features displays of futuristic technologies and ideas of a better future for humankind. And, happily, Disney's vision for a master-planned community was eventually realized when the town of Celebration was constructed in the 1990s.
Over the years, Disney World has boomed. Today, Disney World has four separate theme parks, two water parks, golf courses and mini-golf, and dozens of resorts. You can even head to Port Canaveral and take a Disney cruise! So it's safe to say that Walt Disney's vision for a happy, safe, and fun place for families to connect and bond truly has been realized.
How Many Disney World Parks are There?
In total, there are 12 Disney parks located around the world.
In the United States, you can visit Disneyland and Disney California Adventure in Anaheim, California. And of course, Walt Disney World in lovely Orlando is home to the Magic Kingdom, Epcot, Hollywood Studios, and Animal Kingdom.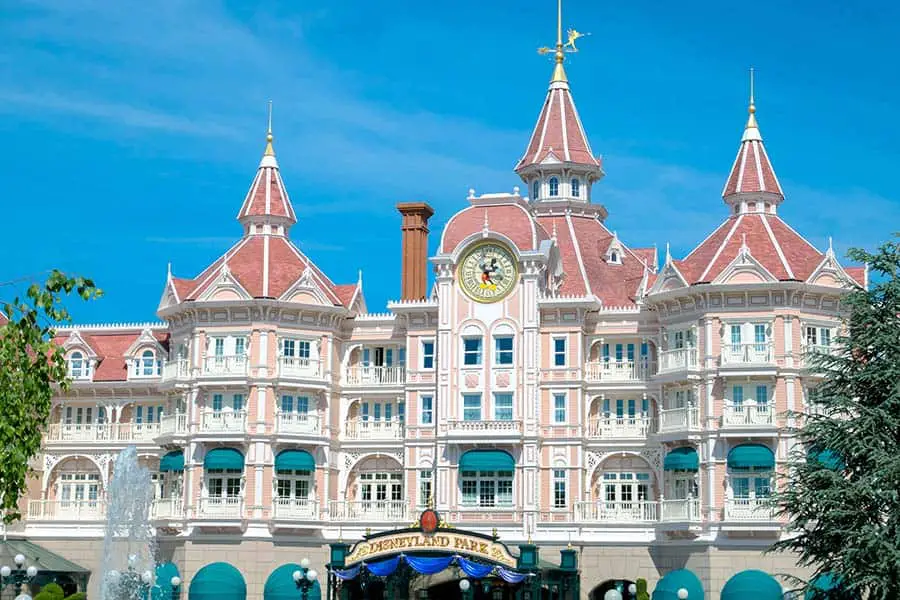 France is home to Disneyland Paris and Walt Disney Studios Park. Disneyland Paris is rumored to be one of the most beautiful Disney parks in the world, featuring the immaculate attention to detail that the French are often renowned for. Walt Disney Studio Park is often described as a European version of Hollywood Studios. 
From Paris, jet on to Hong Kong and visit Hong Kong Disneyland. Often described as charming, this park is one of Disney's smaller attractions; it can be experienced in one or two days, whereas most other Disney properties require several days to really dive into. However, Disney continually reimagines their properties, and we would bet that Hong Kong Disneyland is going to continue to grow and evolve as time goes on.
Leaving Hong Kong, we go to mainland China and Shanghai Disneyland. Shanghai Disneyland is astonishing in scope and detail. For example, the park features the TRON Lightcycle Power Run, an immaculately detailed ride that has to be experienced to be believed.   
From China, let's travel to Japan and visit Tokyo Disneyland. Tokyo Disneyland is rumored to have some of the best food among Disney's properties, which is a significant achievement as Disney's food is generally quite good. In addition, Tokyo DisneySea is right next door to Tokyo Disneyland, and has a reputation as one of Disney's most amazing and impressive parks.
While most Disney parks are divided into "lands," such as "Tomorrowland" or "Frontierland," DisneySea is divided into ports. The ports are stunningly beautiful and richly detailed, and a visitor to Tokyo DisneySea truly does feel transported to another time and place.
Disneyland: Where It All Began
Today's expansive selection of Disney parks would not have been possible if Walt Disney had not imagined the original Disneyland park. While Disneyland feels noticeably smaller and more quaint than Disney World, it is a fantastic attraction in its own right.
Even today, decades after Disneyland's doors first opened, guests can't help but smile as they take in the lovingly crafted details that define the Disney experience.
Whether you're visiting Disney World or heading to Shanghai Disneyland, remember that it all flows from the genesis of the park experience at Disneyland in Anaheim.