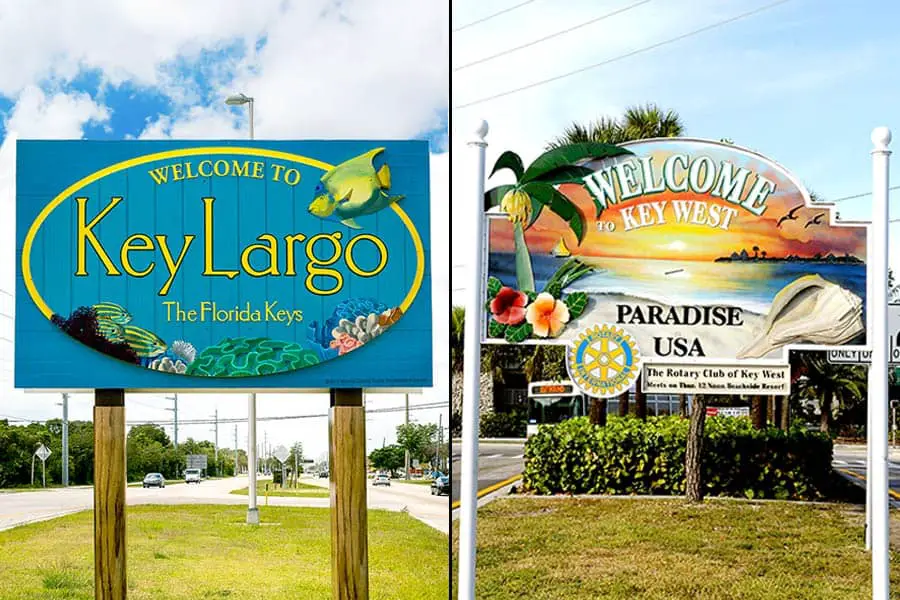 The Florida Keys are one of the most beautiful and impressive places in the world. The unique islands, the gorgeous coastline, the fun, and relaxed local culture — the keys are an absolute treasure. But which end of the keys is less expensive? Is Key Largo cheaper than Key West?
Key Largo is cheaper than Key West overall. Lodging and travel expenses to Key Largo are less than they are in Key West. While entertainment and food expenses are pretty close, you can save hundreds of dollars by vacationing in Key Largo instead of Key West. 
So how do you get there? What kind of hotels should you look for? Are there any ways to get there other than by plane or car? Read on to find the answers to these questions and to find out which destination is right for you.
Key Largo vs. Key West: Which City is Cheaper?
To compare the cost of Key West and Key Largo, I'll look at several different elements. I'll compare the prices of transportation, lodging, vacation packages, and entertainment at these two fabulous destinations. Because there can be many variables, I decided to shop as if we were a family of four traveling from Omaha to either Key Largo or Key West.
Why Omaha? It is nicely central to the United States, so it makes a good barometer for travelers. Of course, your exact pricing will vary based on your point of origin and the season during which you travel.
Key Largo vs. Key West: Getting There
The first step to thinking about your trip to the keys is getting there. Unless you have your own boat, there are basically two ways to get to the keys: by car or by plane.
If you are already in Florida, the least expensive option is almost certainly to drive to the keys. The furthest point in Florida from Key West is the Panhandle; a trip from Pensacola to Key West will cover about 832 miles. The trip to Key Largo is about 97 miles shorter at 735 miles. Either way, you can anticipate between one and two full tanks of gas if you're driving from anywhere in Florida to the Keys — likely somewhere between $50 and $150. Of course, Key Largo is slightly cheaper to get to if you are driving.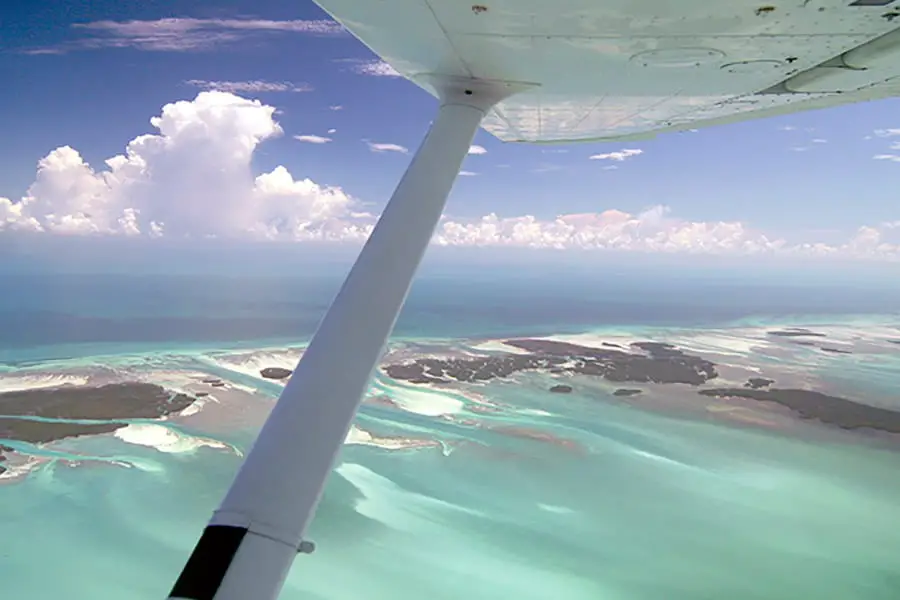 What about flying? To get to Key West, you can fly directly to the Key West International Airport. Unfortunately, Key Largo does not have its own airport, so you will need to fly to Miami and then rent a vehicle to drive the 62 miles down to Key Largo.
The cost of flights from Omaha to Miami averages out to about $300 per person or about $1,200 for a family of four. To fly directly into Key West will set you back about $400 per person, which comes out to about $1,600 for a family of four.
It's cheaper to travel to Key Largo.
Key West Exclusive: The Catamaran
There is one other travel option to get to Key West: the Key West Express catamaran. The express catamarans travel from Marco Island and Fort Myers Beach to Key West. Round-trip tickets are about $170 for adults, $120 for kids, and $70 for children under four years of age. So if you're already in or near Marco Island or Fort Myers, this is a great way to get to and from Key West.
Key West vs. Key Largo: Rental Cars
Renting a full-size vehicle like a Chevy Malibu or a Toyota Camry will cost you about $450 in Key West, but only about $200 in Miami. So, all in all, it is cheaper to get to Key Largo than Key West.
Phenomenal Florida Travelers Tip: Key West is a small town, and traffic can be pretty gnarly. In addition, parking can be challenging to find and expensive. Consider renting a bicycle for your time in Key West – you'll get around quicker and get some exercise in to help burn the calories from those tasty Key West drinks.
Key Largo vs. Key West: Lodging
The next step in planning your Florida Keys adventure is selecting lodging. The Keys have a wide selection of resorts and hotels available, not to mention hundreds of options available through Airbnb. I'll begin by evaluating hotels in Key Largo and Key West. To keep the price comparison fair, I'm looking for hotels that have a pool, beachfront access, and at least a three-star rating.
In Key Largo, our hotel of choice is the Reefhouse Resort & Marina. This waterfront resort features an on-site marina and dive shop, plus access to watersports. In addition, they also have a heated outdoor pool, private beach access, and modern rooms. This fine lodging will set you back about $308 a night.
For premier lodgings like this in Key West, I selected the Opal Key Resort & Marina, which is conveniently located just steps away from famous Duval Street. This hotel is on the water but also has access to a fabulous pool and an on-site bar. They also have a lovely walkway along the shore and offer access to a marina. All of this will set you back about $380 a night, higher than the rates in Key Largo.
Other Posts of Interest
Motels
Not everybody has the budget for a fancy hotel. Motels are an underappreciated way to stay the night without breaking your wallet. Key West's most famous budget motel is the Seashell Motel & Hostel, which offers private rooms for about $100 a night. Key Largo also has its share of motels: The Pelican in Key Largo offers small waterfront cottages for about $120 a night.
AirBNBs
Airbnb is a great way to experience a new place. You can stay in a local home and enjoy amenities like full kitchens, cable TV, WiFi, and a more private and relaxed environment than many hotels or motels can offer. A full exploration of all AirBNB options would require me to write a novel, but I did some digging and found the average prices. An average Airbnb stay in Key Largo is around $299 a night, versus a whopping $683 a night in Key West. Key Largo is the clear winner here!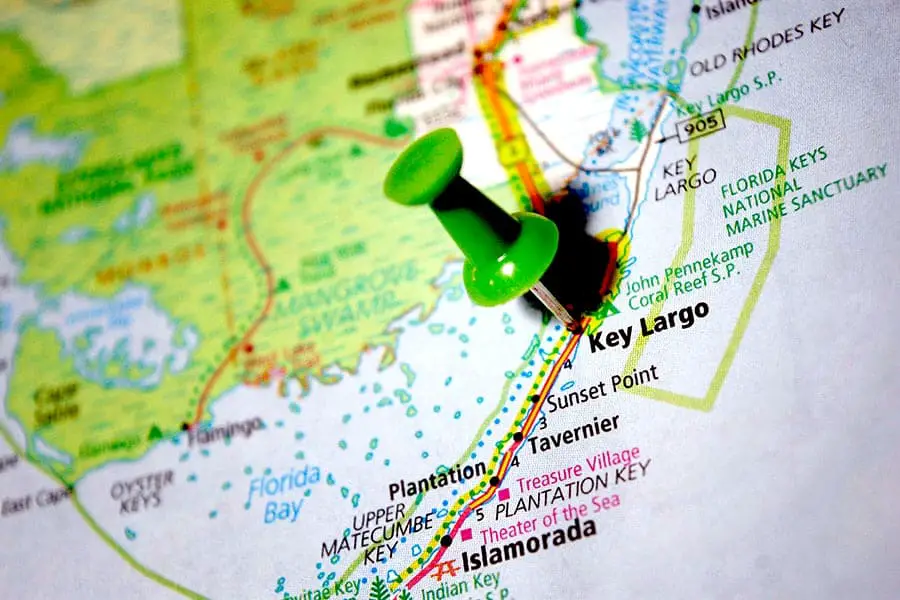 Key West vs. Key Largo: Vacation Packages
Instead of worrying about booking a car, a hotel, and flights, you can often get good vacation deals by bundling all of these items together. Does Key West or Key Largo have better vacation packages?
I found that a family of four could get a complete vacation package to Key West for about $2,930. This package includes the flight, rental car, and a week's stay at the fabulous Ibis Bay Beach Resort. Of course, you'll need to budget a little extra for incidentals, but overall this is a very fair rate. Ibis Bay has a private white-sand beach, a pool with a full bar, an assortment of animals, free shuttles to town, and access to watersports and watercraft rentals.
How about Key Largo? Our same hypothetical family of four could book a complete package to Key Largo for about $2,368. This stay includes lodging at the Bayside Inn Key Largo, which offers guests a private white-sand beach, an outdoor pool, and water sports like kayaking and snorkeling. Once again, Key Largo is the winner.
Key Largo vs. Key West: Entertainment
One of the most satisfying things to do in the Keys is to go fishing. The kids will never forget that wild trip where they got to go on a boat and reel in a marlin or a tarpon; they might even get to see a shark up close.
A deep-sea fishing charter in Key West will set you back about $900. However, a full day of fishing in Key Largo might actually be more expensive: the most popular option I found was about $1,300 for a full day of fishing.
Entertainment expenses can vary depending on your preferred forms of entertainment. However, both cities offer entertainment options for a variety of budgets: you can almost certainly find something to do that will fit into your budget in either town. The big differences in expense will come from travel and lodging.
Key Largo vs. Key West: Food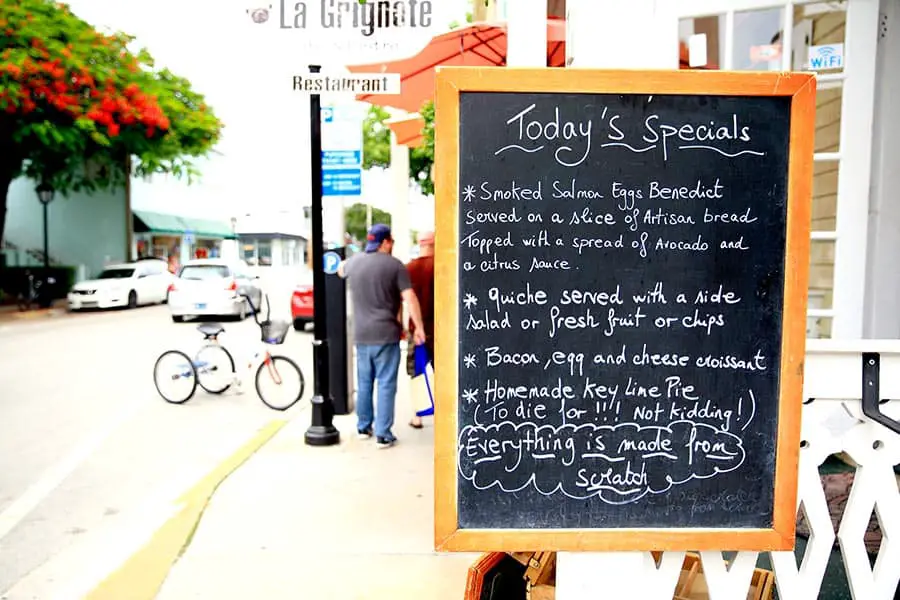 When budgeting for a vacation, it's essential to consider the cost of food. After all, we all love to eat, and vacation makes for a great excuse to dine out. All in all, the price of dining is very comparable between Key Largo and Key West; Key West is slightly more expensive on average because it has more high-end dining. Key Largo is the less expensive destination for food and has a plethora of affordable food options.
One of the best family-friendly restaurants in Key Largo is Mrs. Mac's Kitchen. Open for breakfast, lunch, and dinner, the menu at this restaurant offers a good variety of food at reasonable prices. If you prefer fine dining, you might try the Old Tavernier Restaurant. You can even bring in your own catch from your day of fishing, and they'll cook it for you.
Key West is well-known for having good drinks, but there's just as much good food to be had. If you're traveling with the kids, you should head to the Hogfish Bar & Grill on Stock Island, which is just moments from Key West on Highway A1A and offers a family-friendly menu. If you would like to enjoy some upscale dining, check out Off the Hook Bar & Grill on Caroline Street.
And The Winner Is…
Key West and Key Largo are both fantastic cities. Both of them offer endless entertainment on the beaches and in the water, and both of them have unique museums, restaurants, bars, and another color that almost any traveler will enjoy. However, if you are preparing for a trip to South Florida, I've found that Key Largo is cheaper than Key West. This difference is due mainly to the distance: Key West is at the end of the Keys, so it takes longer to get there, and the lack of nearby competition can keep lodging expenses higher.
That said, your family really can't lose when choosing between these destinations. Regardless of where you decide to go, Key Largo and Key West are both fun, friendly cities that will live forever in your family's memory as one of the best vacation destinations ever. So come on down and stay for a while: the water is warm, the sunsets are gorgeous, and the Rum Punch just can't be beaten!