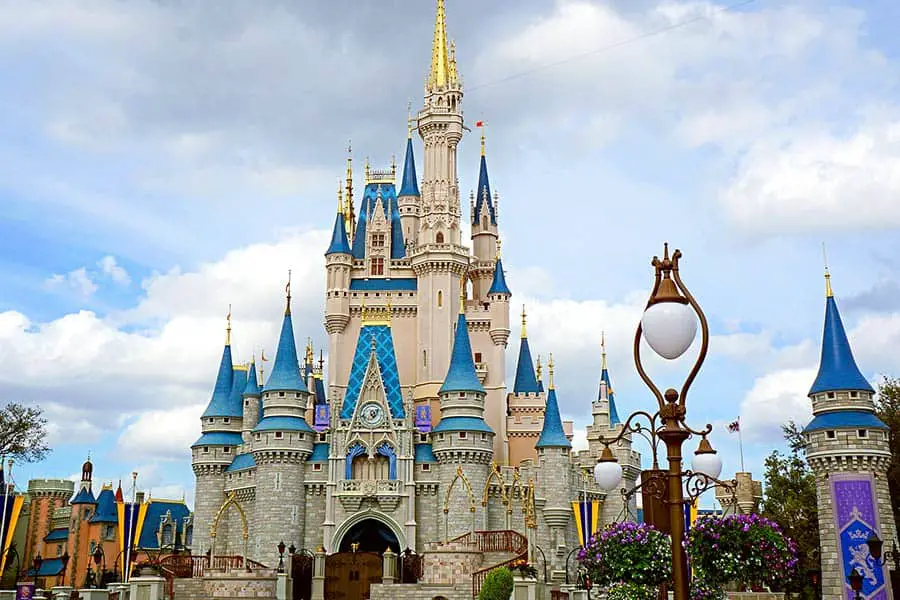 Going to Disney is a quintessential American experience. Whether you go to Disneyland in the west or to Disney World in the east, you're going to find yourself in a magical new world. But which park is more extensive – is Disney World bigger than Disneyland?
Disney World is bigger than Disneyland. Disneyland is a huge place, clocking in at just over 500 acres. On the other hand, Disney World boasts a whopping 27,000 acres of land! The Animal Kingdom alone is an expansive 540 acres, nearly five times the Magic Kingdom's area of 107 acres.
So which park has more areas? Are there Star Wars themed parks or places to see animals? Which park has the bigger castle? Read on to discover the answers to these Disney questions and a whole lot more.
Disney World vs. Disneyland
People living in Central Florida often joke that Disney World is basically its own city. There are multiple highway exits for Disney World, and the area sees legions of tourists every day. It's hard to understand how big Disney World is until you get there. The total area of Disney World is about 27,000 acres, which works out to about 42 square miles!
This size difference means that there is more to do at Disney World than at Disneyland. Disney World is divided into four parks: Magic Kingdom, EPCOT, Animal Kingdom, and Hollywood Studios. Disney World also has two water parks and several resorts and golf courses on the property.
Disneyland is divided into Disneyland Park and Disney California Adventure Park, plus Downtown Disney and several hotels.
Disneyland: California Fun
That said, there's tons to do at Disneyland: the park has 90 attractions. This park includes fabulous roller coasters like Big Thunder Mountain Railroad, Space Mountain, and the Incredicoaster; features such as the Indiana Jones Adventure; and fun themed rides such as Pirates of the Caribbean, the Jungle Cruise, and the Haunted Mansion.
Disneyland is split into two parks: Disneyland Park and Disney California Adventure Park.
Disney California Adventure showcases California's rich culture and history, and sits on an area of about 72 acres.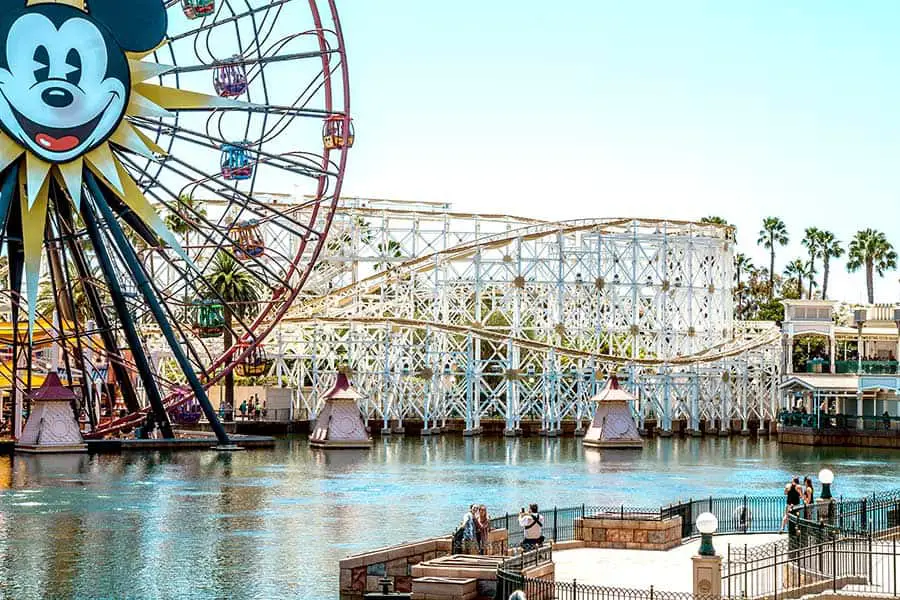 Disneyland Park features the more 'traditional' Disney experience and covers about 85 acres. The remaining 343 acres consist of several hotels and the Downtown Disney area.
When you go to Disneyland, you should definitely pack your appetite. Disneyland has 121 separate places to buy food! These range from inexpensive hot-dog stands like Award Weiners to high-end fine-dining establishments such as Napa Rose, featuring professionally crafted seasonal foods expertly paired with California wines. Not feeling fancy? Head to Downtown Disney and eat while you bowl at Splitsville.
Disney World
As incredible as Disneyland is – and trust us, Disneyland is pretty great – Disney World is much larger, and therefore has more activities. There are 173 attractions and 392 eating establishments (including ice cream stands, coffee shops, and specialty snacks) at Disney World, spread out across the four parks, two water parks, and dozens of resorts. Let's look at the parks.
Magic Kingdom
The Magic Kingdom is a large park, covering 107 acres. It is home to the iconic Cinderella Castle, over which Disney launches fireworks nightly. Some of the Magic Kingdom's famous attractions include the Seven Dwarfs Mine Train and Splash Mountain. You should also take a walk through the Swiss Family Robinson tree house.
There are 36 places to eat in the Magic Kingdom. The Be Our Guest restaurant is one of the finest dining establishments on property, but be prepared to pay for the experience. Families who enjoy southwestern food should head to the Pecos Bill Tall Tale Inn and Cafe for nachos, tacos, and other scrumptious snacks. And you must get a Dole Whip at the Aloha Isle!
EPCOT
EPCOT, which stands for Experimental Prototype City of Tomorrow, spans more than 300 acres and features thrilling rides like Test Track and experiences like Soarin'. But the crown jewel of Epcot is the World Showcase. The World Showcase features pavilions built to represent nations across the globe.
Pro Tip: The best time to go to Epcot is during the Food and Wine Festival. As the name would suggest, this festival features food and wine from around the world. We would highly recommend attending this festival if you can!
Even when it's not the Food and Wine Festival, Epcot has a ton of good eats. There are 61 restaurants at Epcot, many of which feature cultural experiences, such as the Biergarten, a German-style beer hall in the Germany pavilion. And of course, you have to take a ride in Spaceship Earth – it's inside the iconic Epcot "golf ball."
Phenomenal Florida Fun Fact: There is a 650-square-foot VIP suite in the Cinderella Castle. Originally planned as a place for Walt Disney himself, the suite is now available for VIPs and special guests.
Other Posts of Interest
Hollywood Studios
Almost everyone likes Hollywood, or at least the movies that come out of it. Hollywood Studios is Disney's movie-themed park, and the 135 acres of land it covers are dedicated to the cinematic masterpieces that come from Hollywood. It also has some phenomenal rides, like Aerosmith's Rockin' Roller Coaster and the Tower of Terror. Plus, Star Wars fans will want to be sure to visit Hollywood Studios, as the park continues to expand its amazing themed experiences.
Animal Kingdom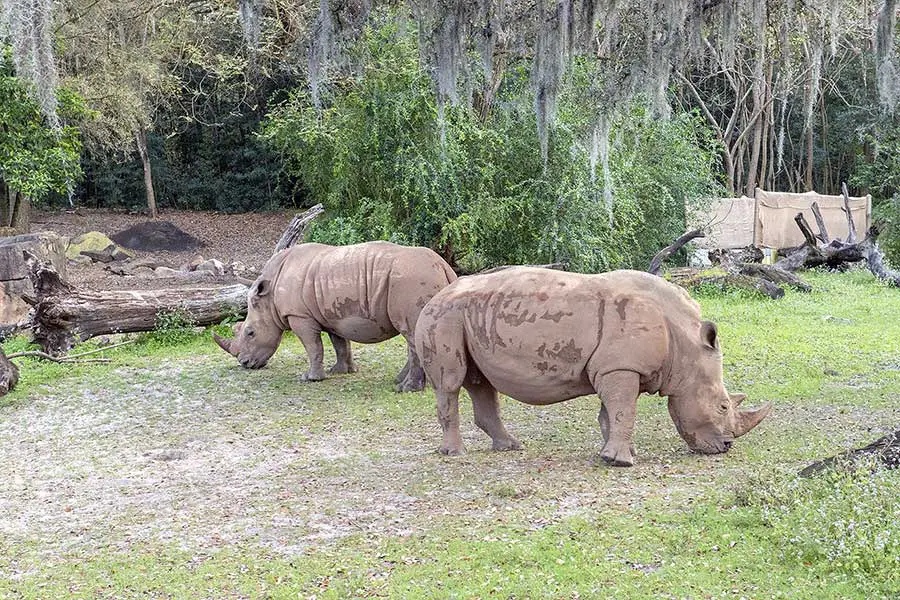 The Animal Kingdom is the largest park of all, covering a sprawling 540 acres of Disney's complex. The massive size is needed to house Animal Kingdom's collection of lovingly cared for animals. So visitors who take a safari will likely get to see exotic animals like giraffes, lions, zebras, and springboks. Animal Kingdom is also home to Pandora – The World of Avatar, which brings guests into the fantastic world of Avatar through rides and some of the best immersive scenery in the world.
Which Castle is Bigger Disneyland or Disney World?
Cinderella's Castle is the centerpiece of the Magic Kingdom. This beautiful castle, rumored to be modeled after Germany's Neuschwanstein Castle, stands 189 feet high at its tallest point.
This castle is far taller than Disneyland's Sleeping Beauty Castle, which is 77 feet high. However, clever use of forced perspective makes the Sleeping Beauty castle appear much taller than it is!
Legend has it that Disney's Imagineers would have built the Cinderella Castle higher, but Federal Aviation Administration regulations require aircraft warning lights on structures that exceed 200 feet in height. It's hard to argue that a flashing red warning light would fit the vibe of Cinderella Castle.
Does Disney World Have Fireworks Every Night?
You may have heard the rumor that there are fireworks at Disney World every night, and we're here to confirm that the rumor is true. Disney World has a firework show every night! Visitors at the Magic Kingdom, Epcot, and Hollywood Studios can enjoy fabulous displays every single night. In addition, there are special viewing areas that you can reserve ahead of time for a fee; if you've got the extra money, it's worth it to get a front-row seat to these shows.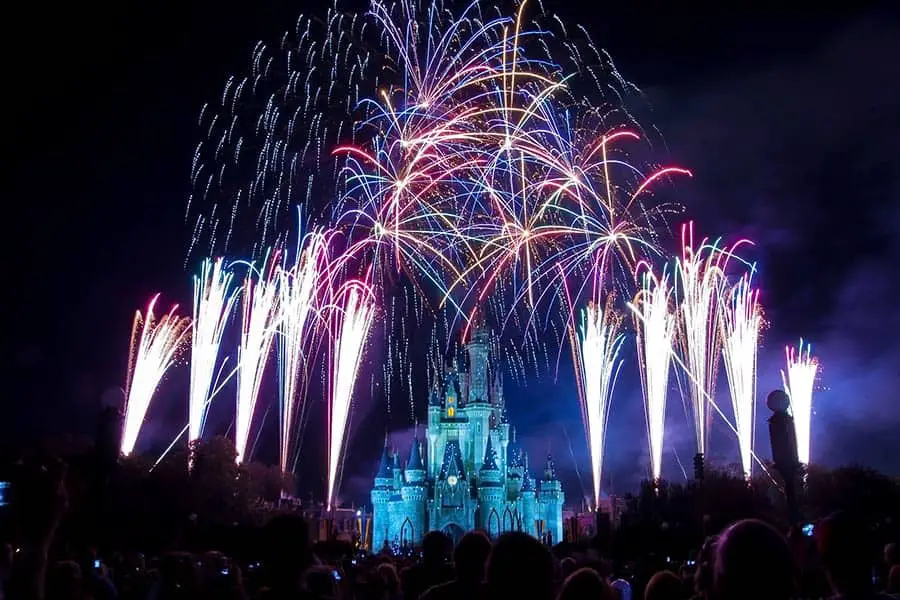 You should note that special events around holidays, such as Mickey's Not So Scary Halloween Party, can affect access to the fireworks show. When special events are happening, you must have a ticket to the event to see the fireworks. The Animal Kingdom does not have a fireworks show, as it would be frightening and stressful to the animals who live there.
Is Disneyland or Disney World Cheaper?
Disneyland tickets tend to be slightly less expensive than Disney World tickets. However, as with most things, prices can vary based on season, special events, and your eligibility for discounts.
Disneyland and Disney World offer discounts for residents of California and Florida, respectively. In addition, both parks also have a variety of specials and discount programs for veterans and members of specific reward programs.
Does Disneyland Have a Campground?
Disneyland does not have a campground. If, however, you're into RVing, there are some great RV campgrounds close to Disneyland.
Visitors to Disney World can enjoy renting a cabin or campsite at Fort Wilderness – you can even bring your own RV to one of their fully equipped sites.
Which is Less Crowded Disneyland or Disney World?
Let's face it – both Disneyland and Disney World are crowded places. Their resounding popularity with tourists and locals alike draws tons of people to the parks every day. However, on average, Disneyland is less crowded than Disney World.
Crowds at both parks fluctuate with an assortment of variables. Weather, holidays, special events, school breaks, and even unofficial events like Dapper Days can seriously affect the crowds at both parks.
Disneyland vs. Disney World: You Can't Lose
It's interesting to compare Disneyland and Disney World. Both are born from the vision of Walt Disney and share many similarities in that way. But each park has its own distinctive feeling, its own unique quirks, and details that make it special.
Disneyland and Disney World are also very different in scope.
Disneyland encompasses about 500 acres, where Disney World covers nearly 27,000 acres, making it the larger of the two by far. You could spend weeks exploring Disney World and still not see everything this incredible park has to offer. You'll just have to come back to Florida to see it again!