Florida is full of fun destinations. Cities like St. Augustine, Miami, and Tampa attract flocks of tourists to the Sunshine State every year. All of these destinations sound great, but what is the most visited city in Florida?
Orlando is the most visited city in Florida, with more than 75 million visitors a year. People come to this beautiful central Florida city from all over the nation and the globe to experience the fantastic theme parks, world-class dining, and other amenities this fine city offers. 
Has Orlando always been such a famous city? What are the most popular attractions in the city? Orlando is an extraordinary city to visit, so continue on to find the answers to these questions and many more.
Orlando – The City Beautiful 
Orlando's star has risen to new heights over the last fifty years or so. While everybody today knows where Orlando is and what some of the major attractions to the city are, the modern history of this city predates the arrival of Walt Disney World by 127 years. Andrew Jernigan drifted down from Georgia to what is now Orlando in 1843, naming the settlement after himself. Unfortunately, the settlement, built near an abandoned Army fort, was slow to grow.
In 1857, the city's name was changed to Orlando. There are several legends to explain the name change. The most commonly believed origin story is that a sentinel named Orlando Reeve sounded the alarm about a Seminole Indian attack on the settlement during the Seminole Wars, only to be felled by an arrow. Another popular legend is that judge James Speer named the town after his favorite character from Shakespeare's play "As You Like It."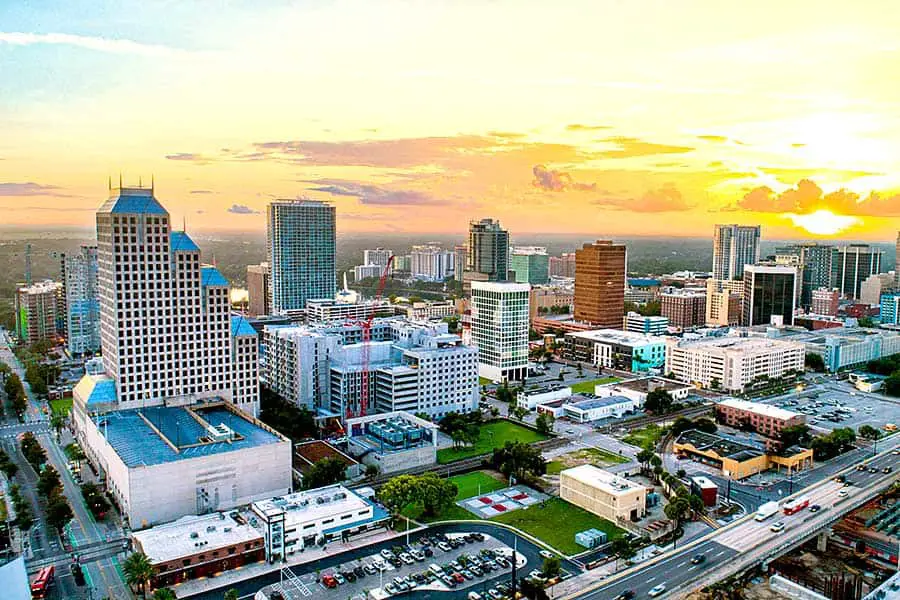 Orlando soon grew into an agricultural town, first growing cash crops like cotton and eventually moving into citrus production. The city gradually evolved into a tourist destination as Florida's initial real estate booms began in the 1920s. The opening of Cypress Gardens in nearby Winter Haven in 1936 paved the way for the later development of major tourist attractions like Walt Disney World and Universal Studios that now attract millions of visitors every year.
Modern-day Orlando attracts more than 75 million visitors a year, and experts say that the City Beautiful's tourism economy is likely to continue booming. Orlando is home to several world-class amusement parks, the Orange County Convention Center, dozens of high-end hotels and resorts, top-tier dining options, and a host of other activities to fulfill any visitors' taste.
Where do people visit Orlando from? The short answer is, everywhere! Many international visitors come from Canada, the United Kingdom, Brazil, and Colombia; others come from as far away as Asia. Domestic visitors come to Orlando from all fifty states, plus U.S. territories like Puerto Rico and the U.S. Virgin Islands. So you can meet people from anywhere in the world in Orlando.
Let's explore some of the reasons why people flock to Orlando.
Walt Disney World
Perhaps the most well-known attraction in Orlando is Walt Disney World. Technically located in the small town of Lake Buena Vista, Disney World (often just called Disney by locals) is widely considered to be an Orlando-based attraction, as it is just a short drive from downtown Orlando to the Disney complex. Many visitors to Disney choose to stay in Orlando because of its endless amenities and wide selection of hotels.
The property owned by Disney covers almost 25,000 acres, although only about half of that has been developed. The most famous attractions on Disney's property include the four theme parks: Magic Kingdom, Disney's Animal Kingdom, Disney's Hollywood Studios, and EPCOT.
In addition, Disney also offers guests 27 themed resort hotels, a campground, golf courses, mini-golf, water parks, and of course, the massive outdoor shopping and dining center known as Disney Springs.
It is estimated that about 58 million people a year visit Walt Disney World! Many Floridians are counted among these annual visitors: annual passes are pretty popular among Florida residents. 
The most popular theme park is Magic Kingdom, which hosts around 57,000 people a day. In addition, approximately 38,000 people visit Disney's Animal Kingdom, with 34,000 and 31,000 attending EPCOT and Disney's Hollywood Studios, respectively.
When you head to Disney, be sure to dress for warm weather and bring hats, sunglasses, and sun protection. You may want to carry a small backpack and some water bottles as well. The most important thing to bring is your childlike sense of fun and wonder! Even the most burned-out grown-up can have a great time at Disney World.
Phenomenal Florida Fun Fact: In addition to its fabulous collection of theme parks and amenities, Orlando is home to more than 100 lakes.
Other Posts of Interest
Universal Orlando Resort
Universal Orlando Resort is another extremely popular tourist destination. About 21 million people a year venture into Universal, as it is commonly known. Universal is split into two separate parks: Universal Studios Florida and Universal's Islands of Adventure. The park also offers a sprawling outdoor shopping and dining area known as Universal CityWalk Orlando, which has fun dining options like Margaritaville and The Toothsome Chocolate Emporium & Savory Feast Kitchen.
Other notable attractions at Universal include The Wizarding World of Harry Potter, which is split between Islands of Adventure and Universal Studios. The two sections immerse visitors in the world of Harry Potter and include wand shops, Butterbeer stands, and even a fire-breathing dragon.
Visitors to Universal also love to visit Volcano Bay, a massive water park featuring body slides, plunges, wave pools, and a lazy river.
Sea World
Rounding out Orlando's collection of theme parks is Sea World. Sea World offers visitors a chance to connect with the teeming denizens of the ocean, including stingrays, penguins, Beluga whales, and their famous trained Orcas.
Guests will enjoy learning about sea life while being entertained at various shows, rides, and displays. But Sea World isn't all animal exhibits and education: there are legitimately thrilling and amazing rides to check out at this fabulous theme park.
Sea World is home to Orlando's tallest and fastest roller coaster, named Mako. This incredible coaster soars more than 200 feet in the air and zips visitors through the park at speeds of up to 73 miles per hour!
The other famous roller coaster at Sea World is the Manta, which takes guests through the park on a spinning, gliding, and flying coaster that is an absolute thrill to ride. As if that wasn't enough, Universal plans to launch another world-class coaster known as Ice Breaker.
About 4.6 million people visit Sea World every year. The park has a timeless appeal and is well worth a visit when you decide to come to Orlando.
I-Drive
After a long day of exploring one of Orlando's fabulous theme parks, you can head in town to the I-Drive Resort Area. Located on International Drive, this sprawling complex features endless options for dining, entertainment, shopping, and exploring.
A very popular activity on I-Drive is to head to ICON park. The centerpiece of this park is a 400-foot tall Ferris wheel known as the Orlando Eye, which offers phenomenal views of Orlando and Central Florida; guests can also enjoy a plethora of dining options, an aquarium, and a fossil exhibit.
Are you looking for some laughs to relax after a long day? The Orlando Improv Comedy Club features all kinds of hilarious comics, giving stand-up and improv shows that are sure to tickle your funny bone.
If comedy isn't your thing, Madame Tussauds Orlando features lifelike depictions of everybody from Superman to Shaquille O'Neal. Finally, if the wax museum has whetted your appetite for the curious, the Ripley's Believe It Or Not Museum is filled with a remarkable collection of oddities and unusual items.
Other Attractions
The Orange County Convention Center is a 7-million-square-foot center designed to host gatherings of all kinds, ranging from symposiums to conferences and more.
One of the most entertaining events is MegaCon, an expo that celebrates fan culture with celebrity interviews, exhibits, shopping, costume contests, and more.
Sports fans love attending games at Orlando's Amway Center, the home court for the Orlando Magic. The Amway Center also hosts concerts and other significant events.
Of course, any major city worth its salt has to have great shopping, and Orlando doesn't disappoint. Perhaps the most famous mall in Orlando is The Florida Mall, a 1.8-million square foot shopping complex that attracts more than 20 million shoppers annually to its 250 storefronts.
Another popular shopping mall is The Mall at Millenia, which has 150 individual storefronts, including luxury brands like Tiffany and Neiman Marcus, plus an assortment of restaurants and satellite stores in the immediate vicinity.
Of course, some of us are savvy enough not to pay retail prices; the Orlando Vineland Premium Outlets offer shoppers an opportunity to obtain high-end goods at bargain prices.
Orlando: Something For Everybody
There are a lot of excellent reasons that Orlando is the most visited city in all of Florida. World-famous attractions like Walt Disney World bring millions of people to the city every year, and the endless opportunities for shopping, dining, and exploring that Orlando offers bring in millions more.
Whether you're in town for a convention at the Orange County Convention Center or taking the kids to see the Orcas at Sea World, Orlando has something that is sure to make you smile and leave you with fond memories of your trip to The City Beautiful.