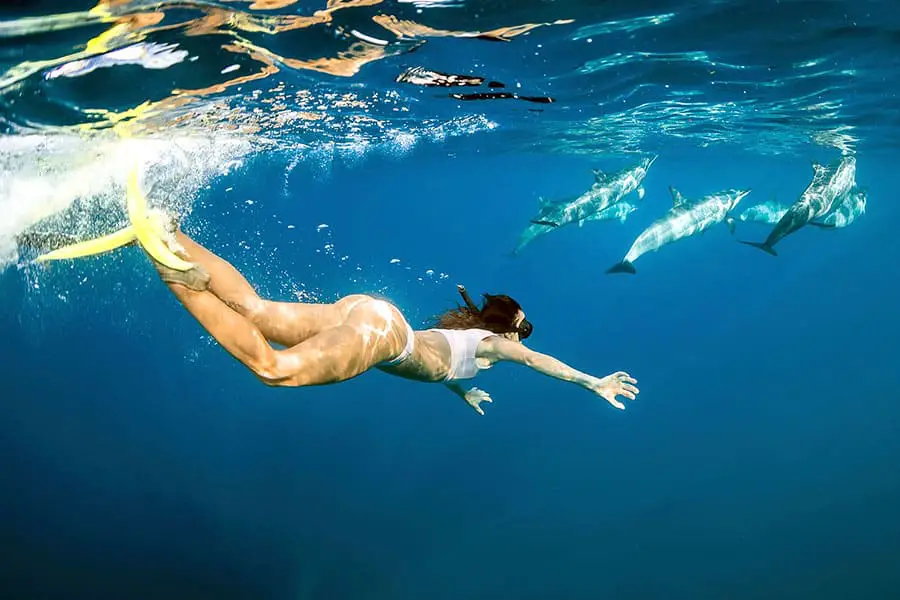 Wild dolphins are a sight to see. These playful sea creatures seem to take great joy in life, and anybody who has watched them cavort, hunt, and play in the waves has probably felt an intense interest in them. So can you swim with wild dolphins in Florida?
You can not swim with wild dolphins in Florida. According to the Florida Fish and Wildlife Commission, "It is against federal law to feed or harass wild dolphins." In addition, swimming with dolphins increases the risk of dolphins being injured in later interactions with humans.
Are there any places where you are allowed to swim with dolphins? Are dolphins aggressive to people? What does it feel like to touch a dolphin? These are all interesting questions; keep reading to find out the answers!
Dolphins: Florida's Favorite Cetaceans
Dolphins are some of nature's most amazing animals. These marine mammals are cunning, sociable, and very adorable. As a result, they make very popular attractions at theme parks, aquariums, and resorts. Whether you're watching them perform complex tricks at Sea World or spotting wild dolphins in the Gulf of Mexico, it's hard not to be entranced by these animals.
Dolphins belong to a group of animals known as cetaceans. This group includes whales and porpoises as well as dolphins. These creatures live in the ocean but must surface to breathe. Like whales, dolphins sometimes like to breach when they come up for air; this behavior can be playful or part of a display to assert dominance or court a mate.
Cetaceans are a type of sea mammal and give birth to live young. Dolphins also endure a rather long pregnancy, around twelve months from conception to birth.
Baby dolphins are ravenous and drink mother's milk every twenty minutes or so around the clock, sometimes for more than two years. As you can imagine, drinking underwater is a challenge, so baby dolphins roll their tongues together to create a watertight funnel to get milk without ingesting seawater.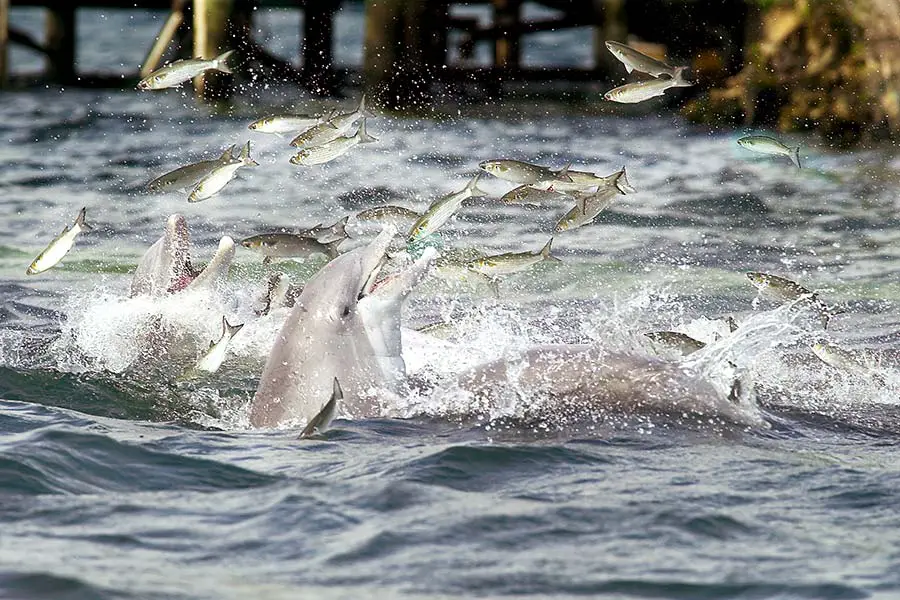 Dolphins are incredibly agile swimmers. It's not uncommon to see dolphins jumping in and out of waves, herding fish, or simply playing together. Their sleek bodies and personable demeanors make them very engaging sea creatures. Their well-developed brains mean that they are very cunning when interacting with human beings.
However, it is against the law to interact with wild dolphins, including feeding them and swimming with them. While this might seem like the government just being a buzzkill, there are good reasons that people should not swim with dolphins.
Dolphins are wonderful, but they don't follow human rules. As a result, repeated encounters between wild dolphins and human beings can be hazardous to both parties.
Dolphins that are exposed to too much human contact are much more likely to end up becoming injured. Sometimes they stray too close to boats and get injured on propellers or collide with boats. Dolphins that are human-exposed are more likely to become entangled in fishing gear. They can also lose their desire to forage if frequently fed by tourists, boaters, swimmers, or anglers.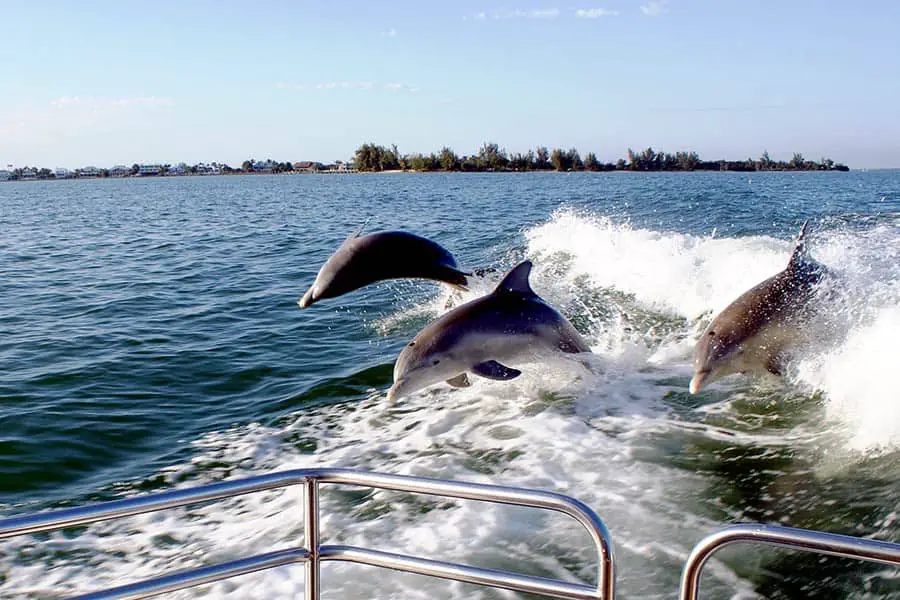 Dolphins sometimes like to hang out near fishing boats and beg for chum or fish: after all, anglers aren't the only ones who want to eat fresh seafood. So if you've booked a fishing charter out of the keys, headed into the briny Atlantic, or fishing the warm waters of the Gulf of Mexico, there's a good chance you'll see dolphins on your fishing trip. However, it would be best not to intentionally feed dolphins, no matter how cute they are when they beg.
Speaking of fishing, many Florida anglers will boast about catching dolphins. Not to worry, though: nobody is eating Flipper for dinner. Rather, Florida's waters host many edible dolphinfish, also known as Mahi-mahi. These fish are quite delicious and not nearly as intelligent or engaging as our cetacean friends.
Where To Go Swimming With Dolphins In Florida
If you're disappointed to learn that swimming with wild dolphins is illegal, don't fret: there are plenty of places in Florida to swim with dolphins safely and legally. Best of all, you don't need to bring anything special. A bathing suit and a readiness to have fun are all you need to visit these great dolphin encounters in Florida.
Best of all, these encounters are spread across the state. No matter if you're visiting the panhandle, the Everglades, or central Florida, you'll find a place near you that offers dolphin encounters and dolphin swims. Here are a few of the best places to swim with dolphins in Florida.
Phenomenal Florida Fun Fact: The longest-lived solitary dolphin on record is a male Atlantic bottlenose named Fungie, who lives off the coast of Ireland and is estimated to be more than 40 years old.
Can You Touch Wild Dolphins in Florida?
You can not touch wild dolphins in Florida. It is against federal law to harass dolphins. While a gentle touch might not seem like harassment, law enforcement disagrees, and touching dolphins can lead to fines or even imprisonment.
The best way to enjoy wild dolphins in Florida is through a good set of binoculars or a camera lens. An early-morning walk on the beach in Sarasota is an excellent way to spot dolphins and watch them frolicking and playing in the waves. There are also many commercial operations that will help you spot dolphins in the wild.
Other Posts of Interest
Will Wild Dolphins Hurt You?
While they are not malicious, dolphins could certainly injure a human being in the water. Dolphins can be aggressive when defending territory or hunting for food. They are large animals, often between six and twelve feet long and weighing between 300 and 500 pounds. Not only are dolphins big, but they are also much better swimmers than any human being. Without intending to, a dolphin could easily injure or kill a human being.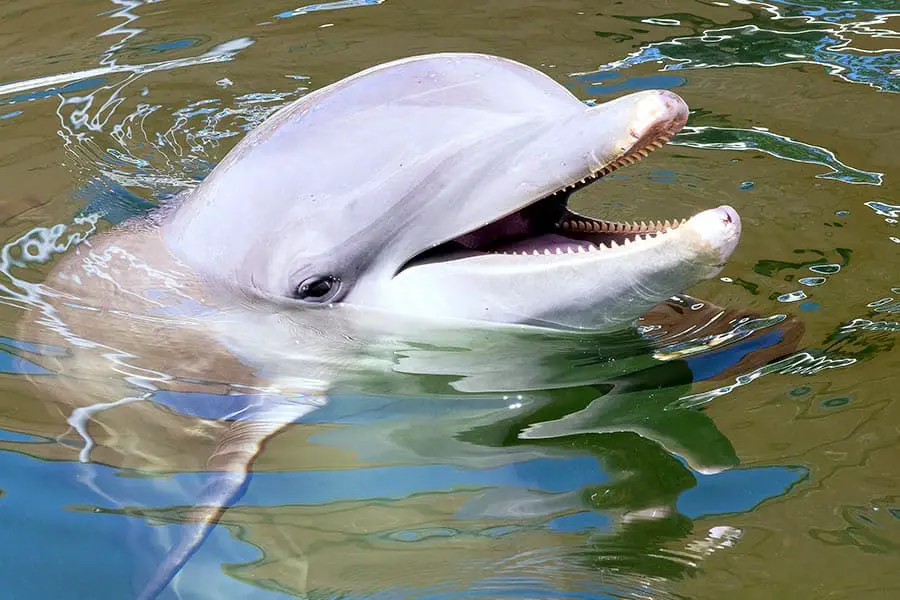 Do Dolphins Bite?
Dolphins have large, toothy mouths designed for eating meat. An adult bottlenose dolphin has somewhere between 72 and 104 teeth in their mouth, which they use to eat fish and other marine life. 
Unfortunately, wild dolphins do have a record of biting human beings. In one notable incident, a woman feeding wild dolphins from a boat jumped into the water, which startled one of the dolphins; it bit her leg and dragged her underwater, and she only narrowly escaped drowning. The unfortunate woman spent a week in the hospital recovering from the bite, which seriously injured her leg.
Dolphins have also been known to head-butt or ram swimmers. They can cruise at speeds of more than 18 miles per hour and can accelerate to more than 30 miles per hour. Getting head-butted by a dolphin could cause severe injury or death to a human being.
As adorable and cute as they are, dolphins are fully capable of injuring, maiming, or even killing adult human beings; this is one of the many reasons it's best not to swim with wild dolphins.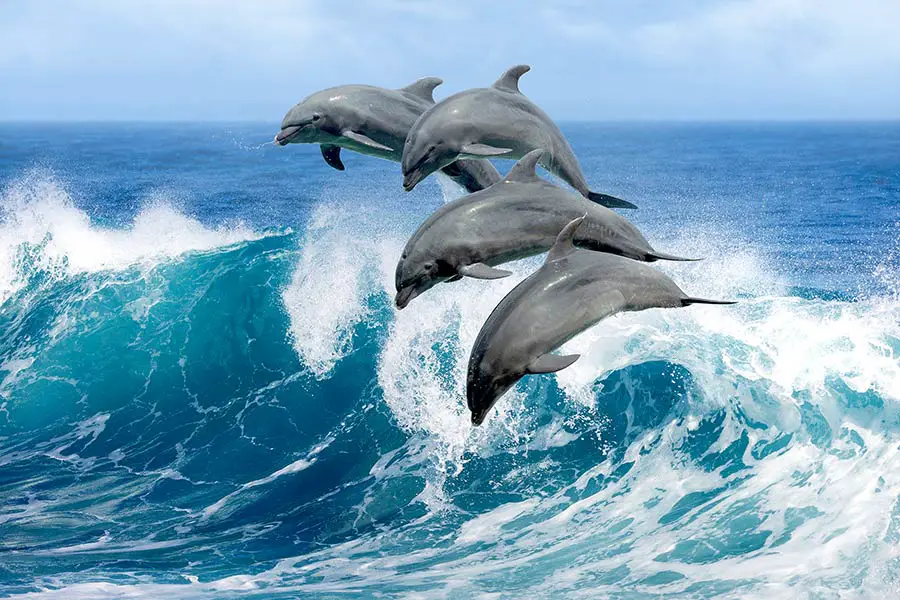 Which is Faster a Dolphin or Shark?
Different species of dolphins and sharks have different top speeds, but both creatures are well-streamlined and well-adapted to their aquatic environment. In general, it's safe to say that dolphins and sharks are evenly matched in terms of speed.
The fastest shark in the ocean is the Shortfin Mako Shark, Isurus Oxyrinchus. Shortfin Makos can reach weights of more than a half-ton and can swim at up to 45 miles per hour. That is incredibly fast. They will sometimes use this speed to breach and attack prey from below, a spectacular sight to see!
The Common Dolphin, Delphinus Delphis, can swim at speeds of up to 37 miles per hour. While that is scorchingly fast, it is slightly slower than the Shortfin Mako. In general, however, sharks and dolphins are pretty evenly matched when it comes to swimming speeds: both tend to cruise between 10-20 miles per hour with occasional bursts of speed when needed.
Swimming With The Dolphins: Once-in-a-Lifetime Fun
Florida is a great place to see unique and interesting nature. Whether you're hog-hunting in the forests and marshes, taking photos of basking alligators, or bird-watching, there's something for everyone in the Sunshine State. But no matter what kind of nature you're into, almost everybody loves dolphins. Luckily for you, there are plenty of great places in Florida to experience these beautiful animals up close.
While it may seem a little expensive to buy a dolphin encounter in an aquarium, this is the best way to meet and swim with a dolphin. Aquarium dolphins are domesticated and well-trained and aren't likely to ram you, bite you, or otherwise interact in an unhappy way. 
So, the next time you're in the Sunshine State, take a day and head to one of our awesome aquariums to meet one of these lovable cetaceans in person. You'll leave with the warm glow of dolphin love and a head full of fond memories that will last you a lifetime!