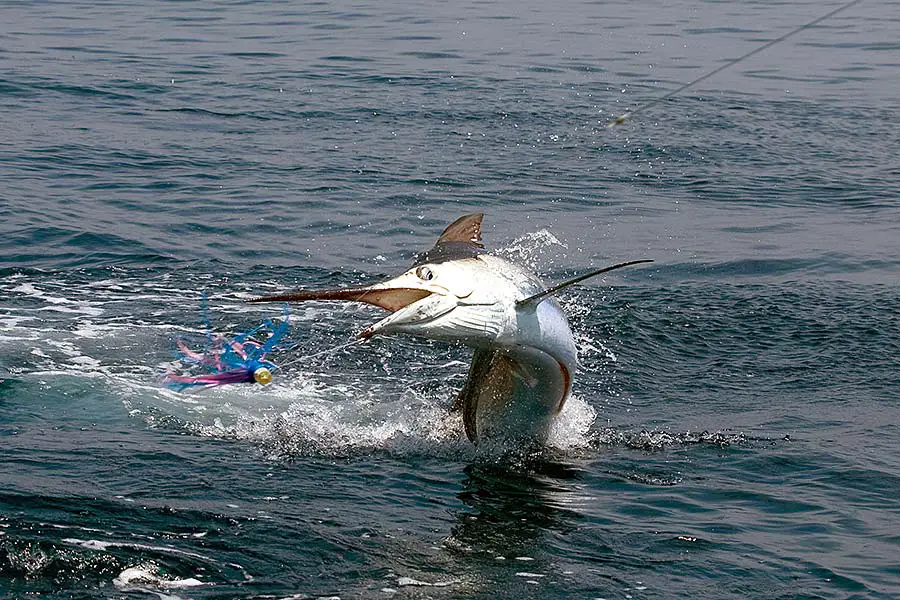 One of the most prevalent activities in Florida is fishing. Whether you take a deep-sea fishing charter into the Atlantic or decide to cast a line into the Gulf of Mexico, Florida offers some of the best fishing in the United States. But which Florida coast is better for fishing?
Florida's Gulf and Atlantic coasts both offer world-class fishing, whether you're saltwater, pier, or beach fishing. It doesn't matter where you go, the fishing in Florida is phenomenal. But, unfortunately, picking a favorite Florida coast for fishing is like picking a favorite child – you can't do it.
But surely there's more to picking a coast than that. There must be more details. Which species of fish can we catch on which coast? Is the undersea topography different on one side or the other? Are some kinds of fishing better in some places? Well, pack up the fishing gear and get ready because you'll have the answers to these topics and more by the time you're done reading this post.
Florida Fishing: Atlantic or Gulf?
Fishing is an activity that is highly popular in the Sunshine State. No matter where you go, even in the biggest cities in Florida, you're likely to see people with rods and reels – in Florida, everybody from doctors to butchers to lawyers and truckers likes to fish. Drive to any beach or pier, and you'll find dozens of anglers casting away to see what they can catch.
Florida's Atlantic coast stretches from Jacksonville in the far northeastern corner of the state all the way down to Key West, giving the state more than 500 miles of Atlantic coastline. The Atlantic side of Florida experiences strong currents, bigger waves, and slightly heavier winds on average than the Gulf side of Florida. The Atlantic is a much larger body of water than the Gulf of Mexico, and it is subject to varying weather conditions that affect the fishing.
The Gulf of Mexico is surrounded by land, with Mexican states and Texas bordering the Gulf to the west and the Florida peninsula bordering it to the east. In addition, the northern coast of the Gulf borders states like Louisiana and Mississippi, plus the Florida panhandle. As a result, Florida's Gulf Coast has a slightly more laid-back vibe than the Atlantic coast. That said, the Gulf is an enormous body of water, and you can undoubtedly expect wind, waves, and even storms along the Gulf coast.
A subtle but important difference between the coasts is underwater. Off the Atlantic coast, the continental shelf drops off rather abruptly just a few miles off shore. On the Gulf coast, the continental shelf is more gentle and gradual. The shelf affects the kinds of fish that one is likely to catch on either coast. Fishermen on the Atlantic coast will likely have better luck catching pelagic fish such as sailfish, wahoo, blackfin tuna, and dolphin. (Note: dolphin fish are not mammalian dolphins.)
Phenomenal Florida Fun Fact: In 2019, anglers fishing off a pier in the panhandle city of Navarre Beach, Florida, caught a 700-pound great white shark.
The more gradual descent of the continental shelf along Florida's Gulf coast provides access to a whole different group of fish species. Pelagic fish like to live in the water column at depths up to about 650 or 700 feet. Since much of the water off the Gulf coast is only between 30 and 300 feet deep: one must journey offshore some ways to find deep water columns like those in the Atlantic. As a result, Gulf fishermen are more likely to reel in fish like grouper, amberjack, and snapper.
Saltwater Fishing – Which Florida Coast is Better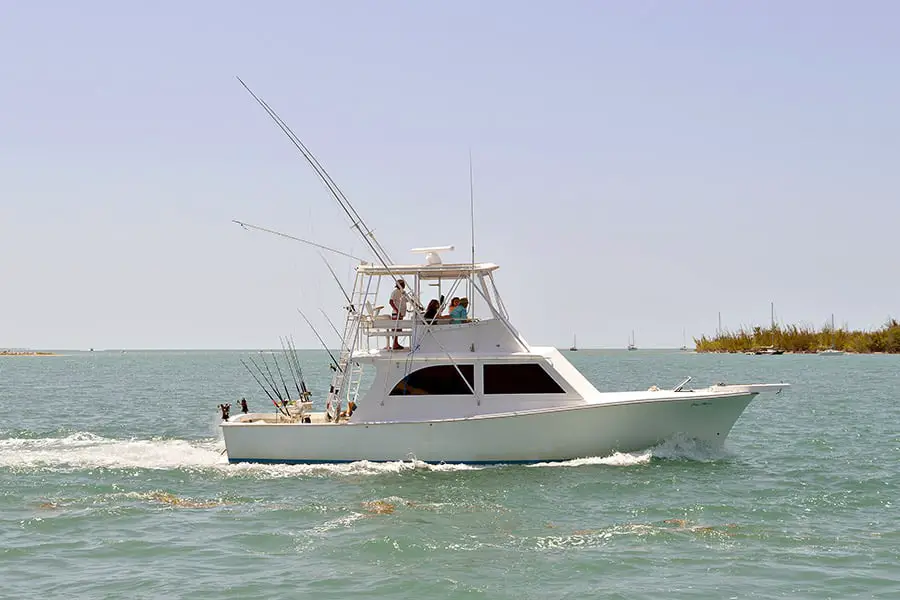 Perhaps the best way to experience fishing in Florida is to head out onto the ocean on a boat. Many Floridians have their own boats, and many people from elsewhere tow or sail their boats into Florida to take advantage of the spectacular fishing that this state offers. But is the saltwater fishing better on the Atlantic or the Gulf coast?
Popular spots to fish on Florida's Atlantic coast include Biscayne Bay, New Smyrna Beach, Islamorada, and of course, the famous Florida Keys. That said, almost any Florida city or town with a beach is going to have access to a marina, a boat launch, or some sort of fishing charter business. So if you're angling for bigger fish like swordfish, marlin, or tarpon, you should consider putting in along Florida's Atlantic coast.
The beautiful and expansive Gulf Coast of Florida offers an excellent, if slightly different, fishing experience. The slower drop in the continental shelf leads to a different set of marine conditions. While you can indeed catch many Atlantic fish such as the marlin in Gulf waters, you can also successfully angle for popular fish like amberjack and red snapper.
Best Coast: Both coasts offer world-class saltwater fishing. The Florida Keys offer visitors access to both coasts, making them an exceptional place to fish.
Other Posts of Interest
Pier Fishing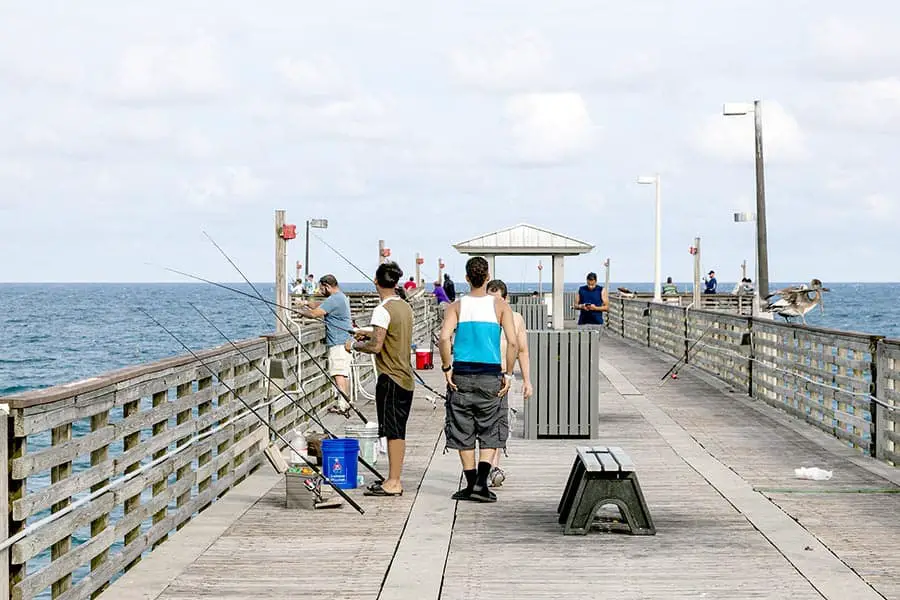 Not everyone has access to a boat or the money to spend on a deep-sea fishing trip. However, that doesn't mean fishing is off-limits. On the contrary, Florida has a lot of other ways to fish. One of the more popular is pier fishing.
Piers tend to attract fish. The pilings provide a fish-friendly environment, and nighttime lights attract fish to piers. And you don't need to worry about what to catch – species like tarpon, snook, redfish, and Spanish mackerel love hanging out at piers, making them popular catches. The steep drop in the continental shelf means that the best pier fishing is generally found on the Atlantic coast, especially near Broward and Miami-Dade counties.
That said, Panama City Beach has some great piers for fishing in the Gulf. Venice and Naples also have some excellent pier fishing. So it's hard to settle on a clear winner in this category.
Best Coast: Both coasts offer excellent pier fishing.
Beach Fishing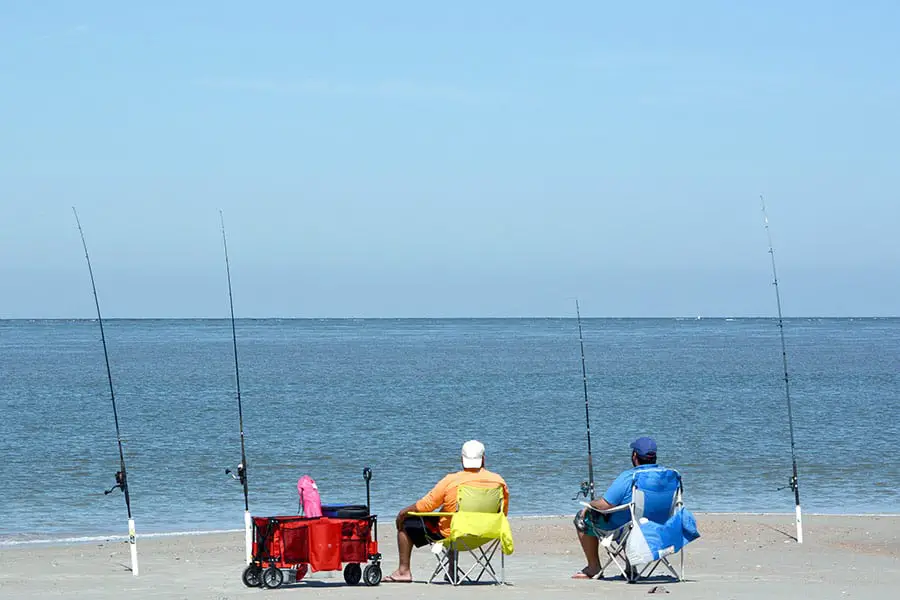 If the idea of fishing off a pier doesn't appeal to you, you can always just grab your gear and set off to the beach. Atlantic beaches like Huguenot Memorial Park in Jacksonville allow anglers to drive out onto the beach, where they can catch fish like pompano, bluefish, and even sharks. The beaches near Melbourne also offer phenomenal fishing for fish like mangrove, mackerel, and black drum. If you're fishing near pelagic waters, you might even catch a barracuda.
Of course, west coast beaches like those near Naples, Marco Island, Clearwater, St. Pete, and Destin also offer excellent beach fishing. It's not uncommon to stroll along the beach at night and find fishermen casting into the gulf for sharks or other fun fish.
Best Coast: Once again, both coasts have excellent beach fishing.
Is The Atlantic or Gulf Coast Better for Catching Marlin?
Marlin are pelagic predators, meaning they like to hunt in a column of water running from just below the surface to about 650 feet deep. They are fierce predators and strong fish with a reputation for being exceptional fighters on the reel. And while they can be caught almost anywhere along the coast, the two best places are the wall near Key West and the Destin coastline on the panhandle.
These areas are excellent places to land marlin. The site off of Key West is in Atlantic waters, but the site off Destin is in the Gulf of Mexico. So once again, the coasts of Florida find themselves in a tie – anglers will find these challenging fish off both sides of the peninsula.
Is The Atlantic or Gulf Coast Better for Catching Sharks?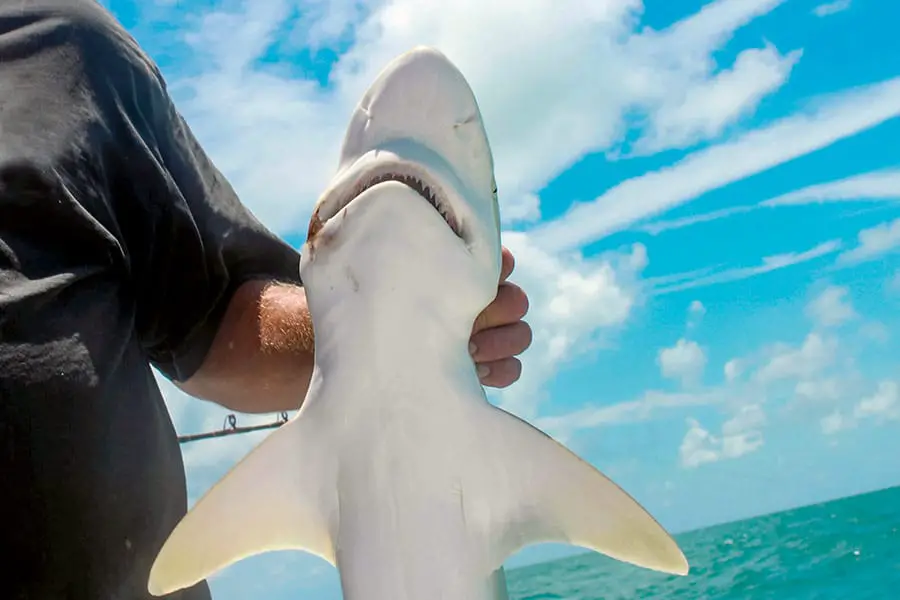 Sharks are inherently cool. They are sleek, graceful predators who glide through the water in search of other fish to eat. Of course, sharks are fearsome predators, but that just makes them more fun to fish. So should anglers go to the Atlantic or the Gulf to catch a shark?
This fact may be surprising, but fishermen will be able to catch sharks on both coasts. Atlantic anglers might end up catching sharks that must be released, like lemon sharks or hammerheads. Those looking for sharks along the Gulf will find hammerheads, blacktip, nurse, bonnetheads, and bull sharks. (Please note, Florida has special rules regarding shark fishing.)
Which Coast is Key West On?
The Florida Keys are an archipelago that sprawls southwest across the water from Miami. They have a reputation for beautiful beaches and excellent fishing. Key West is the furthest island in the chain and is the southernmost point in the United States. But which coast is Key West on?
Key West is actually on both coasts. The eastern shores of Key West are in Atlantic waters, while the western shores are in Gulf waters. Having dual coasts makes Key West a great place to go fishing: you can fish Atlantic and Gulf waters in one day.
So Where Should We Go Fishing?
Where to fish is always a hot topic in Florida, as many Floridians have a passion for fishing. So which coast is better? Should we set a course for Miami or St. Augustine, or perhaps set sail for Clearwater Beach? If we want to get the best fishing, which coast should we sail to?
Whether you're fishing from the sands of New Smyrna or casting a line off Clearwater Beach, you're going to be angling in some of the world's best waters and catching some super cool fish. Heck, Florida is not that wide – one could drive from Tampa to Daytona in about two hours. So it would be easy to fish both coasts during one trip to the state, even if you were only visiting for a few days.
The fact is, both coasts offer world-class fishing. So no matter where you decide to fish, you'll find some of the best angling on earth in the Sunshine State.