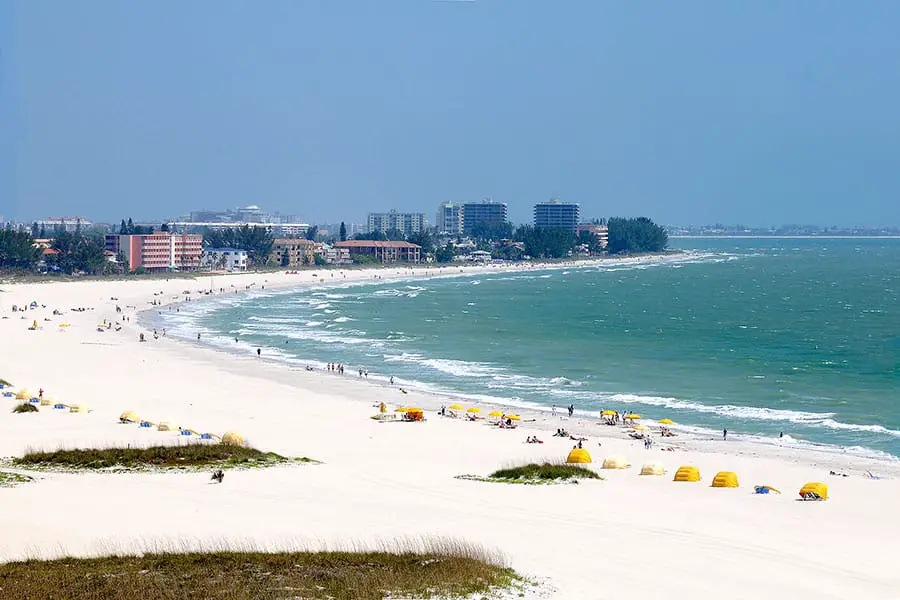 Treasure Island: the name is evocative. We might imagine a place where pirates have hidden gold or an island studded with secluded beachfront huts. But what exactly is Treasure Island, Florida known for?
Treasure Island, Florida, is known for its beautiful, sandy beaches and a thriving tourist economy. People flock to Treasure Island to relax on the sand or go boating in the Gulf of Mexico. The city is situated on a barrier island just off the southwestern tip of the Pinellas Peninsula.
So why is it called Treasure Island? What is there to do on Treasure Island? Is Treasure Island even an island? Keep reading to discover more about this amazing gem.
Treasure Island: X Marks The Spot
Treasure Island is a city of about 7,000 people and is located on the southwestern tip of the Pinellas Peninsula, directly west of St. Petersburg and roughly south of Seminole. This city is actually situated on a small barrier island that sticks out into the Gulf of Mexico. As a result, residents enjoy access to Boca Ciega Bay to the east and the Gulf of Mexico to the west, and this also means Treasure Island provides spectacularly easy access to some of the most outstanding beaches in the United States!
Treasure Island's perfect location on the southern tip of the Pinellas Peninsula gives it absolutely stunning waterfront views. Sunsets on Treasure Island are a sight to behold, with the vibrant colors of the sun reflecting off the Gulf of Mexico. Summer sunsets are breathtaking when the heavy clouds and thick atmospheres of thunderstorms linger off the coast.
Another benefit to being near the shore at the end of the day is that you might get to see a dolphin or two playing in the surf! You can often spot these playful marine mammals just before sunset. They also enjoy early morning swims along the beach and are often joined by manatees in the early hours.
The dolphins aren't the only ones who want to play at the beach. Treasure Island Beach is one of the best Gulf Coast beaches in Florida:
The sand is white and powdery.

The weather is warm and breezy.

The gentle swell of the ocean fills the air with the sound of crashing waves.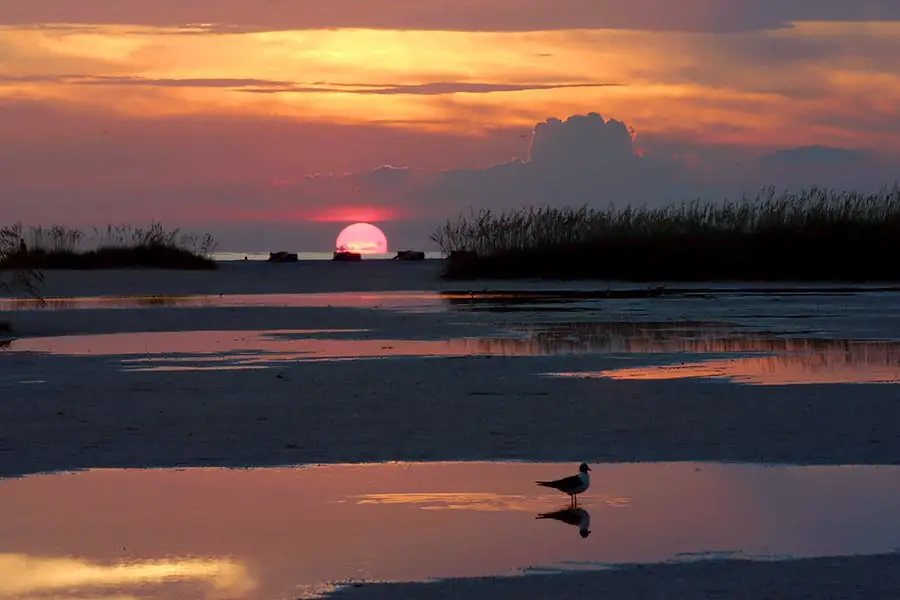 As you might imagine, beach activities are fixtures in this seaside town. Sunset Vista Trailhead Park is an excellent place to access the beach.
Of course, there are additional ways to enjoy the beach. Adventurous types might want to rent a boat from Treasure Isle Boat Rentals. Heading south from Treasure Island takes you past the iconic Don CeSar hotel and towards Shell Key.
If you venture north, you'll find yourself cruising the waves past Madeira Beach and Clearwater Beach. Be aware that you may need to complete a Marine Safety Course and get a Florida boater's license to rent boats at this specific facility.
Kayaking is another excellent way to experience the Gulf of Mexico. To elevate your experience to a new and exciting level, rent a see-through kayak from See Through Adventure Rentals. These special kayaks let you see what's happening under and around your kayak! You're likely to see some neat fish, and lucky paddlers might even encounter a manatee or a dolphin.
Boating and kayaking are great fun, but the adrenaline junkies out there might want more. Parasailing is an excellent way to enjoy the beach in Florida. Being high in the sky behind a boat is a fantastic way to see the beach and the cityscape beyond it in a whole new way. Dolphins sometimes play in the wake behind the tow boat, which is an incredible spectacle from the parasailing rig!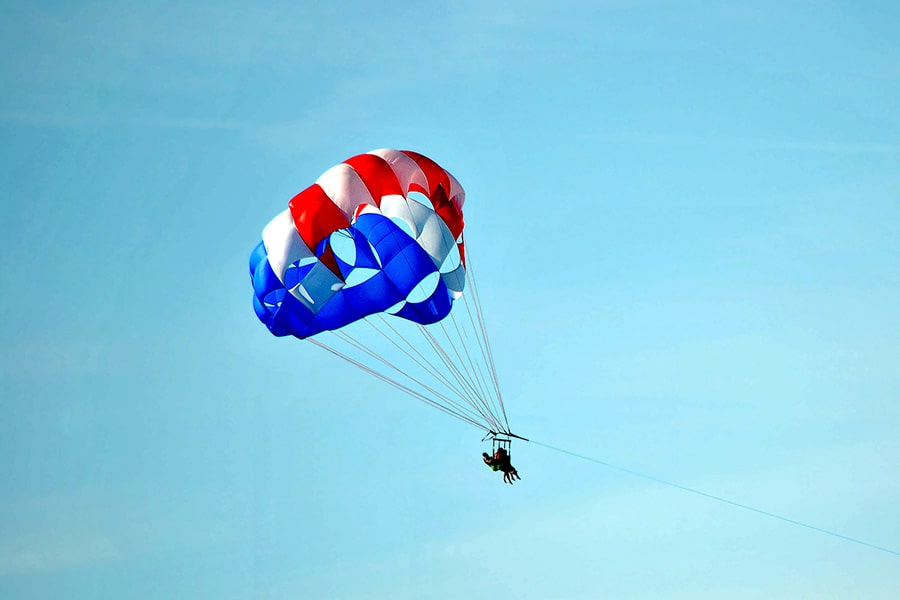 After a long day of playing on the beach, you'll need to sate your appetite. Middle Grounds Grill features surf-to-table seafood. They also serve fabulous steaks and fine cocktails to cap off a great day on the water. If the whole family has come along, Middle Grounds even has a kid's menu to keep the younger ones happy.
If you prefer Italian food, Caruso Ristorante Italiano is the place for you. This beloved Italian restaurant serves classic Italian pasta dishes, plus unforgettable saltimbocca and marsala dishes. Being in an oceanfront town, of course, Caruso also serves a variety of Italian seafood dishes, including cioppino and pasta pescatore.
On the other end of the culinary spectrum, there are some great places on Treasure Island to get breakfast food, snacks, and coffee. Tootsie's Sugar Shop serves up baked goods, ice cream, and other delectable treats that you won't want to miss out on.
Of course, Treasure Island is also quite convenient to St. Petersburg, one of Florida's largest cities. St. Pete has a dazzling array of things to do that includes fine restaurants, local coffee shops, boutiques, shopping centers, and more!
If you like fine arts or have a taste for the surreal, the Dali Museum in downtown St. Pete is only about 25 minutes from Treasure Island. While you're there, head to The Hangar restaurant at Albert Whitted Airport — you can enjoy good American food while watching the planes come and go from this small airfield!
Phenomenal Florida Fun Fact: Baseball legend Babe Ruth enjoyed staying on Treasure Island when he came to Florida for spring training. The home, located at 211 Sunset Drive N., still stands today and has been expanded to include a wine room.
Other Posts of Interest
How Did Treasure Island, Florida Get its Name?
Like many places in coastal Florida, Treasure Island has a very colorful history. The city's name originated from the early 1900s when early real estate developers generated buzz about the island by burying fake treasure chests and later pretending to dig them up. Despite these antics, development on the island was not especially noteworthy until after World War II.
It was then that real estate developers really began to build Treasure Island into the place it is today. These developers actually used dredge and fill to construct new land on which to build homes, which is why a lot of the streets in Treasure Island fan out with unnatural regularity into the waters of the bay. This unique design created impressive swathes of new waterfront land.
Helping to spur the growth was the 1939 completion of the Treasure Island Causeway Bridge, which connected Treasure Island to the mainland. This easy access by automobile made the area ripe for development. As a result, the three miles of sandy beaches on Treasure Island were soon dotted with tourists and locals alike.
Is Treasure Island, Florida Really an Island?
Treasure Island really is an island. The city is built on a small barrier island that is part of a chain of barrier islands that protect the Pinellas Peninsula from the Gulf of Mexico. Parts of Treasure Island are man-made: these areas were filled in using dredged material and expanded the size of the island significantly.
However, Treasure Island is not a large island, and it is not hard to get to. If you are close to the Tampa Bay area, Treasure Island is an easy day trip, and it is easily accessible by vehicle or even by bicycle. The total area of Treasure Island is about 5.4 square miles. By comparison, Key West has an area of 7.2 square miles.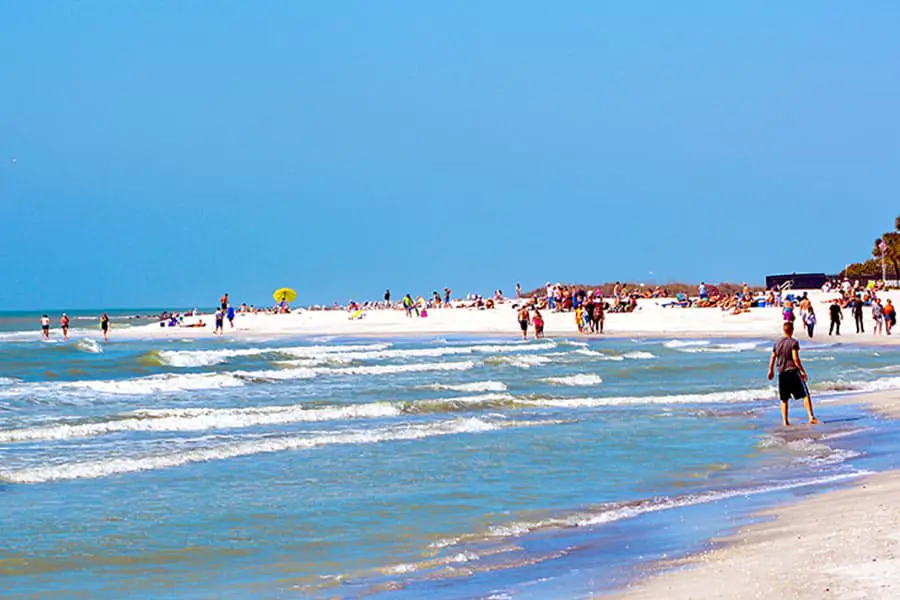 When is the Best Time to Visit Treasure Island, Florida?
Florida has a reputation as a warm state. During the winter months, Florida's climate is just about perfect! November through April are generally considered the good-weather months in Florida. Storm season is over, the weather is cooler but still pleasantly warm, and the sunshine is hard to beat. This window of time, from November through April, is the best time to visit Treasure Island.
During the summer months, Florida can be almost unbearably hot and humid. Even the locals tend to slink around in the air conditioning during these months, venturing outside only when strictly necessary. Therefore, unless you like very hot and humid weather, you should not visit Treasure Island in the summer months. June through August are especially brutal months.
Treasure Island, Florida: The Island is the Treasure
Treasure Island is a remarkable place. Easy access to pristine Gulf beaches, high-end local restaurants, and an endless supply of fun activities make Treasure Island a perfect place to visit or live. You can enjoy once-in-a-lifetime experiences like parasailing over the beach and then head into St. Pete to explore the big city, all within a few minutes.
Even among the quirky coastal towns that make up Florida's Gulf Coast, Treasure Island is unique, and the white, sandy beaches make perfect places to lounge, relax, and enjoy the ocean. In addition, the well-developed cities near the coast have anything you could possibly want or need. A few moments of standing in the sunshine as the beach breeze rustles some palm trees, and you'll know that this is a special place indeed.