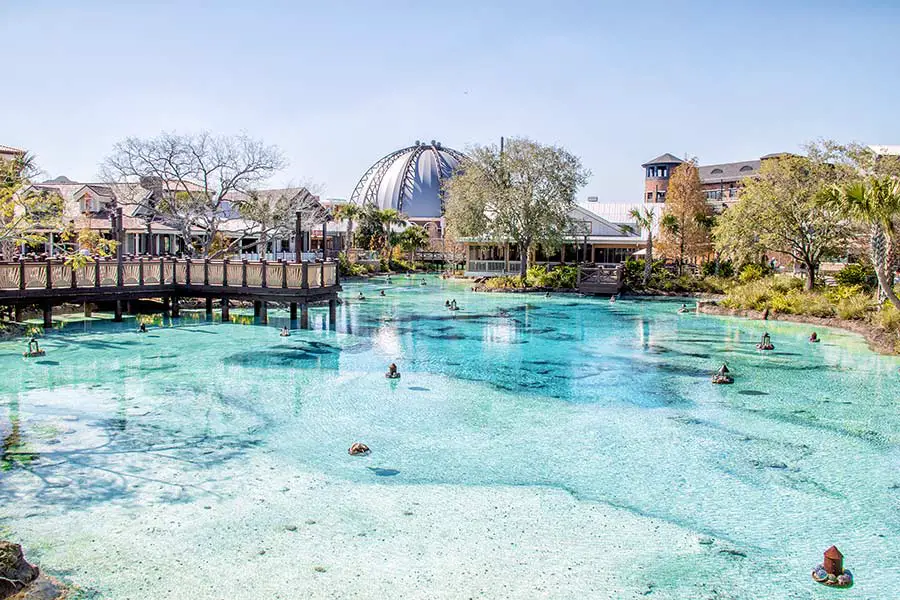 Walt Disney World offers guests many specifically themed areas that are designed and decorated to the nines. Disney Springs and Disney Boardwalk are two such places. But what is the difference between Disney Springs and Disney Boardwalk?
Disney Springs is a standalone retail and dining center located near the Walt Disney World parks. Disney Boardwalk is a smaller area located near the EPCOT resorts; it is themed to resemble a classic American boardwalk and mostly features food and atmosphere.
So is there a real spring at Disney Springs? Is there a food court on the Disney Boardwalk? Can you bring your pets with you to Disney Boardwalk? I'll answer these questions and more in the following sections.
Disney Springs vs. Disney Boardwalk
One thing that makes Disney World so successful is attention to detail. While there are many theme parks in the world, only Disney's parks manage to put so much attention into every finest detail. Visitors to Disney Springs and Disney Boardwalk will find both to be well-done spaces from top to bottom. But what's the difference between these two places?
Disney Springs
Disney Springs is a massive shopping and dining center located just moments away from any of the Orlando Disney parks. Disney Springs contains dozens of unique shops and kiosks selling everything from Legos to apparel. There is also a wide variety of food available: Disney Springs has restaurants ranging from snack bars to top-tier steakhouses.
Disney Springs is broken down into four distinct districts: The Landing, Town Center, West Side, and the Marketplace. The Landing is designed to look like a marina, and the amenities follow that theme; guests can dine at Jock Lindsey's Hangar Bar or watch the amphibious cars come and go from The Boathouse.
Town Center is built with unique architecture and features high-end retailers. It is also the location of the Springs, which flow throughout the complex.
Rounding out Disney Springs, West Side features fun activities such as a movie theater, dine-in bowling alley, and the House of Blues restaurant.
The Marketplace offers guests the opportunity to peruse an endless assortment of merchandise. The Disney lover in your family will find much to love in the Marketplace.
The entire Disney Springs complex is easily walkable from any of the parking garages; the garages are well-marked and easy to find from the road. In addition, guests can get to other areas of the Disney parks by taking one of the buses or water taxis that connect from Disney Springs.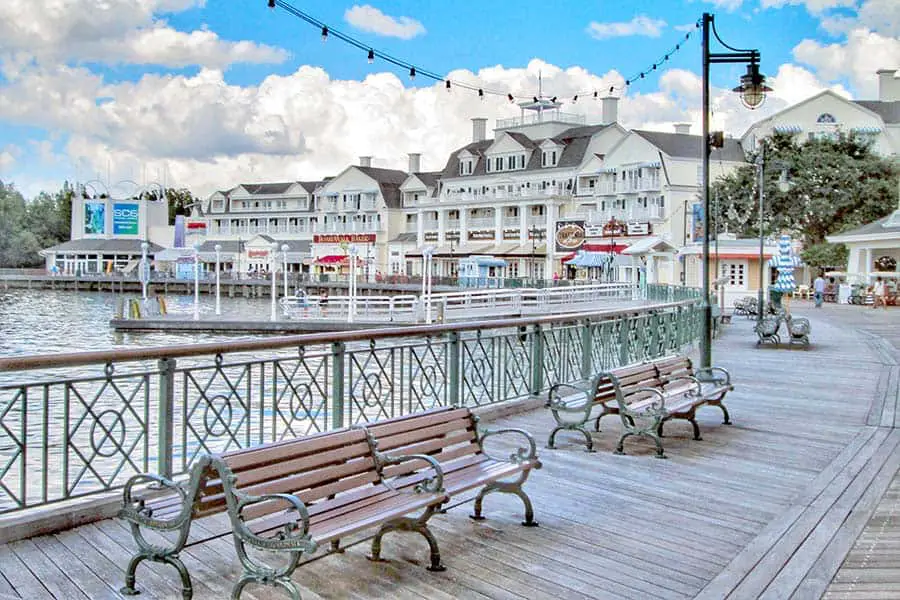 Disney Boardwalk
Disney Boardwalk is a waterfront promenade located in the EPCOT resort area of the park complex. The Boardwalk spanning about a quarter-mile, is lovingly crafted to transport guests to a slice of Americana resembling the glory days of places like Coney Island. Disney Boardwalk has bars, fine dining, and Boardwalk-inspired treats like hot dogs and pizza.
A fun way to get to the Boardwalk is to visit EPCOT for a day. You can take a detour from the World Showcase to walk to the boardwalk from EPCOT; we would say to give it at least an hour and a half if you like to plan your time.
You'll get to the boardwalk by leaving EPCOT through the International Gateway between the England and France pavilions. From the exit, it's about a ten-minute walk to the Boardwalk. As long as your ticket or pass is valid, you can get back into EPCOT through the same gate.
Pro Tip: While it's not part of the Boardwalk per se, the nearby Beaches & Cream restaurant is a great place to eat. They serve classic American diner fare and some genuinely fabulous ice-cream creations. We encourage you to make a reservation, as it is very popular.
Phenomenal Florida Fun Fact: The Disney Springs complex covers 120 acres. It is actually 13 acres bigger than the Magic Kingdom.
Other Posts of Interest
Is There an Actual Spring at Disney Springs?
Disney Springs does have several water features which are designed to resemble a natural spring. The spring waters run throughout the Disney Springs area through several distinctive areas that emphasize the nearby architecture. The Disney Springs area is lovingly crafted, but it does not actually have any kind of natural spring.
Why is Disney Springs Called Disney Springs?
The area that is presently Disney Springs has been many things before. In 1975, the first iteration of this area was launched as the Lake Buena Vista Shopping Village, which was essentially a shopping mall. It was renamed the Walt Disney World Village in 1977 and stayed in that form until 1984.
In 1984, Disney added a club area to the Walt Disney World Village to attract guests who enjoyed the nightlife. The new space, dubbed Pleasure Island, had several Disney-oriented nightclubs. As time went on and Disney expanded, the area evolved. Finally, Disney renamed the combined shopping area and club district Downtown Disney in 1997.
In 2013, Disney disclosed that they would be refreshing and expanding Downtown Disney in a significant design project and renaming the area Disney Springs. The project added ample parking, pedestrian bridges, and connections to the Saratoga Springs Resort. It also expanded the roadways and improved access to Disney transit as well as public roads such as I-4.
So, why Disney Springs? The name was chosen to provide a timeless feeling to the area. Second, Disney's designers wanted Disney Springs to feel vibrant and classy and gave it a name emphasizing that idea. And it is vibrant: any given day brings throngs of guests to Disney Springs, whether they're noshing on some good food or enjoying some high-end shopping.
Can Anyone Visit Disney Boardwalk?
Disney Boardwalk is free to visit. While it is located in the EPCOT resort area, you can see the Boardwalk without having to buy a ticket to EPCOT or a night at the resorts. You can simply park at any Disney location and take a bus to the EPCOT resort area.
Does Disney Boardwalk Have a Food Court?
There is not a food court at the Disney Boardwalk, but there are multiple dining options. If you just want a snack, there is BoardWalk Ice Cream or BoardWalk Bakery.
There is also a counter service restaurant called The To-Go Cart that serves tasty fare like corn dogs, pulled pork sandwiches, and burgers. Or, head to the Pizza Window to get a hot and fresh slice of pizza.
If you desire a more substantial meal, you can dine at Trattoria al Forno, which serves classic Italian fare. Or, if you want to get fancy, you can go to Flying Fish for some seafood and steak.
After dinner, relax with drinks at AbracadaBar or BoardWalk Joe's Marvelous Margaritas. There may not be a food court, but you'll find tons to eat on the Boardwalk.
Is Disney Boardwalk Pet Friendly?
Disney Boardwalk is not pet-friendly. However, Disney does offer pet owners who are traveling with their furry friends a safe place to leave them. You may book your dog a stay at the Walt Disney World Resort Best Friends Pet Care center, an enormous doggy day-care where your pooch can romp and play.
If you are just day-tripping to the Boardwalk, you should leave your dog at home.
Does Disney Boardwalk Have Free Parking?
Disney Boardwalk does have a minimal amount of free parking in the resort area. However, the parking is intended for resort guests, so Disney security limits how many guests for the Boardwalk can park there. Your best bet is to park elsewhere – Disney Springs' parking garages are usually a good bet – and take some of Disney's transit options to get to the EPCOT resort area.
Distinctively Different
While Disney Springs and Disney Boardwalk are both fantastic in their own ways, they are very different attractions. Of the two, Disney Boardwalk is much more laid-back. So if you want a mellow stroll along the waterside and maybe a relaxing lunch, the Boardwalk is the place for you.
Compared to Disney Boardwalk, Disney Springs is enormous! The 130-acre complex is much busier, practically buzzing with activity. While Disney Boardwalk will keep you occupied for an hour or two, Disney Springs can be an all-day affair. You can spend hours browsing the boutiques and shops or snacking your way through the various kiosks, counters, and sit-down restaurants.
Disney Springs and Disney Boardwalk: Fun and Free
There's a joke that everything at Disney begins with a line and ends with a cash register – but all joking aside, one of the best things about both attractions is that they are free.
A vacation to Disney can be costly, so having places where the whole family can go to experience and enjoy that uniquely detailed Disney ambiance is a wonderful thing. Whether you choose to enjoy a slice of pizza or an ice cream on the Boardwalk or go peruse the goods and edibles at Disney Springs, you're going to have a great time.