Florida's long Atlantic and Gulf coastlines, proximity to the Caribbean and Central America, and broad highways and rail networks make it a natural shipping hub. Logistics, shipping, and even manufacturing are strong industries in the Sunshine State. All of this leads us to wonder: what is the biggest shipping port in Florida?
Port Tampa Bay is the biggest shipping port in Florida, handling more than 37 million tons of cargo per year. That is enough stuff to fill more than 1.6 million semi-trucks. Not only does Port Tampa Bay handle millions of tons of freight, but its expansive footprint also covers more than 5,000 acres. 
Where exactly is Port Tampa Bay? How many terminals does the port have, and what kind of goods does it handle? How many people work there, and how many ships come and go from Tampa every year? Check out the following sections for the answers to these questions and more.
Port Tampa Bay: Not Just Pirates Anymore
Tampa Bay is a natural seaport that has a long and colorful history dating back thousands of years. One of the most famous and interesting chapters of Tampa Bay's history occurred during the pirate times, when legendary pirates like Jose Gaspar (namesake of the famous Gasparilla festival) roamed the coastline, pillaging and plundering and generally sowing chaos among the seafarers of the time.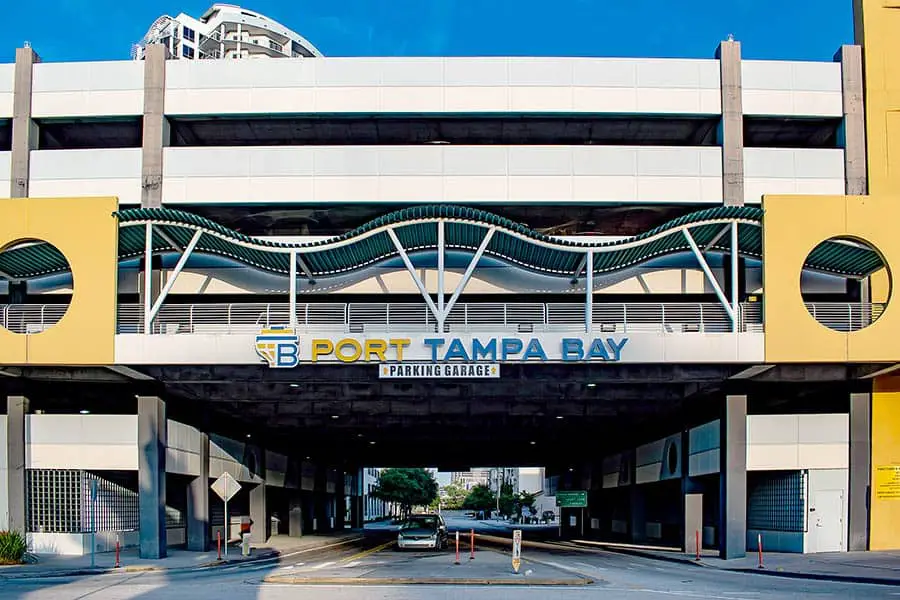 However, the pirate times are over now, and Tampa Bay's maritime activity is now mainly focused on recreational boating, cruise vessels, and merchant ships.
Before the pirates arrived in Tampa Bay, the area was populated with indigenous people who used the Bay and its extensive network of rivers and estuaries as a trading hub. As Florida traded hands between the English and Spanish, Tampa Bay gradually became a more significant seaport.
In 1823, the U.S. Army built a post at Fort Brooke on the mouth of the Hillsborough River and began building primitive wharves to dock supply ships. However, the port never really grew until the arrival of Scottish skipper James McKay in 1846.
McKay began sailing vessels out of the old wharves near Fort Brooke to major cities like Mobile and New Orleans. Eventually, McKay expanded his operations to Cuba, sailing cattle to the island. His business acumen was as sharp as his sailing abilities, and soon his shipping businesses were thriving.
McKay's burgeoning seaport was quickly connected with Henry Plant's railroad network, so freight from Port Tampa could be sent by train to places like Jacksonville and even New York City.
McKay's colorful career continued during the American Civil War. McKay was a famous blockade runner, breaking through Union blockades to trade commodities with the English and keep Florida's economy running during the war. He was also the Mayor of Tampa for a time, just one of the many hats this talented Floridian wore.
As time wore on, Port Tampa Bay grew and expanded. The harbor was dredged several times to allow deeper-drafting vessels entry, and several businesspeople purchased and donated land to help the seaport expand.
By 1929, the port was publicly owned and enjoyed a 27-foot-deep channel that allowed large vessels to dock. Today, the port enjoys convenient access to the I-4 corridor, rail facilities, and Tampa International Airport, making it a critical part of the economies of both Tampa Bay and Florida.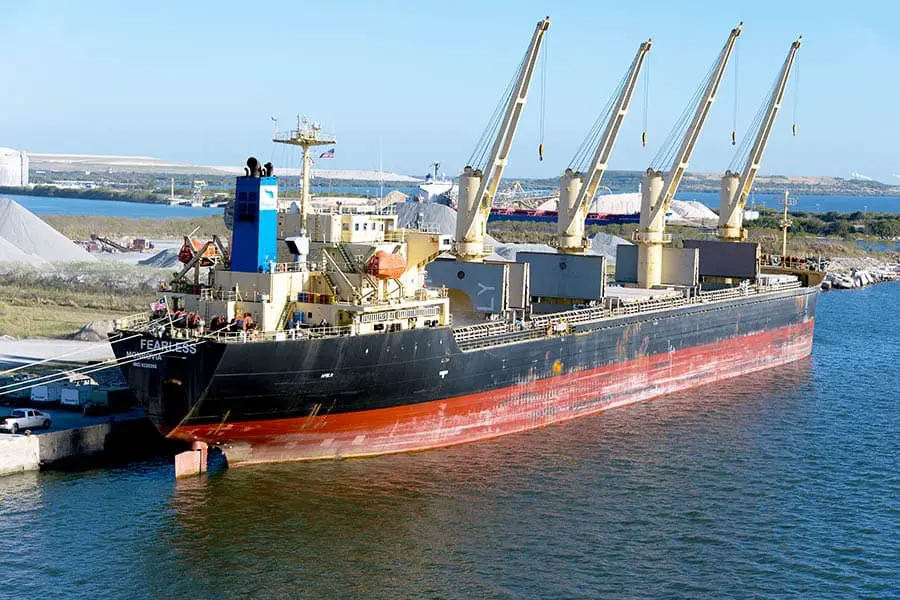 Port Tampa Bay Today
Port Tampa Bay is still located at the mouth of the Hillsborough River, between the Davis Islands and the aptly named McKay Bay. It is convenient to downtown Tampa and very close to Tampa's famous Ybor City neighborhood.
The cruise terminals are located on the western side of the port, convenient to tourist attractions like the Florida Aquarium. The more industrial side of the port is situated along the Sparkman Channel, East Bay, and McKay Bay.
In terms of physical size, Port Tampa Bay covers more than 5,000 acres of land. The port has 7,000 feet of berthing available for cargo vessels, plus three cruise terminals that host cruise ships from Royal Caribbean, Holland America, Carnival, and AIDA. The port is accessible through a 43-foot-deep water channel and is equipped to handle almost any kind of cargo you can imagine.
Port Tampa Bay: Infrastructure
Port Tampa Bay is actively growing and expanding. The port operates three 100-ton Gottwald cranes plus five gantry cranes. Two of Port Tampa Bay's gantry cranes are post-Panamax, meaning that they can service the biggest ships that can pass through the Panama Canal.
Phenomenal Florida Fun Fact: McKay was a great sea captain, but also a fearsome man. When he discovered that bureaucrats in Cuba were hampering his trade voyages, he captured them and had them thrown overboard into Havana's shark-infested harbor. Many Floridians today share McKay's enthusiasm for bureaucracy.
In addition, the port is home to several shipyards that have graving docks, or dry docks, that allow ships to be repaired, restored, refurbished, re-engined, expanded, scrapped, or otherwise modified in any way.
Port Tampa Bay is connected to the I-4 corridor and convenient to I-75 via the Selmon Expressway. In addition, the Selmon obviates the need for truckers to navigate Tampa's crowded city roads, making it convenient for intermodal freight to be trucked in and out of the port.
CSX also has rail facilities that connect with Port Tampa Bay, enabling freight to travel to and from the port by rail. Finally, the port is just minutes from Tampa International Airport.
How Many People Work at Port Tampa Bay?
Port Tampa Bay employs about 135 workers. However, the total number of jobs supported by the port is closer to 85,000. This number includes mariners, welders, equipment operators, truckers, rail operators, scientists, shipbuilders, customs inspectors, and others whose jobs are dependent on the port. The total economic impact of Port Tampa Bay is estimated to be more than $17.2 billion annually!
Other Posts of Interest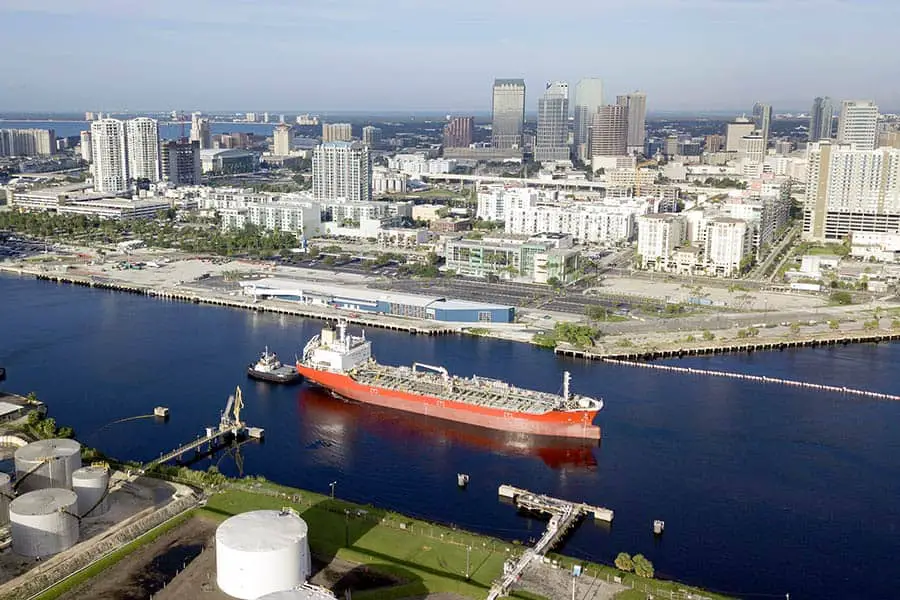 What Kind of Cargo Goes Through Port Tampa Bay?
Port Tampa Bay handles almost any kind of cargo imaginable. For example, in the early 2020s, Tampa International Airport's new trains were shipped to the airport via the seaport! The port handles a lot of bulk cargo, including dry bulk such as cement and liquid bulk such as fuel. Refrigerated cargo also frequently passes through the port.
Other cargo that comes through the port includes materials like:
Gasoline, diesel, ethanol, and jet fuel

Bulk cement

Phosphate

Citrus juice and citrus concentrate

Containerized freight

Scrap metal and steel

Automobiles

Food
The port has a large refrigerated warehouse facility that enables the transshipment of food products like meat, fruits, and vegetables.
Port Tampa Bay is also a major export port. Materials like phosphate and oil are exported from Florida to places in Latin America, Asia, and other global markets. In addition, manufacturers near Port Tampa Bay fabricate steel objects such as bridge parts and liquid containers, which are then exported through Port Tampa Bay.
How Many Ships Pass Through Port Tampa Bay?
Port Tampa Bay is a bustling seaport. In an average year, nearly 3,000 vessels will pass through the port. This number includes vessels such as barges as well as large oceangoing container ships and tugs. Containerized freight is very common and becoming more popular. Port Tampa Bay handles somewhere around 180,000 containers a year.
The biggest vessel ever to sail into Tampa Bay arrived in 2019. The CMA CGM Dalila is a 1,096-foot-long container vessel that sails from ports in Asia through the Panama Canal, then on to Houston, Mobile, and eventually Florida. The Dalila alone carries up to 8,469 individual containers!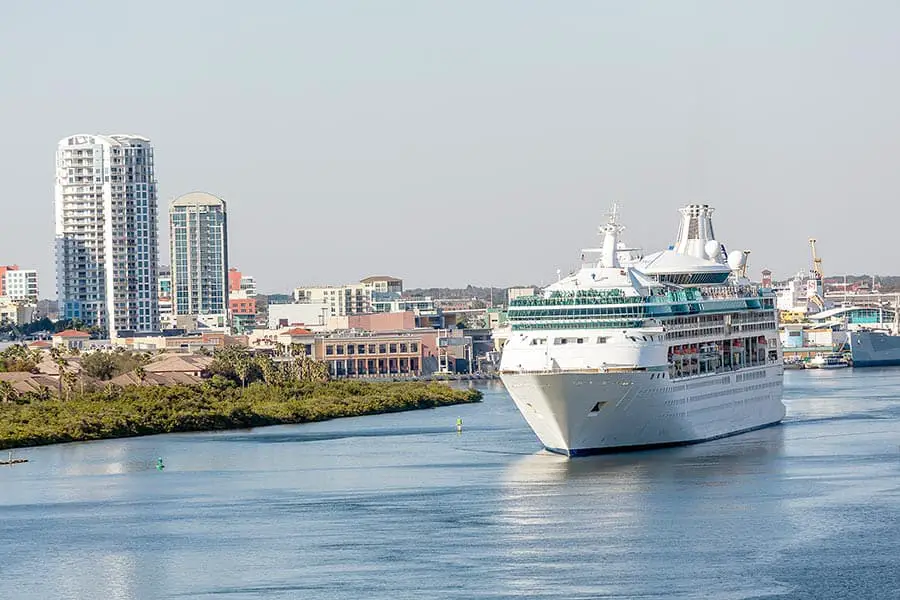 Do Cruise Ships Sail From Port Tampa Bay?
Port Tampa Bay has three cruise terminals. Vessels like the Carnival Paradise, Brilliance of the Seas, and Norwegian Dawn sail to western Caribbean destinations from Port Tampa Bay.
Popular destinations include Mexico, Honduras, and Key West. If you're in Tampa for a weekend or a short stay, consider hopping onto a sunset cruise or a wild dolphin cruise hosted by the Florida Aquarium.
Who Owns Port Tampa?
Port Tampa Bay is a public-private partnership. The Tampa Port Authority operates the port in partnership with Ports America. It is overseen by a board of seven commissioners appointed by Florida's governor, the mayor of Tampa, and a city commissioner. Individual businesses within the port lease or own their spaces, as do the logistics partners who operate within the port, like CSX.  
Sailing Away to a Bright New Day
The Sunshine State is naturally well-equipped for shipping, as most of it is surrounded by the ocean. The state boasts fifteen separate seaports, but the biggest and best-equipped shipping port in the state is Port Tampa Bay, located in the heart of Tampa.
The port already handles millions of tons of freight of all kinds annually and is poised for rapid growth in the future as Central Florida continues to prosper. The ships sailing in and out of Port Tampa Bay will help keep commerce alive and well in the Sunshine State in the years and decades to come.