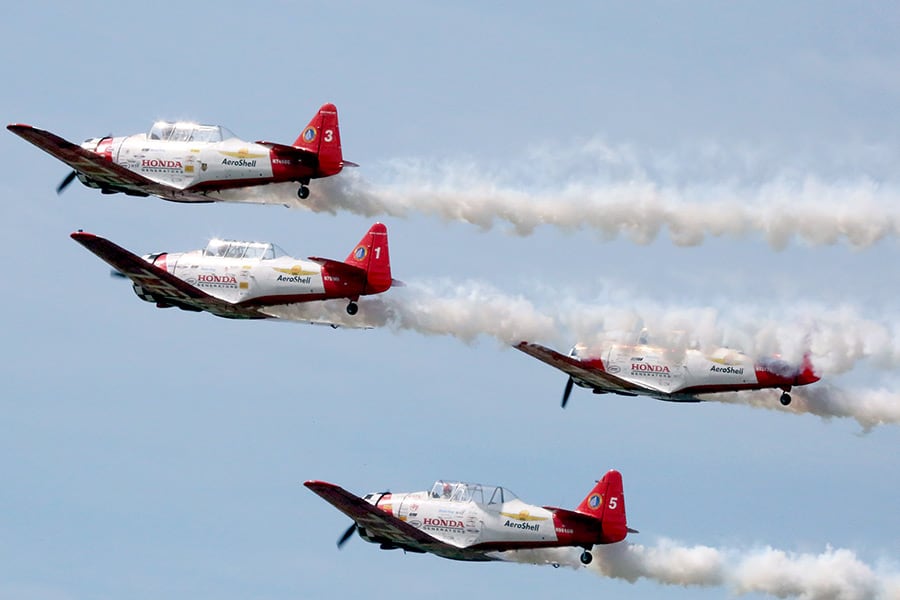 If you're near Lakeland, Florida, during spring break season, there's a good chance you'll see a lot of airplanes buzzing around — anything from a vintage WWII trainer to a fancy experimental model might zoom overhead at any moment. So what exactly is going on with all these airplanes? Why it's the annual Sun 'n Fun Fly-In!
The Sun 'n Fun Fly-In held in Lakeland, Florida, is the biggest and best airshow in the Southeastern United States. It features airplanes on display as well as flying exhibitions, often including military display teams like the Blue Angels or the Thunderbirds.
If you love flying or aviation, Sun 'n Fun is a must-see. So what exactly can you see and do at Sun 'n Fun? How long does it last? Are there the same shows every year, or does it ever change? Read on to learn the answers to these questions and more.
Lakeland's Sun 'n Fun: Airplanes Galore!
If you think airplanes are cool — and who doesn't? — Sun 'n Fun is the place to be. Billed as "Spring Break for Pilots," this aviation festival takes place every spring in sunny Lakeland, Florida, whose local airport temporarily becomes the busiest in America.
Thousands of people from near and far come to celebrate aviation and meet with like-minded aviation enthusiasts, sometimes lovingly referred to as "Avgeeks." In 2019, the most recent year with a concrete headcount, Sun 'n Fun hosted more than 200,000 guests from 60 countries.
Sun 'n Fun is a great activity for families. The campus is expansive, well-maintained, and very friendly to guests who may need to bring strollers or wheelchairs along with them. Kids will love looking at the airplanes on display. They will get a heck of a thrill when the airshow begins: jet noise and the awesome thunder of propellers and radial engines will get everybody's adrenaline pumping.
The gates open at 8:00 AM sharp during Sun 'n Fun. I recommend getting there early if you plan to make a day of it, as parking and traffic tend to get more congested as the day goes on. However, the bulk of the performances occur during the afternoon hours, so if you primarily want to see the actual flight displays, plan to get there around 1:30 — that leaves ample time to park and find a good spot to watch the show.
Phenomenal Florida Fun Fact: Airport runways are numbered based on their compass heading. Lakeland's runway 9-27 is aligned east-west, running from compass heading 090 to 270 degrees, which roughly aligns with local prevailing winds.
What Airport is Sun 'n Fun Held At?
Sun 'n Fun is held annually at the Lakeland Linder International Airport, listed on aviation charts as KLAL. Lakeland Linder is located in the southwest corner of Lakeland, a city located on the I-4 corridor about halfway between Tampa and Orlando.
While you may not have heard of the airport, it has some famous clients: not only does Amazon operate cargo flights in and out of LAL, the airport also hosts NOAA's Hurricane Hunters, some of the most awesome pilots around.
The airport also frequently hosts training flights from the U.S. Army and the U.S. Coast Guard, who are often seen flying practice approaches in and out in their distinctive orange-and-white C-130.
LAL is a surprisingly large airport. While not as big as nearby Orlando International or Tampa International, LAL can host good-sized aircraft: the primary runway is 8,500 feet long, and the auxiliary runway is 5,000 feet long. This means the airport is plenty big enough to host cool planes during an airshow and that there's plenty of room on the flight line to explore acres of airplanes.
How Long is Sun 'n Fun?
Sun 'n Fun is a week-long event, running Monday to Sunday of the week in which it is held. Airplanes begin to trickle in a few days before, especially those flown by vendors or campers at the airshow. Dates change from year to year, but current scheduling information is always available on flysnf.org.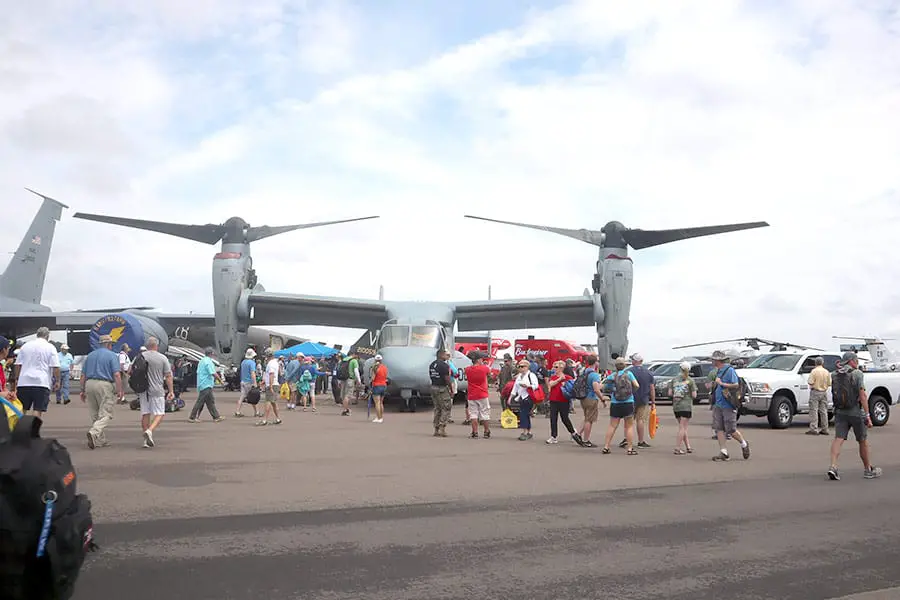 How Many Airplanes Does Sun 'n Fun Have?
Sun 'n Fun has a ton of airplanes. One can see everything from modern jets and propeller planes to active-duty military aircraft to classic warbirds and experimental aircraft. In addition, there are helicopters, seaplanes, gyroplanes, ultralights, restored vintage airplanes… one can find nearly any kind of airplane at Sun 'n Fun.
So how many airplanes does that add up to? About 5,000 planes pass through Sun 'n Fun every year! While some of them are transient aircraft, most of them end up parking somewhere on festival grounds, either in aircraft camping or as part of a static display or competition.
Can You Go for an Airplane Ride at Sun 'n Fun?
Getting a ride in a small plane might be a challenge during Sun 'n Fun unless you know a pilot: operations are tightly controlled during the airshow for everybody's safety.
However, there are almost always rides available in historic airplanes like the Ford Tri-Motor or the Commemorative Air Force's fleet of historical airplanes. You can get a unique perspective of Central Florida from the back of a C-47 transport or from the bay windows of a B-25. Tickets are available in-person at the airshow, and prices will vary depending on the aircraft you're riding.
One can also find helicopter rides at Sun 'n Fun. If you've never ridden in a helicopter before, this experience is worth the money. While the specific machines may vary year-to-year, there's a good chance you could score a ride over Lakeland in a classic Huey helicopter!
Who Performs at Sun 'n Fun?
Sun 'n Fun enjoys performances by a broad spectrum of aviation performers. The crowd favorites are usually the military flight teams. Most years feature visits by the Blue Angels or the Thunderbirds, who fly dazzling displays of precision flying. In addition, military display teams flying the F-16 Fighting Falcon, the F-22 Raptor, and the F-35 Lightning II have all appeared in recent years.
There are many amazing civilian acts that perform at Sun 'n Fun. Perhaps the loudest performers are the Aeroshell Aerobatic Team, who fly lovingly restored and maintained T-6 Texan training aircraft that make one heck of a sound. Other famous performers who come to Sun 'n Fun include well-known names like Michael Goulian and Rob Holland. These guys can make airplanes do things that… well, that normal planes can't do. Definitely don't try this at home.
What Exhibits Does Sun 'n Fun Have?
Sun 'n Fun has almost any kind of aviation-related exhibit you can imagine. The most popular exhibit is probably the flight line: one can walk all the way from the western end of the airfield to the eastern end, threading through countless displays of vintage planes, warbirds, homebuilts, and more. Walking the flight line is like being in an enormous outdoor aviation museum.
There are many static exhibits that let visitors go inside of cool airplanes. The Army and the Air Force often have cargo planes, helicopters, and other aircraft available for civilian exploration. In addition, the Commemorative Air Force often has restored military planes like their B-25 or B-17 bombers available for exploration and admiration. Unique airplanes will be given parking spaces closer to the center of the show so visitors can experience these one-of-a-kind or rare machines.
If you are in the market for an airplane, or if you just want to pretend you are, you can visit an assortment of aircraft vendors. Manufacturers like Piper, Cessna, and Cirrus often have display aircraft that visitors can interact with. Enjoy the plush leather seats of a new Cirrus and daydream about flying through the clouds.
There are also seminars and workshops available. These range from pilot-specific workshops (weather flying, procedures, best practices, safety meetings) to home-building workshops (welding, riveting, fabric doping, restoration) to FAQs, meet-and-greets, and educational workshops for the general public.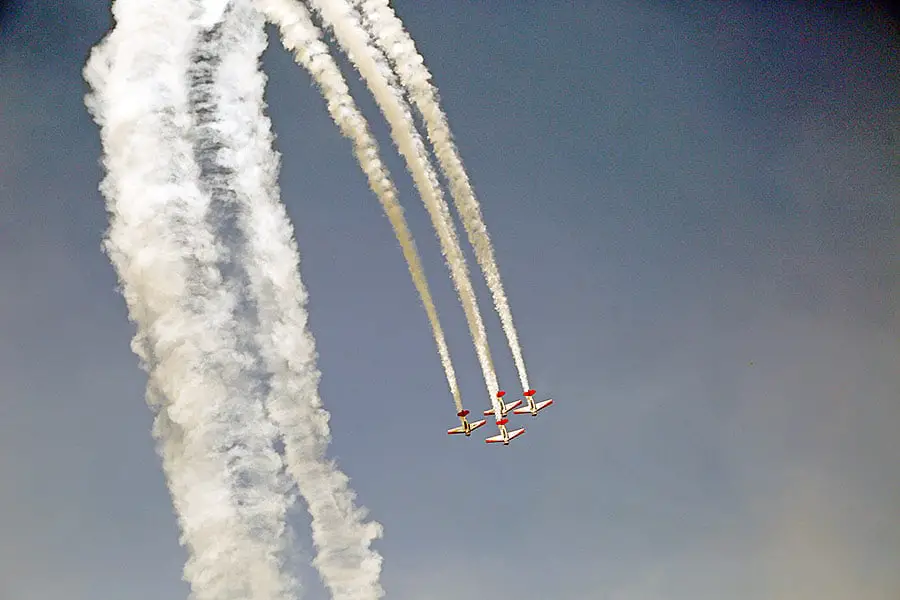 Sun 'n Fun also hosts an indoor sales hall. This event is found in a row of hangars toward the west end of the field. Here, you can find all kinds of aviation products: radios and tech, airplane cleaning supplies, vendors selling lots on live-in airfields, mechanical gizmos, tugs, headsets, sunglasses, fuel strainers, engine rebuild services; you can find literally any kind of aviation-related product or service at Sun 'n Fun.
Of course, there are also souvenirs! Hats, t-shirts, mugs, model airplanes, and all manner of swag are available throughout the Sun 'n Fun grounds.
Other Posts of Interest
How Much Does it Cost to Get into Sun 'n Fun?
Sun 'n Fun daily ticket prices are $45 for adults and $20 for children. A weeklong pass will set you back $170 for adults and $70 for children. Ticket prices have increased some in recent years, but record-breaking attendance at Sun 'n Fun may enable the organization to roll prices back a little in the future. Regardless, the price is well worth it: Sun 'n Fun is a fantastic experience for everybody, and especially for people who love aviation.
Can You Fly into Sun 'n Fun?
Yes, you can fly into Sun 'n Fun! Many pilots fly into Sun 'n Fun every year, bringing planes ranging from seasoned Cessna 152's to lovingly restored classic aircraft like the fabled Beech Bonanza or another favorite old aircraft, the Swift. Flying into Sun 'n Fun requires careful planning and careful attention to detail: the airport does not operate under normal rules during the airshow, and pilots who wish to fly in must familiarize themselves with the proper procedures.
Not only can you fly in, but you can also even camp with your airplane! So whether you have Grampa's old Piper Cub or a shiny new Cirrus (lucky you), you can park your plane and camp under the wing (or near the wing) for the duration of the airshow.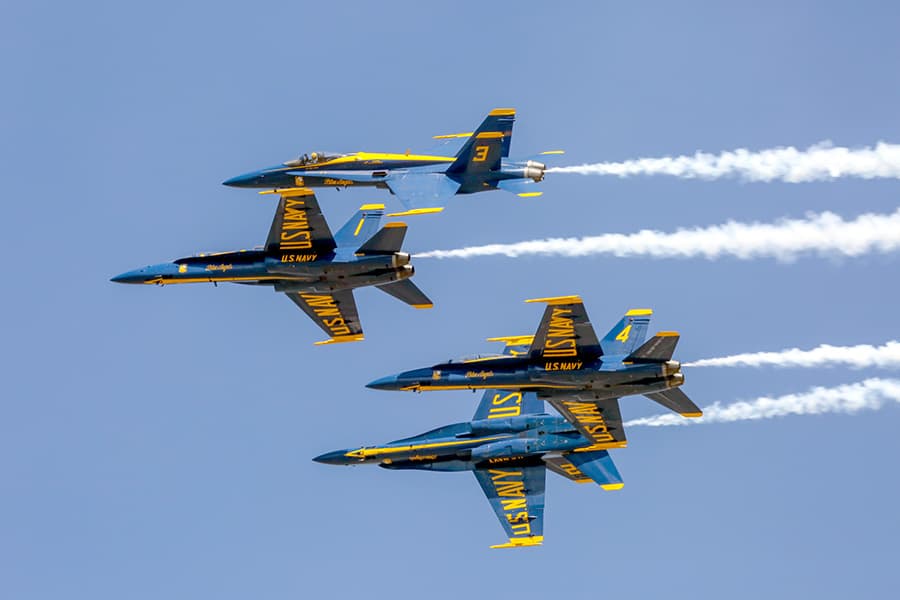 Is There Parking at Sun 'n Fun?
Yes, parking is available. Since Sun 'n Fun is a major event, plenty of parking is available in a large field just south of the airport. If you are going to the airshow, just get on West Pipkin Road and head for the airport – you'll see plenty of signage directing you to parking locations. Get there early for the most desirable spots and avoid the worst of the traffic.
Can You Bring Food to Sun 'n Fun?
Yes. If you prefer to carry along your own food, you can certainly pack up some sandwiches or snacks and bring them in with you. There are plenty of spots to set up for a picnic on the grounds, but there is no food on the flight line.
There are many food vendors at Sun 'n Fun. You can find cafeteria-style food vendors near the show entrance, and there are various food stands set up throughout the premises. You can find everything from burgers and dogs to barbecue and sandwiches. If the food on-grounds is not to your liking, the Sun 'n Fun campus is only a short drive from many of Lakeland's local restaurants.
What Should I Wear for Sun 'n Fun?
Sun 'n Fun happens during Florida's balmy spring. It is generally sunny and hot. Dress for very warm weather: shorts, light shirts, and hats. You should bring durable closed-toe shoes, especially if you want to walk the flight line. Sunscreen is a must for everybody, and if you are prone to burning, you might want to bring some sun-protective clothing.
Is There Camping at Sun 'n Fun?
Camping is a big part of Sun 'n Fun – at least for the most hardcore aviation lovers. You can camp in a tent, in (or near) your plane, or in an RV or camper. Unfortunately, there are no RV hookups, so the RVers among you will need to use your batteries or generator to power your vehicle. Likewise, there are no water or sewer hookups, but there are faucets and a dump site available.
Tent campers and RV campers are asked to be considerate: stay within your designated campsite, and abide by the campsite rules. Generators are allowed until 10 PM, except in the designated 24-hour generator camping areas. Guests are asked to wind down after 10:00 PM to avoid being noisy to the neighbors.
Are Dogs Allowed at Sun 'n Fun?
Campers at Sun 'n Fun are allowed to have their pets, but only within the campground area of the site. Dogs are not allowed on the flight line or in any of the exhibit spaces. Per Lakeland city ordinance, all dogs must be leashed at all times, and dog owners must pick up after their pets.
If your pet is sensitive to noise, then Sun 'n Fun is probably not for them. The event features frequent loud flying displays as well as ongoing arrivals and departures of a variety of aircraft types. If your pet is sensitive to thunderstorms, bring their comfort equipment: it is not uncommon for one of Florida's springtime thunderstorms to pass over Sun 'n Fun every now and then.
Can You Take Pictures at Sun 'n Fun?
Yes! Sun 'n Fun is an excellent venue for picture taking. Many attendees bring elaborate camera setups: it's not uncommon to see people with humongous camera lenses taking up-close-and-personal photos of the airshow or to find aviation lovers taking pictures of engines, props, sunsets, or other interesting scenes.
Is Sun 'n Fun Open Year Round?
Sun 'n Fun, the event, is hosted only for one week. However, the Sun 'n Fun campus is open year-round and hosts a variety of activities such as car shows, smaller fly-ins, model airplane shows, gun shows, and more. In addition, the Florida Air Museum is open year-round and is located on Medulla Road, just off the southwest corner of the airfield.
What You Should Know Before Attending Sun 'n Fun
Sun 'n Fun is a great event to see. Here are a few insider tips to assist you in making the most of your experience.
Prepare for heat. Spring in Florida is very hot, and much of the Sun 'n Fun grounds are outdoors, paved, and not shaded. You may want to bring a battery-powered fan.
Bring a camera.
Prepare for rain. Sun 'n Fun is usually quite sunny, but Florida likes to throw out the occasional afternoon rainstorm. Bring an umbrella or a poncho along, just in case.
You should bring water. Throw a few bottles into a backpack or bring a hydration backpack. There is bottled water available at the show, but the prices are inflated.
Bring a camp chair. The flying displays go on for a long time, and you'll want somewhere to sit.
Pick your spot early. The flying might not start until 2 or 3, but space fills up early.
Don't miss the Seaplane Splash-In. Hosted at Fantasy of Flight in nearby Polk City, the Seaplane Splash-In lets you see all kinds of floatplanes and flying boats in the waters of Lake Agnes. If you like seaplanes, this is worth the trip.
Another must-see is the Night Airshow. Featuring flying displays ranging from the loud and bright Aeroshell team to the gentle maneuvers of Manfred Radius' sailplane, the night show is worth seeing. It is generally held on two separate nights during the festival – check flysnf.org for details.
Final Approach
Sun 'n Fun is one of the premier aviation events in the United States. In fact, it is second only to the annual EAA convention in Oshkosh, Wisconsin, in terms of size. Sun 'n Fun features all kinds of neat airplanes, fascinating exhibits, and adrenaline-pumping air displays. So if you want to come to Florida during the spring, you might consider missing the beach and going to the airport instead. Trust me: you won't regret taking the time to come to Sun 'n Fun.