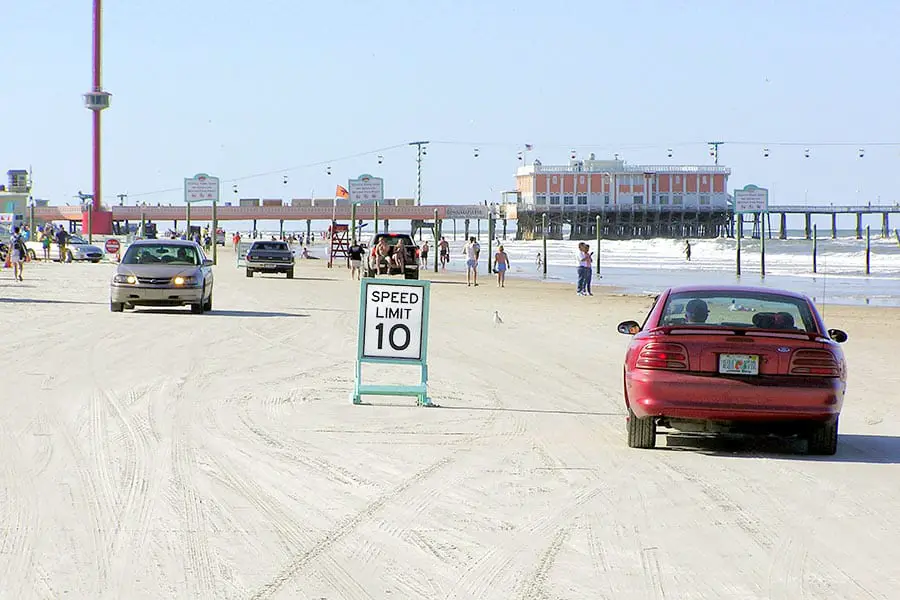 Florida's beaches have always been iconic. A popular image of the beaches here is of people reveling in the sun and sand, even going so far as to take their cars out onto the beach! Can you drive on the beach in Florida?
You can drive on some beaches in Florida. Three major car-friendly beaches are Daytona Beach, New Smyrna Beach, and St. Augustine. There are a couple of places where residents with special tags can drive onto the beach, but very few people – and no non-residents – qualify to drive on the beach in those areas. 
So do you need a permit to drive on the beach or a special tag? Can you drive any kind of vehicle onto the beach or only certain ones? Is the sand bad for your car? Before heading to the beach, learn the answers to these questions and more in the following sections.
Driving On Florida's Beaches 
Most beaches in Florida do not permit vehicles on the beach. So if you head to some random beach and drive your car out onto the sand, chances are you're going to end up in some kind of trouble – you might even end up getting stuck! But there are several beaches in Florida that allow cars on the sand, and many people say that being able to drive onto the beach and set up camp with your vehicle is a super-fun Florida experience.
Florida's car-friendly beaches are located along the Atlantic coast. The most popular drive-on beaches are Daytona Beach, New Smyrna Beach, Jacksonville, and St. Augustine. Unfortunately, in our research, we couldn't find any car-friendly beaches in the Panhandle or along the Gulf coast.
Why Aren't There More Car-Friendly Beaches?
Up until about 1985, there were many more car-friendly beaches in Florida. However, the popularity of this activity caused serious damage to the beaches. Vehicle traffic often damaged delicate beach grasses and dunes, which caused problems with erosion and destruction of the beaches we treasure.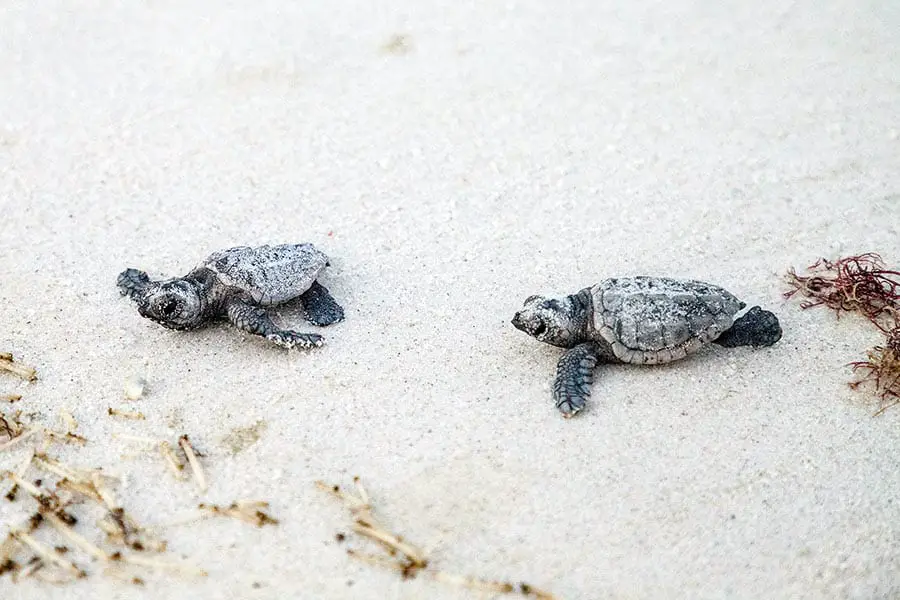 Another issue was the damage that beach drivers caused to endangered species like sea turtles. Driving, say, a Toyota 4Runner over a sea turtle nest is likely to kill the nest.
While many drivers are cautious and respectful, many others can't be bothered to avoid nests, so beach driving has been restricted in many areas. In addition, the presence of cars, RVs, and their lights can cause sea turtles to abandon nesting efforts or disorient hatchlings, which makes them vulnerable to an assortment of unpleasant endings.
Driving On Daytona Beach
The most famous car beach in Florida is Daytona Beach – home of beautiful sandy beaches, Florida's famous Bike Week, plentiful shopping, and of course, the world-famous Speedway. While the speedway is a big attraction for visitors now, car and motorcycle racing used to happen right on the hard-packed white sands of Daytona Beach. Likewise, drivers today can enjoy motoring along the same sandy expanses as early race-car drivers.
To get to the beach access points in Daytona, you'll get onto Florida's Atlantic Highway, also called A1A. Specific sections of the beach are marked for vehicular access. About 17 miles of beach are open to motorists.
However, the tides and other factors affect which beachheads are open to motorists. The best way to find real-time information about which beaches are open to cars is to check out the Beach Navigator app, published by Volusia County Beach Safety.
Is There a Fee to Drive Onto Daytona Beach?
Driving on the beach sounds like a lot of fun, but fun is rarely free. To drive on Daytona Beach, you'll need to pay a $20 fee. That fee allows you one entry and one re-entry, so you can always leave and come back later on if you need to get lunch or freshen your bait. If you intend to make beach driving a regular hobby, Volusia County offers a variety of pass options for residents and non-residents.  
Can You Drive Any Vehicle onto Daytona Beach?
In theory, you can drive any kind of car onto Daytona Beach. However, some vehicles, like the famously fun and adventurous Jeep Wrangler, are better suited to the beach than others. So while you could easily bring your Toyota Yaris or even your old restored Pinto onto the beach, you should be sure that your car is in good working order and has good tires. You should also check to ensure your vehicle is not leaking oil, transmission fluid, or other unsavory liquids onto the nice white sand.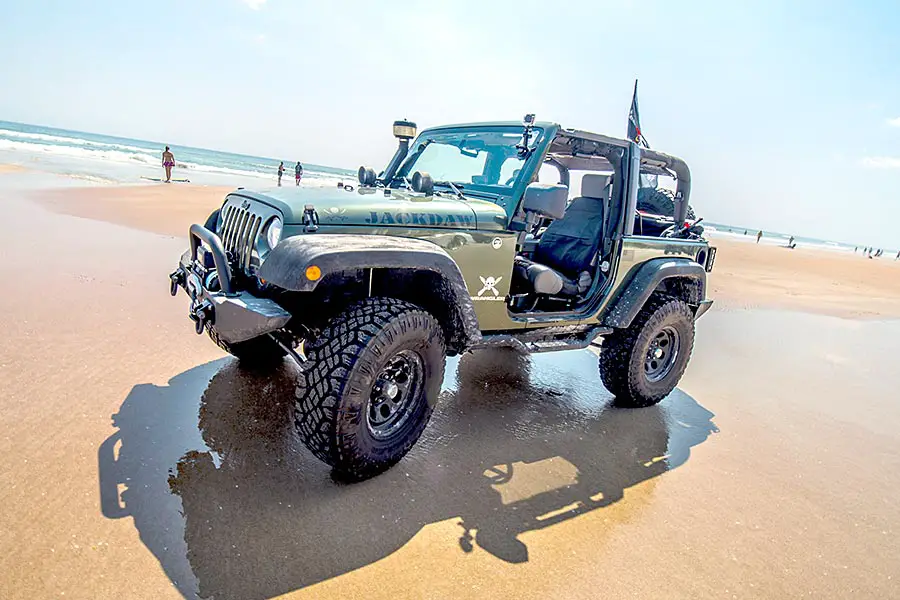 Daytona Beach also allows unconventional vehicles such as ATVs to ride on the beach. You can also ride your motorcycle or golf cart on the beach!
Be aware that there are rules of the road:
The speed limit is 10 mph.

There is no passing.

There is two-way traffic.

You should park perpendicular to the beach.
Other Posts of Interest
Phenomenal Florida Fun Fact: In 1992, a rogue wave struck Daytona, swamping hundreds of cars parked on the beach. Don't worry, though: rogue waves are very, very rare in Florida.
Driving on New Smyrna Beach
Just south of Daytona Beach is the city of New Smyrna Beach, which has a beautiful sandy beach of the same name. Unfortunately, New Smyrna Beach does not have quite as much beach to drive on as Daytona Beach: the driving zone encompasses a stretch of somewhere around two miles from Beachway Ave down to 27th Ave.
The area near the Ponce Inlet Jetty is super popular with surfers and fishermen; therefore, it can be a busy stretch of beach. Unfortunately, it can also bear some dryer sand, which can lead to inexperienced beachgoers getting stuck. Bring a shovel and some floormats with you to help you dig out of the sand if you get stuck.
This area is also very popular with sharks, making this part of New Smyrna Beach the shark-bite capital of Florida. Surfers do tend to be attacked more frequently than swimmers because sharks find paddling surfers reminiscent of prey. Don't let the hype fool you, though: your risk of a shark attack is very, very low. You're more likely to be in a train crash or blow yourself up with fireworks than to be attacked by a shark.
New Smyrna Beach is part of Volusia County, so the same fee schedule and vehicle rules as Daytona Beach apply when driving on the beach in New Smyrna.
Driving On The Beach in St. Augustine
St. Augustine is one of Florida's coolest cities – not just for its historical significance and Old Florida charm, but also because you can easily drive on the beach. There are eight access points that let drivers onto the beach: the Vilano Access Ramp, Porpoise Point, A Street, Ocean Trace, Dondanville, Matanzas Avenue, Mary Street, and Crescent Beach. The county has a handy map that will help you find the best access point for you.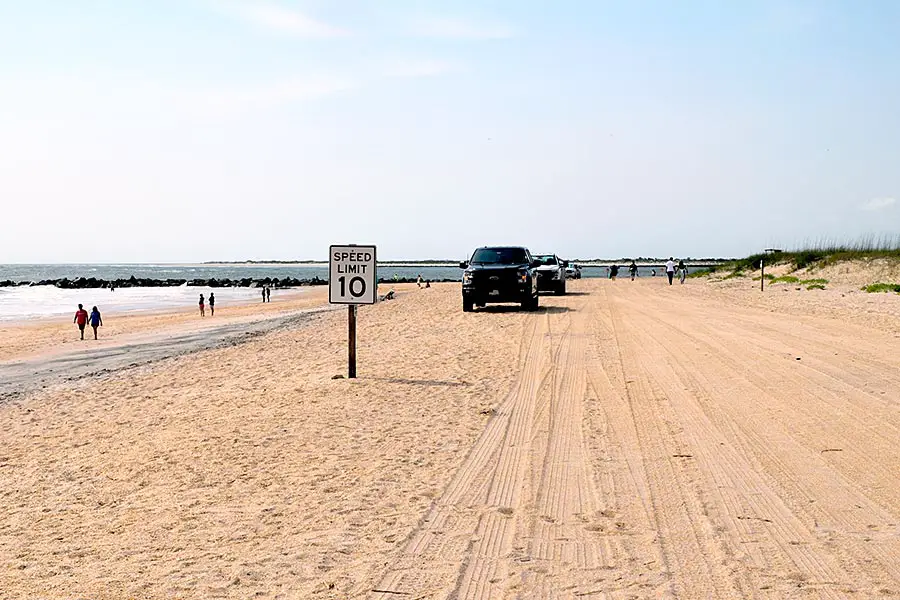 Drivers wishing to access the beach can pay a $10 daily fee or get season passes. Passes are $50 for residents and $100 for non-residents. The usual rules of beach driving apply:
Stay in the appropriate lane.

Keep your speed below 10 mph.

Follow any other posted rules or instructions. 
Can You Drive on Wet Sand?
Wet sand can be treacherous. However, a little bit of moisture helps to compact the sand and make an excellent surface for vehicles. You can turn and drive almost as normal on wet sand. However, wet sand can become a non-Newtonian fluid that gets stiffer with force but lets heavy objects sink through the surface.
Very wet sand, like that found near the shoreline, can be very muddy and difficult to drive through. The best sand for driving is the compacted, moderately wet sand that is a little bit away from the waterline.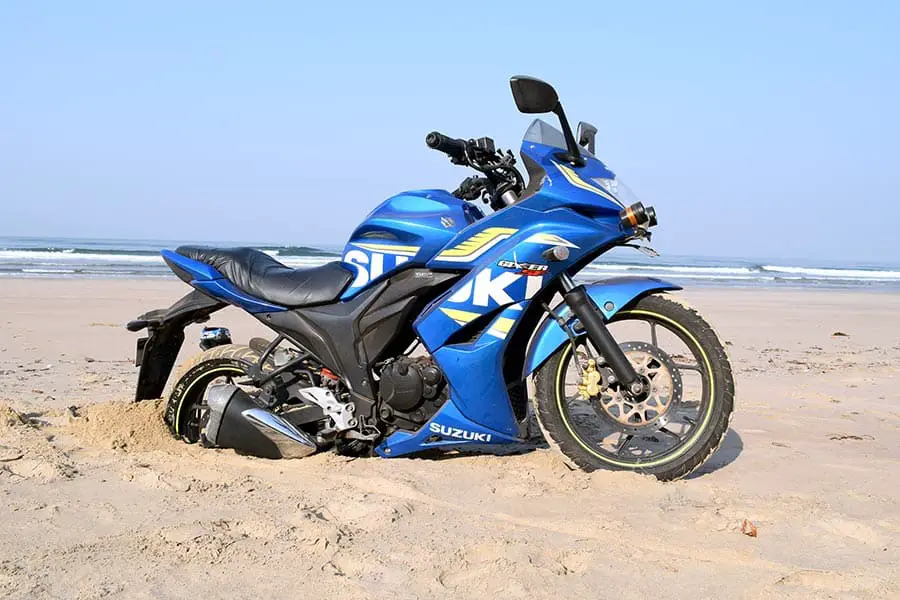 What about driving on dry sand? Dry sand can be just as treacherous. Rapid acceleration or spinning of your tires will cause them to crater and dig in, and you will find yourself stuck in the sand, waiting for a tow truck or a friendly stranger with a winch.
What does all this mean? Basically, you can turn and drive almost as normal on wet sand, but if you park, you may sink. On dry sand, you should avoid sudden turns and maneuvers and any kind of rapid acceleration. If you follow the rules, stay in your lane, and keep your speed and acceleration under control, you should be A-OK.
Skip The Highway, Take The Beach
Florida's beaches are an absolute treasure. However, if you want to have a unique and exciting experience on the beach in Florida, you should consider visiting one of the fabulous car-friendly beaches found along the Atlantic coast!
Not only do you get to drive your car onto the beach – which is perfect for unloading your gear, fishing, surfing, flying kites, and other fun activities – but you get to hang out near some of Florida's most interesting and fun cities. Soaking up the sun for a few hours in Daytona Beach, New Smyrna Beach, or St. Augustine is a great way to unwind, made better by the fact that you can then hop in your car and motor into town for a bite to eat or a different kind of fun.
So the next time you're thinking of going to the beach in Florida, consider hopping into the car and driving all the way to the ocean. It's a unique experience that you're sure to remember for many years to come.