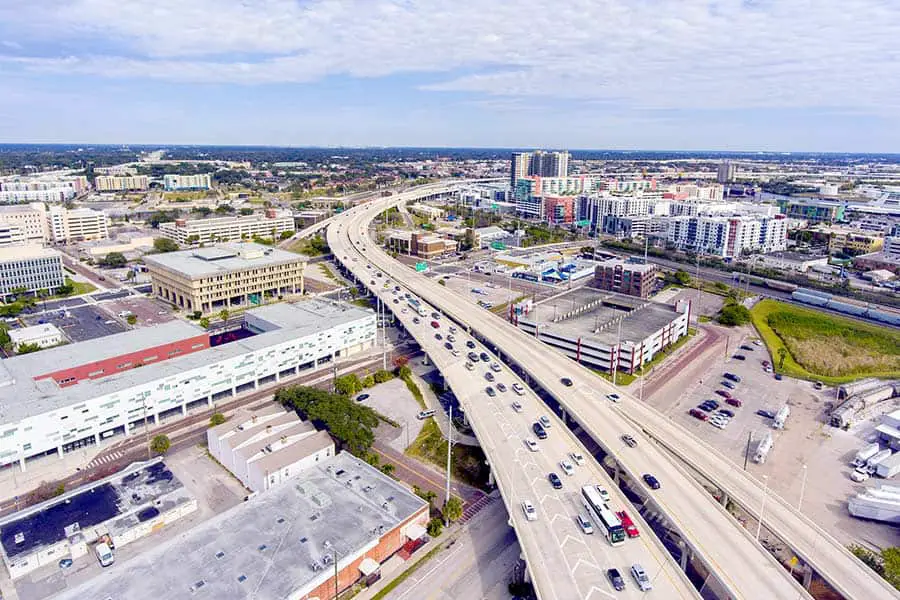 Tampa is a beautiful and bustling city that has something for just about everybody. But getting around in a city can sometimes be challenging, especially in the absence of large-scale mass transit. So you might be wondering, is it hard to drive in Tampa?
If you pay attention and plan your route ahead, driving in Tampa is not hard, even though it is a major metropolitan area that can see over a million cars on the road during peak hours. However, there are some one-way streets and abrupt turns to watch for, and local drivers can sometimes be aggressive.
So what time is rush hour in Tampa? Why is traffic so bad? What are the busiest routes and streets? Is there anywhere to park? In the following sections, you will discover the ins and outs of driving in Tampa.
Driving in Tampa – Is it Hard?
Home to nearly 400,000 people, Tampa is a bustling metropolis. Driving in Tampa can be a challenge, with so many people on the roads. The city streets can sometimes be narrow and often require tight turns. In addition, streets often have turn-only lanes that are marked close to the intersection, which can cause confusion if you're not familiar with the area.
Furthermore, Tampa's residents aren't the only ones driving in the city. Commuters, students, truckers, delivery people, tourists, and Floridians on day trips flock to Tampa every day. As a result, there are likely well more than a million cars on the road in and around Tampa during the peak rush.
Unfortunately, driving can sometimes be a bit sketchy with so many people in the city and on the roads. Many drivers can be aggressive. Tailgating is not uncommon, and too many drivers make sudden, un-signaled lane changes both on highways and surface roads.
Sometimes, this can escalate to road rage, which periodically ends in frightening or violent incidents. That said, road rage happens everywhere, and if you stay calm, alert, and predictable, you're unlikely to have any problems.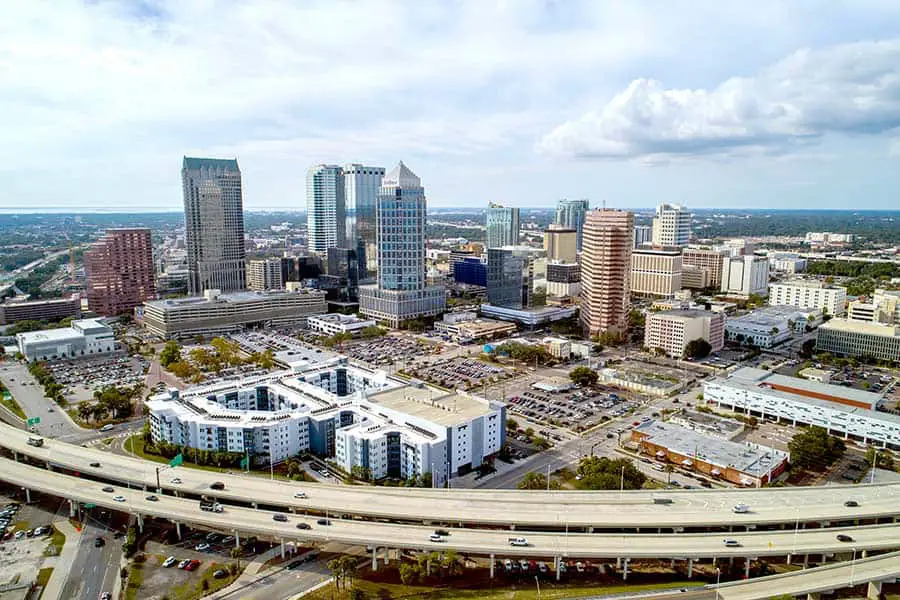 Pro Tip: If you are a victim of road rage, a car accident, or any other unfortunate circumstance on the road, call 911 to get local law enforcement or *347 to get the highway patrol.
Like in any city, drivers in Tampa occasionally experience fender-benders or car crashes. If you have a wreck or an incident on the highway and your car is still operational, pull over and get out of the traffic lanes. Rush-hour fender benders are not uncommon; mercifully, they are usually very minor because of the slow pace of rush traffic.
Pedestrian and bicycle traffic is common in downtown Tampa and in the areas around major attractions and universities. Pedestrians have the right-of-way, as do bicycles; Florida law requires drivers to give cyclists three feet of room when passing. Most pedestrians in the area are good about using crosswalks and proper intersections, but there are some jaywalkers.
The Tampa Police Department, Hillsborough County Sheriff's Office, and Florida Highway Patrol all patrol the roads in and around Tampa. In general, they are looking for egregious traffic violations. You are not likely to get pulled over if you are going 35 in a 30. That said, Florida's speed limit is a hard stop, and police can technically stop you for any speed above that posted.
What Time is Rush Hour in Tampa?
Rush hour in Tampa begins at around 7:30 in the morning, as a mix of commuter traffic and school traffic begins to heat up.
In Florida, many parents choose to drive their kids to school instead of relying on school buses, so the usual commuter traffic has an added layer of parents and students driving from their homes to their schools and then on to their workplaces.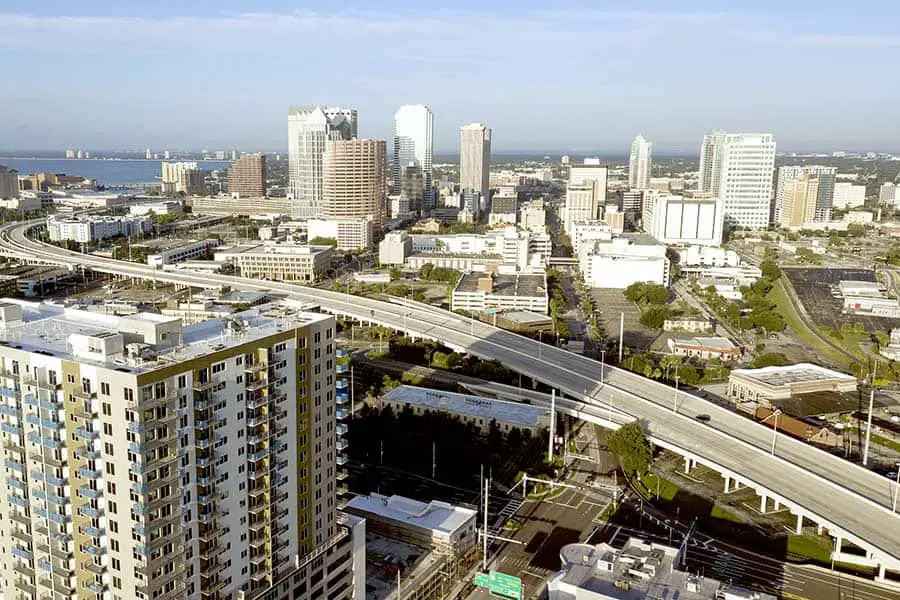 By 9:30, most people have settled into their offices or job sites, and the roads clear up a little bit.
The cycle begins anew around 3:30, as elementary schools let out and workers begin to hit the end of their days. The surface roads and highways fill up quickly as people rush to get the kids and get home from work. After-school activities, dinner out, and late hours at the office often extend the afternoon rush to about 7:30 PM.
Sometimes, rush hour in Tampa extends to the weekends. Special events like concerts or shows can cause massive delays on the highways; seasonal events like spring break or Christmas shopping can also gum up the works on weekends. In general, however, weekends are somewhat less congested.
Other Posts of Interest
Phenomenal Florida Fun Fact: In Florida, you can be pulled over and cited by the Highway Patrol for driving too slowly on the highway. This is because slow drivers on the highway obstruct traffic and are considered a hazard by the Highway Patrol.
What Routes are the Busiest in Tampa?
Ask any Tampa driver where traffic is the worst, and you're likely to hear the words "malfunction junction." This ominous nickname describes the place near downtown Tampa where I-4 and I-275 meet, amid dozens of heavily-trafficked on- and off-ramps.
If you're taking I-4 or I-275 to or from Tampa, you can bank on sitting in traffic near the junction for at least fifteen or twenty minutes. However, people on I-4 and I-275 tend to swerve in and out or change multiple lanes rapidly, so be vigilant.
Other challenging spots for traffic include Westshore Boulevard, which is often quite congested between Gandy Boulevard and Swann Avenue, and County Line Road between US 41 and Dale Mabry Highway. That said, traffic in Tampa can change with the weather, so drivers in Tampa should remain vigilant and prepare to hit traffic regardless of their route.
Why is Traffic so Bad in Tampa?
Traffic is bad in Tampa for the same basic reasons it's bad everywhere: the ratio of cars to road space is far too high. Part of this problem is related to the fact that Tampa is a hugely popular tourist destination that sees millions of visitors a year.
In addition to tourists, the area has been experiencing a population boom, so there are more people than ever on the roads.
As the Tampa Bay Area has grown, local and county governments have struggled to keep pace with the need for improved infrastructure. But, even if transportation officials were on top of the problem, county commissioners in Hillsborough County have been reluctant to levy extra taxes to pay for road improvements.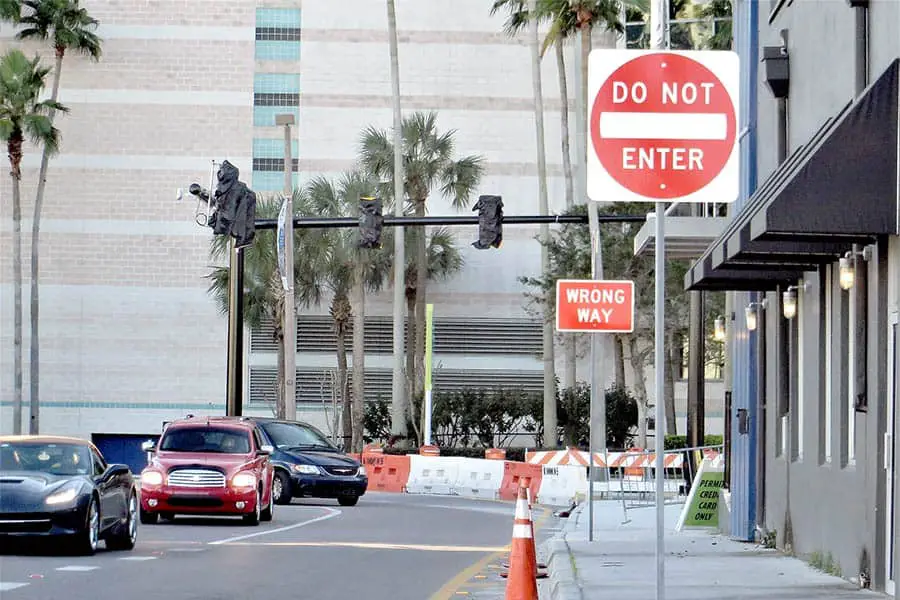 Finally, the lack of inter-city transit like trains or subways in the Tampa area means that many people who live outside the city have no choice but to drive in if they want to visit Tampa.
Is Parking Bad in Tampa?
The roads might be congested, but there's generally plenty of parking in Tampa. The city has thousands of on-street parking spaces, plus dozens of parking garages and parking lots. In addition, many businesses and buildings have their own parking lots.
Plus, attractions like the aquarium, the arena, and the cruise port have convenient parking options within easy walking distance. You may need to budget extra time for traffic when you head to Tampa, but you'll likely find good parking without much trouble.
Tampa Driving Tips
Driving in Tampa might seem like a nightmare, but it's not all bad. Here are a few tips to make driving in Tampa more pleasant.
Plan ahead.

Look at a map and plan your route. GPS signals sometimes get lost among the downtown buildings, and many intersections and turns can come up surprisingly quickly. Look for parking near your destination, and navigate to the parking garage or lot.

Use Google Maps

or a similar service to plot your route, and look for one-ways, turn-only lanes, and other surprises. Tampa has some one-way streets and many surprise turn lanes that can catch you off guard.

Pay attention to driving.

Don't be texting, fiddling with your radio, or engaging in a long and emotional phone conversation.

Go with the flow.

If you miss a turn or an exit, don't make sudden, erratic maneuvers to try and correct it: your GPS will update your route. Not using a GPS? Double back or pull into a parking lot to re-route yourself.

Be vigilant of other drivers.

Most Floridians try to be pleasant and courteous, but there are many who drive unpredictably.

Do not block the fast lane

. Stay out of the fast lane unless you are driving fast. This fact is true anywhere, but especially on Tampa's stretch of 275.

If you are going slow, get in the right-hand lane and stay there.
Going exactly the speed limit in the passing lane will almost certainly cause other drivers to become aggressive. Slow cars in the fast lane are a huge pet peeve of most every Floridian.
Slow Ride
Driving in Tampa is definitely an experience. The area is well-developed and sees tens of thousands of commuters and tourists daily, plus local traffic, commercial traffic, traffic for events and experiences, and people simply passing through.
Tampa traffic can be heavy at times, especially during the rush, but it's not a reason to avoid Tampa. So plan ahead, pay attention, and keep your cool, and before you know it, you'll be cruising through Tampa like a pro!